You might know Natasha Exelby from TV bloopers such as that which appeared on ABC24 and Media Watch…
But Natasha is a seasoned journalist who after a viewer backlash against her bosses who were about to fire her, not only retained her job with Aunty but has landed a guest newsreader role on Sydney's KIIS 1065.
Natasha (in un-startled state, left) made headlines around the world this week when her on-air 'day dreaming' blooper went viral and caught the eye of the KIIS 1065 team.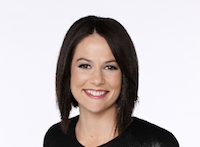 Natasha will read breakfast news on KIIS 1065 next week, while The Kyle & Jackie O Show is on survey break.
Natasha is a senior news reporter and presenter who has covered local and international news including major stories in the United States and Middle East. Most recently, she was based in Istanbul, Turkey as a presenter and correspondent for TRTWorld before returning to Australia where she worked at ABC News 24.
Natasha has also held roles at Channel Ten, CNN and The Project.
ARN's National Content Director Duncan Campbell says,"We are excited to have someone with Natasha's expertise join our newsroom at KIIS 1065. Not only is she a seasoned journalist, but the way she has handled the unexpected attention and public scrutiny following her 'blooper' this week shows Natasha has poise under pressure and, most importantly, a sense of humour so I am sure she will feel at home with the KIIS team."
Natasha will be on air from 6am – 9am from Monday, April 17 – 21.