Coronavirus restrictions are hitting most industry sectors hard, but there are other segments of the economy that are well placed to deliver their goods and services during this time of shutdown.
Some radio networks have successfully pivoted to target these new advertisers, helping to replace those that have cancelled or delayed their campaigns during the COVID-19 lockdowns.
Other networks have followed advice from our earlier articles and helped their clients rethink their messages for the new norm of COVID-19 lockdowns.
Exclusive research, compiled for radioinfo by Aircheck, shows about 170 new advertisers using commercial radio across Australia in the past two weeks.
While categories such as bars, clubs and restaurants are pausing or repurposing their ad schedule due to the temporary closure of their premises, some new advertiser categories are increasing ad spend to get their message across.
Notable categories where new advertisers have entered the schedule include: online business services, video conferencing, online training courses, fast food and takeaway, gardening and DIY products, home office supplies, movies and tv shows. The Government's COVID-19 information campaign is also a new advertiser, providing a much needed boost to sales at a crucial time for the industry.
The top 20 new advertisers on Aircheck's 50 monitored stations* across Australia are listed below.
We asked several networks how well they are faring with keeping existing clients and whether they are also getting new clients from different industry sectors who may not regularly use radio.
Grant Broadcasters CEO Alison Cameron has told radioinfo: "Yes, we have seen a downturn in clients. Mainly from businesses that have closed their doors due to government restrictions. A lot of the cancellations that we got were related to live events or outdoor activities where there are now limits.
"Our staff have done a fabulous job with creativity to retain a number of clients who ordinarily would have cancelled, and yes, we are seeing some new clients who have not advertised with us before – although this is mainly local businesses. Some where clients have repurposed or changed their business, some from entrepreneurial startups and some from businesses that have not been interested before."
Grant Broadcasters' KRock in Geelong has mounted a campaign with the message 'We're Still Here' (lead picture above). The campaign says "we're still here and so are our local businesses and we want everyone to be here when we get through this."
Southern Cross Austereo has just launched a trade campaign (see the banner ad below) highlighting changing audience consumption patterns during the Coronavirus and directing businesses to the SCA's Sales Team.
New Clients
In NSW, the Royal Easter Show has been cancelled this year, but sample bag lovers can still get their fix of the best of the show bag pavilion from the Showbag Online Shop, a new advertiser to some Sydney radio stations.
Ads for online or telephone counselling have increased, as have ads for credit check services and the 'National Debtline' financial assistance service.
The Australian Banking Association has launched its 'Financial Difficulty' campaign, and the SupportAct Sounds of Silence campaign has CSAs running on many stations in support of Australian artists.
Disney is running ads for Star Wars movies as households have more time to sit around the tv together and watch family content.
Another new advertiser in one market is a family planning clinic, perhaps thinking ahead to a potential baby boom that may happen 9 months after couples are locked down together all day and night.

Repurposed messages
A McDonalds ad we heard this week highlighted drive-through as a means of getting your food while ensuring social distancing. We also heard supermarket ads repurposed from advertising the weekly specials to assuring customers there is plenty of food in stock and reminding them to keep space between them at the checkout lines.
Financial services is another category to change its messaging, with banks such as St George, Westpac and Commonwealth all sending messages of support to their customers and letting them know about special provisions and interest charge waivers during the virus period.
Harvey Norman continues to run adds all around the country, with the emphasis on home entertainment, computers and other items for the shut-ins.
One regular legal firm advertiser we heard had changed its ad, emphasising telephone consultations and its sanitised meeting rooms.
Many regular advertisers, especially pharmacies, have changed their messaging from their store-front retail focus to online and home delivery.
Car dealers are also advertising more, highlighting the government's decision to give increased capital tax benefits to companies that buy new vehicles or equipment during this time.
Radio listening increasing as more work from home
Radio strategy and research company BPR has just released research conducted in Europe over the past few weeks that indicates radio consumption is up during the Corona virus crisis, reinforcing the reasons companies should keep advertising if they can.
The online study of 1700 people found that media habits are changing and radio listening is increasing during the period of COVID-19 lockdowns.
The virus has had a significant effect on increasing listening habits to news and information stations, although plenty of people are still listening to music while they work at home and radio listening overall is up.
"The majority usually listen to popular music-based radio stations and only 6% have changed the station away from their usual station. Of those, more than one-third are now listening to a news and information station, while 55% of station changers want more news and information only 15% want less."
Consumer spending has increased across a wide range of categories, according to the research, while between half and two thirds say their spending is the same and unchanged. Not surprisingly, Food, drinks and Medical services (including pharmacies) are increasing the most.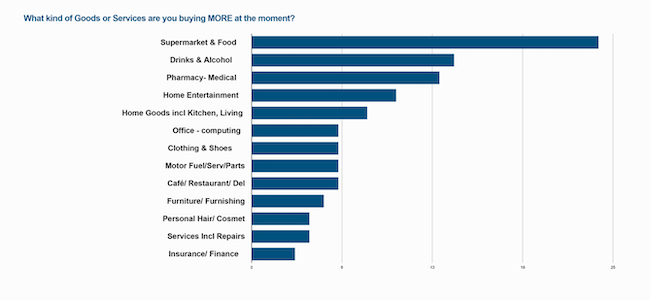 * Aircheck Monitoring details.


---
Subscribe to the radioinfo daily flash briefing podcast on these platforms: Acast, Apple iTunes Podcasts, Podtail, Spotify, Google Podcasts, TuneIn, or wherever you get your podcasts.