Results of New Zealand's Major Markets 2016 Commercial Radio Survey 1, conducted by the newly appointed survey company GfK, have been.

Department of Statistics estimated population data at 30 June 2015 indicates approximately 3,162,000 people aged 10+ years usually live in the Major Markets survey area used for the Commercial Radio Audience Measurement Survey. Of these, 77.4% listen to a commercial radio station each week.

The Major Markets coverage area includes Auckland, Wellington, Christchurch, Northland, Waikato, Tauranga, Rotorua, Hawkes Bay, Taranaki, Manawatu, Nelson, Dunedin and Southland.

The survey, conducted over 18 weeks and sampling 16,634 people aged 10+ years shows the Edge Network has most commercial station listeners, with 488,100 different people aged 10+ tuning in each week.

Newstalk ZB Network has second highest, with 398,900 different listeners, followed by More FM Network with 371,100.

The Breeze Network has fourth highest commercial cumulative audience of 353,300, and ZM Network is fifth highest with 352,500.

The highest commercial station market share was achieved by Newstalk ZB Network with an11.8% share of all commercial radio listening. Second highest commercial share is Coast Network with 8.4%, followed by The Sound Network with 7.9%.
Fourth equal highest commercial share is The Edge Network and The Rock Network, both with 7.5%.Breakfast results (Mon-Fri 6am-9am) show Newstalk ZB Network with the highest share; 14.8% of commercial radio breakfast listening, followed by More FM Network with a 9.1% share.

The EdgeNetwork is third with 7.5% share of commercial radio listening, followed by The Rock Network with 7% and Breeze Network is fifth with 6.7%.

The table below shows the weekly cumulative reach and station share results for the latest survey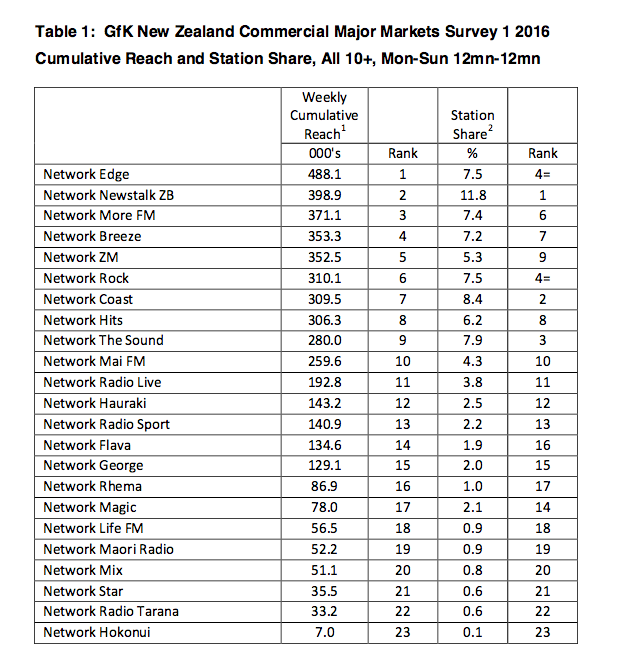 Click below to enlarge. Click here for full details of the Major Market Report.