During times of crisis, such as the Corona Virus pandemic, News content gains heightened awareness as listeners lean-in to hear details about the threats to health, number of cases, border closures and movement restrictions.
News listening has increased during the pandemic, the content of bulletins has changed, and there are also implications for advertisers. Steve Ahern examines recent research on the issues facing newsrooms during the pandemic.
This week's report from the Reuters Institute and GroupM's recent study into Brand Safety have focussed on various aspects of news in the pandemic. A study conducted by Canberra University has found that 78% of those who are concerned about the pandemic say their news consumption has increased.
The Reuters study says people are seeking credible news from reliable sources more during the pandemic, increasing the level of trust in news from responsible media outlets. But, in bad news for commercial news outlets, the GroupM study warns that some advertisers have become wary of placing ads adjacent to news bulletins. GroupM thinks this is a mistake and warns against blanket avoidance of ad placement near news bulletins.
AD PLACEMENT
For the past several years, global marketers have been focused on reducing their brand safety risk by adopting a range of policies, tools and tactics. The report says there is now a concern that some advertisers have taken it too far, which may be negatively impacting the reach and performance of their message and the health of news media.
"During the coronavirus pandemic, many advertisers want to avoid being associated with any related content, whether positive or negative," says the report. "Commercial News publishers are worried about revenue losses if this trend continues. "Such revenue losses should be put in the right context."
Aggressive use of avoidance technology has taken much of the blame for news de-monetization in the commercial media sector, according to the report. "This technology ensures that when ads are bought programmatically, there are parameters in place to ensure brand safety because adjacency to controversial news is an emotionally charged issue and marketers, understandably, want to protect their brands. Since the majority of stories in credible publications are focused on the pandemic during the crisis, semantic avoidance practices have led to decreased revenue for publishers at the time they are most needed."
As a result of its research, GroupM's brand safety recommendation for clients is to limit adjacency to excessive COVID-19 death counts and mortality rates, but to recognise that there are also positive associations in many news stories, such as reopening of borders, recovery rates, and other positive indicators.
"GroupM has long advised clients against any blanket blocking and has worked with industry bodies, such as IAB U.K., to provide best practice guidance on how to use semantic avoidance technologies appropriately… There are simple ways to advertise in news without compromising brand safety, but to avoid hard news, or even bad news, flies in the face of the facts.
"Recent IAS research suggests that most people do not think negatively of brands for advertising in a "hard" news space provided the creative messaging is appropriate."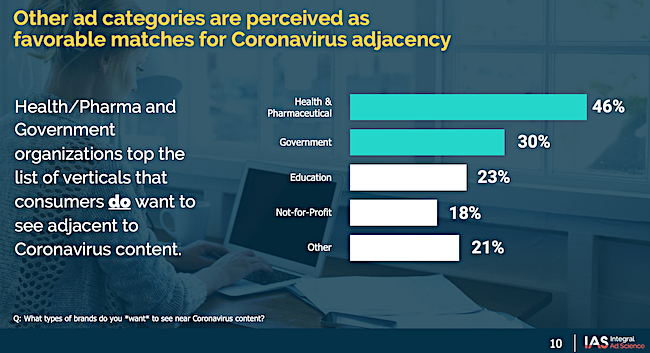 "Beyond the increased audience rationale, credible media outlets are inherently safer for brands. News publishers with journalists plugged into their local communities, who fact check and use technology to manage quality and safety, offer brands a safe, high viewability, low ad fraud advertising environment," says the GroupM report.
NEWS AVOIDANCE AND TRUST
As well as advertisers, ordinary consumers are also avoiding news, according to various studies, including academic research published last year which says news avoidance can adversely affect people's ability to engage effectively in elections and other important social functions.
A study by Morten Skovsgaard & Kim Andersen from the University of Southern Denmark says News avoidance is considered an increasing problem for the news industry and democracy at large.
"As news companies lose consumers, democracy loses the informed foundation for an engaged citizenry."
The study reviews and discuss news avoidance and presents a model distinguishing two types of news avoidance—intentional and unintentional. It proposes different solutions for the two types of news avoidance. "To engage intentional news avoiders, the news selection and news presentation must to be changed. To engage unintentional news avoiders, the opportunity structures provided in the media system must be more favourable towards inadvertent news exposure."
According to the study, the reasons people avoid news include:
because it causes anxiety and distress
information overload
lack of trust in news institutions
scepticism
perceptions of bias
perception that news is always negative (does not provide solutions)
During the pandemic, there are indications that this trend is changing as news consumers seek credible information, but will this change be permanent in the face of continuing 'fake news' accusations by people who wish to discredit news media and sow the seeds of doubt so they can exploit mistrust to get away with lies and polarisation?
But in good news for reputable journalism, the Canberra University study notes increased news usage during the pandemic: "During social isolation, Australians are staying at home to flatten the curve of the spread of the disease. This has resulted in an increase in news and media consumption, particularly among women and young people. More than two-thirds (70%) of Australians say they are accessing news more than once a day since the COVID-19 outbreak. This is much higher than usual. Last year, the Digital News Report Australia 2019 showed only 56% accessed news more than once a day."
Trust in news has also increased: "Overall trust in the news media has risen during the COVID-19 pandemic. In 2019, general trust in news was 44% according to the Digital News Report Australia 2019, compared to 53% during the pandemic." While trust in reputable news media sources has increased, trust in social media has declined due to misinformation, according to the Canberra University study. "Two-thirds (66%) of people say they have encountered misinformation about COVID-19 on social media… About one-quarter (27%) say they have stopped paying attention to information shared on social media by people they do not trust, 23% say they searched for different sources to check the accuracy of information, and 12% used a fact checking website."
NEWS CONSUMPTION HABITS SHIFTING QUICKLY
Another significant point when examining news audiences is that consumption habits tend to change as the news changes. At the beginning of the pandemic, everyone was interested in answering questions such as:
What is this virus? How does it spread? Why is it different from the flu?
Will it kill me?
Is there a cure or a vaccine?
Can our hospitals handle the cases that are expected?
How can it be controlled or managed?
What is the government doing to help? What can I do?
What world trends can we learn from? How is it affecting other countries?
What effect will lockdowns have on the virus spread?
What effect will lockdowns have on the economy?
Will I lose my job?
How can I buy food and pay my rent when I have no work?
Most people now know the answers to those questions, so their news consumption is drifting back to normal habits. But when there is another development in pandemic news, such as the spike in cases in Melbourne this week, they are likely to go back to news sources again.
NEWS BRAND MATTERS ON SOCIAL MEDIA
The Canberra University study notes that the soure of information on social media platforms, Youtube and Google matters: "The data show that people do pay attention to where news and information comes from when they are on social media. Only 8% say they do not notice the origin of the information. Almost two-thirds (64%) of people say they are aware that the majority of information on social media comes from traditional news sources and can name the brand.
"Slightly less than half say they are conscious of seeing health information from official health sources, such as the federal government or the WHO (see table 4). Contrary to concerns that people do not notice where news and information comes from when on social media, this suggests that they do. This should be a comfort to news organisations."
BALANCED NEWS
The trend towards constructive news, and the associated 'bad news' advertising avoidance trend is a response to the news avoidance trend and reminder for balance in news stories.
It's not an argument for only publishing 'good news,' but it is a reminder to cover solutions as well as problems. For both credibility and income, balance is a good thing, especially when contrasted with social media, where algorithms cocoon users in news bubbles that isolate them further and further into one sided information flows.
The ABC has realised this, and has been taking a constructivist approach to pandemic news:

"One of the ways the ABC has been tackling this problem is by taking a different approach to reporting some of the world's problems. This approach is called solutions-focussed or constructive journalism.

"It doesn't mean we're ramping up production of fluffy news stories about firefighters rescuing kittens from trees. It's also not about ignoring problems or taking an uncritical look at the world. And we recognise it doesn't work for every story.

"It's about thinking about how we can show a more accurate picture of the world including the bad and the good, the grey areas in between and the necessary context. One small example is: instead of just reporting how many people have died from COVID-19, we're conscious of making sure we include how many people have recovered."
Overwhelmingly bad news also has an effect on people's mental health, especially during the pandemic. The Canberra University study said: "While news about the coronavirus provides an important topic of conversation (53%) it is also making people feel more anxious (52%). Women are more likely to feel an increase in anxiety because of COVID-19 news (59%) than men (44%). Compared to older generations, Gen Y (61%) and Gen Z (56%) are more likely to say news about the coronavirus makes them feel more anxious."
MISINFORMATION INFODEMIC
A World Health Organisation communicatoins risk publication says the 2019-nCoV outbreak and response "has been accompanied by a massive 'infodemic' – an over-abundance of information – some accurate and some not – that makes it hard for people to find trustworthy sources and reliable guidance when they need it.
"Due to the high demand for timely and trustworthy information about 2019-nCoV, WHO technical risk communication and social media teams have been working closely to track and respond to myths and rumours. Through its headquarters in Geneva, its six regional offices and its partners, the Organization is working 24 hours a day to identify the most prevalent rumours that can potentially harm the public's health, such as false prevention measures or cures. These myths are then refuted with evidence-based information. WHO is making public health information and advice on the 2019-nCoV, including myth busters, available on its social media channels…"
The Canberra University study found that social media is the main source of misinformation:
"Two-thirds (66%) of people say they encounter misinformation about COVID-19 on social media. Slightly more than one-third (36%) say they found false information in news media coverage, and 30% attributed the spread of false information to people they knew. Almost one-fifth, attribute misinformation they have encountered about the virus to politicians. Health authorities and scientists were the least cited sources of misinformation (see table 5)."
Like everything to do with modern media, there is an evolution taking place in how audiences consume news and how news producers, editors and journalists create that news.
If you are still making news in the same way as you learnt from a book twenty years ago, or from an editor or lecturer when you first started your career, then you are almost certainly out of date.
Take a look at the research that shows how news consumption is changing, then ask yourself if you have changed enough to help the news media evolve in the 21st century.
About the Author

Steve is the founding editor of this website.
He is a former broadcaster, programmer, senior executive and trainer who now runs his own company Ahern Media & Training Pty Ltd.
He is a regular writer and speaker about trends in media.
More info here.
---
Subscribe to the radioinfo daily flash briefing podcast on these platforms: Acast, Apple iTunes Podcasts, Podtail, Spotify, Google Podcasts, TuneIn, or wherever you get your podcasts.