Nine Entertainment has released its results for the 12 months to June 30 and reported a revenue of $2.3B and a Net Profit After Tax of $184M.

This result included a post-tax Specific Item expense of $94m and the Group EBITDA, before specific items, grew by 43% to $565M.
The result was led by the market recovery of Nine's Television arm with a combined EBITDA growth of 73% on a revenue growth of 12%.
Nine's metro radio market declined 3% across the year despite a 13% gain in the second half of FY21, and coupled with a double-digit cost decline, Nine Radio reported an EBITDA of $8M.
Nine Entertainment CEO Mike Sneesby says, "Radio has had a disrupted market deeply impacted by COVID, but almost two years in, we are seeing that business reset its profitability and ensure its long-term sustainability.
"This year Radio reported revenue of $90.8m and profit of $8.4m but the key figures to look at are the reduction in costs (down 18% in two years) and the growth in demographics which, across the network, has resulted in 10% audience growth in 35-64s and 14% in 25-54s as we renewed the on-air lineups."
The company booked an impairment charge against its radio division, saying in its financial notes:
"An impairment charge of $61.5 million has been recognised in respect of the Nine Radio cash generating unit. The decrease in the estimated recoverable amount of this business compared to the prior year is a result of the continued impact of the COVID-19 pandemic on this market."
A related note (3.6) explains the assumptions behind the goodwill writedown:


Nine's publishing revenue of $504.5M saw profit here increase by 28% to $117.2M, with more than half their digital revenue base now digital.
Stan now has 2.4M subscribers with Stan Sport getting passed 250,000, while revenue growth of 29% saw an increased profit of 27% to $39.5M.
Domain revenue was also up by 11% to $289.6M.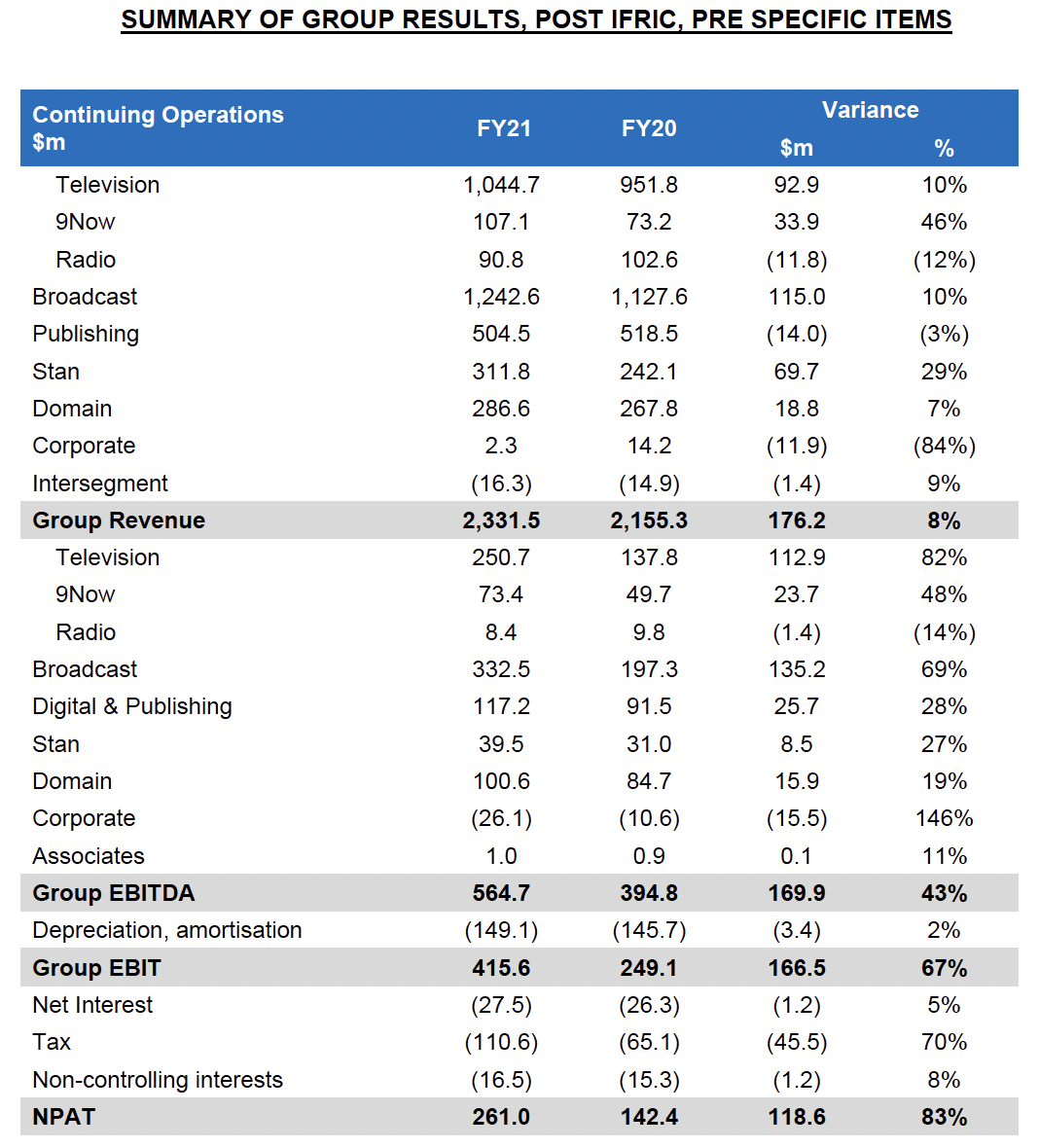 The company intends to pay a final dividend of 5.5 cents per share, fully franked, taking the total dividend for the year to 10.5 cents per share.