50 years ago The Beatles touched down in Australia on Wednesday June 11, 1964 with Bob Rogers on board. At 37, he was already well past the demographic of the Fab Four and their fan base.

Working for 2SM at the time, the equivalent of KIIS FM today, the station had sent him to London the week before to get the jump on the competition. It was a costly exercise – but worth every penny – still paying off for Rogers 50 years later.

Once landed, he became virtually embedded with The Beatles on their tour of Australasia, filing daily reports for the radio station. No one had more access to the Beatles than Bob. He's has since been quoted as saying that the tour was "like a journey through insanity".

'Beatlemania' took hold of this country and Bob was caught in all the madness that followed. Chased by screaming fans, trapped inside their hotel rooms then paraded before the media and huge crowds on flat-bed trucks, balconies and boats, Bob Rogers was beside the Beatles every step of the way. It was a life-changing event for him and a generation of Australians who had never witnessed anything like it.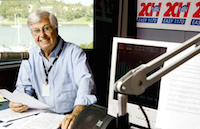 Now the morning presenter, with a lifetime contract at 2CH 1170, Bob Rogers at 12 midday presents The 50th Anniversary Beatles Special.

It's a one hour documentary that will take you inside that historic tour. It features Bob's exclusive interviews with the band, their manager Brian Epstein, and a view from 'inside the bubble of Beatlemania' by the man they called 'The Fifth Beatle'.

Join Bob Rogers for a fascinating trip down memory lane.