Australia's media Agency market has highlighted the strength of current underlying ad demand by reporting a 2.7% increase in October ad spend with Radio up by 6.5%
According to Standard Media Index, the overall growth was despite a large decline in TV bookings due to the move of the AFL and NRL finals to last October and ongoing COVID restrictions.
The result is also 1.6% above the ad spend reported in the pre-COVID world of October 2019 and continues the strong COVID recovery with the Australian market now reporting nine consecutive months of higher ad spend.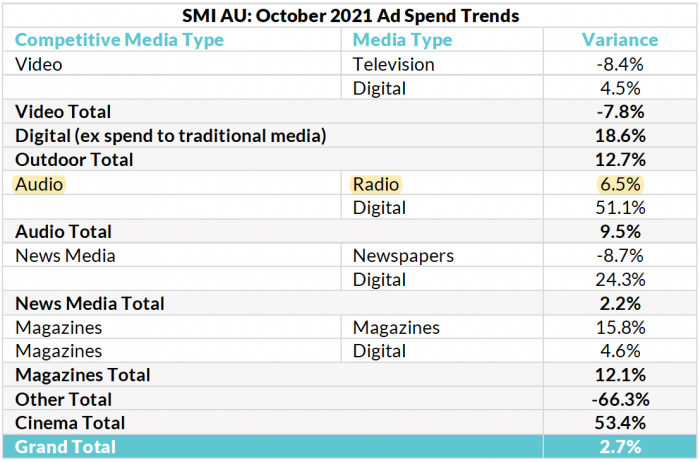 SMI AU/NZ Managing Director Jane Ractliffe says the results proved the advertising market was performing above many other sectors within the economy, and SMI's Forward Pacings detail shows this buoyancy looks set to continue.
Ractliffe says, "Given the huge influx of ad spend to Television last October as the AFL and NRL finals series moved due to COVID and of course the ongoing COVID restrictions in most states in October this year, we had expected the overall market to deliver lower or maybe stable year-on-year levels of ad spend so this higher result does underscore the level of underlying demand now in the market.
"Higher Digital ad spend boosted the market – mostly due to stronger gain at Social Media sites – but Outdoor also continued its COVID recovery by reporting a 12.7% increase in ad spend despite the lockdowns."
Stronger Government category ad spend continued into October with the total up 60.5% year-on-year as the COVID messaging continued but the Retail category remained the largest despite total investment dipping 9.4% year-on-year mostly due to an unusually low level of October bookings from supermarkets.
Supply issues are also affecting the Auto market again, prompting the Automotive Brand category's recent return to growth to dramatically reversing in October with total bookings back 30%.
On the positive side, the stronger October ad demand has fed through to the market's financial year-to-date figures, which now show total bookings to be up 20.7% on the same four months of last year to a level which is $95 million above the amount spent over the same period in 2019.
Similarly, the Australian market has now grown 23.2% over the first ten months of the calendar year to a level well above the amount spent in 2019.
Also in October, SMI has introduced the market's first view of ad spend in the Buy Now Pay Later market by creating a new sub-category within its broader Financial Services category.