In the opening session of Radiodays Europe, Paul Keenan, the CEO of Bauer Media spoke about the powerful positive future that radio businesses have ahead of them.
In a session themed Sound Matters – The Future of Audio, Keenan said "there is not a better time to be in commercial radio.. there is unprecendented growth and commercial success."
"Revenues are at record levels in European commercial radio because our industry is a master of reinvention."
There have been 5 successive years of advertising revenue growth in commercial radio stations across Europe.
Keenan thinks "digital is good for radio," the internet is "a friend of radio," becauise the choice that it introduces "widens the value of radio and so the value for advertisers increases."
"We must be bold to focus and reinvent our industry."
Bauer Media's listenership on voice activated devices is now 40% of its streaming consumption.
Because of the power of live events to attract big audiences, Bauer Media is also "celebrating the live experience."
Other strengths of radio in the modern competitive market are high levels of trust. "We must leverage our trust, there is no ad blocking, no fraud and no fake news."
Radio will need to innovate in distrubtion, talent and creativity, according to Keenan. "We must prioritise distribution on owned and operated platforms, to convert our unknown audience to known, as we create next generation radio.
"Meet the future and seize the opportunity…. We are the ultimate adaptive medium, we are the masters of reinvention." View the speech here.

The Director General of the EBU, Noel Curran, spoke about trust in media.

While trust in media is generally declining, 85% of Europeans recognise radio as the most trusted medium.

"Radio is leading the way in being constant and reputable, as opposed to the internet, the public has given a huge vote of confidence for radio.

"We are investing in journalism and training, producing quality media, and new technology is allowing radio to be available when needed."

There are a lot of things happening around radio's development in Europe: All European cars by law next year will have a digital radio inside the vehicle. The BBC is planning to remove their podcasts from Google, Austria has pulled back from Facebook and Youtube.
How should the media adapt to all the changes taking place?

"Partnerships need to be strategic, there is no clear view of how these things are emerging, we have to navigate the technical changes to stay ahead of then trends," he said.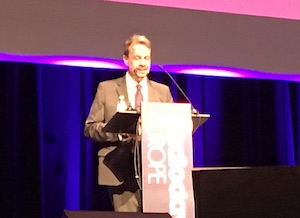 Gilles Marchand, the Director General of SRG SSR, Switzerland's national broadcaster spoke about progress since the 'No Bilag' vote last year.

Last year the Swiss population was asked to vote against a licence fee for the national broadcaster. In the end the public voted to keep the licence fee.

One year after the vote, the national broadcaster is stronger and is working with private broadcasters to strengthen audio media.

"There is a strong need for trustworthy journalism and diversity, we are investing in these priorities now that we are sure the population supports what we do…

"The next major digital trend will be audio, we are developing new strategies for that and working to be more efficient due to our limited resources… We are rethinking and reducing some old ways of doing things and old infrastructures so that we are adding value for the money we are given."
Kremlin Trolls speaker
Jessikka Aro
talked about her experience being harassed by Russian trolls when she revelead examples of Russian social media manipulation.
She was inspired by the Russian attack on Finland and how her family was traumitised by what had happened. So in 2014 she wanted to know how the Kremlin Troll factory worked and was employed to push out propaganda, and be paid for it.
After investigation and having interviewed some workers she asked how they felt about making fake news stories. Her stories and reports have been quoted since 2016 and translated in 55 countries since.
After publishing her first story on the investigation, Jessika became a target herself and was labelled as a "famous assistant of NATO". This was then followed by a number of threatening phone calls from Ukrainian and Russian numbers. She continued the investigation and found a Russian 'troll factory' where a lot of fake news originates. "We need to expose this phenomenon," she said.

I understood in a very personal way why social media manipulation is a security threat, not just for individuals but for nations. "The fake news factory is used to agitate people into hateful actions," she said.