2UE morning presenter Angela Catterns has been recognised with an Order of Australia in the Queen's Birthday Honours List for her radio and charity work.
Other radio people to be recognised include, smoothfm's Rchard Wilkins (below left), the late Keith McGowan, ABC Canberra Sports Broadcaster Tim Gavel, John Moore and Elanore Whitcombe.
Catterns' award of a Member of the Order of Australia (AM) is in recognition of "significant service to the broadcast media industry as a radio presenter, and to social welfare organisations."
Catterns was one of the early presenters on the ABC's youth network Double/Triple J, and presented breakfast on ABC702. In her more recent commercial career, she presented mornings on Vega, teamed with Wendy Harmer for an online podcast and now presents mornings on 2UE. See our past stories about Angela here.
Former 3AW presenter and radioinfo columnist Keith McGowan (left) was awarded his Order of Australia Medal (OAM) posthumously for "service to broadcast media as a talkback radio host." Keith passed away last Christmas. See our tribute to him here.
Sporting identity Ray Warren, part of Triple M's NRL commentary team also got a guernsey as did Phil Gould who has lived and breathed rugby league across a range of stations and media.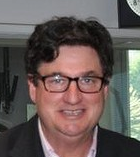 Another sport identity, Tim Gavel (left), received an Order of Australia Medal for his services to sports broadcasting and the comunity.
Other radio industry people to receive Order of Australia recognition today are:
Lieutenant Colonel John Joseph MOORE RFD (Retd) of Strathfield NSW 2135
For significant service to the commemoration of Australian military and sporting events as a radio broadcaster and television presenter.
Ms Eleanor Katrine WITCOMBE of Woolwich NSW 2110
For significant service to the arts as a writer for radio, film, television and theatre.