Speaking at today's RadioDays Europe conference, Hannah Storm from the International News Safety Institute made a plea for the safety of journalists.
The rise of Donald Trump and similar politicians has seen "a contagion spread and journos have become a target of that," said Storm.
The phenomenon of fake news and the trolling campaigns and online harassment against individual journalists, lead by people like Trump "can't be ignored" according to the News Safety Institute.
There's never been a more important time to work in the media. We need credible news reporting more than ever.
"Unless we can guarantee the safety of jouros we cannot guarantee freedom of the press… We have to call out the abuses and put pressure on authorities to keep journos safe and sound," Storm said.
View her presentation on our Periscope feed.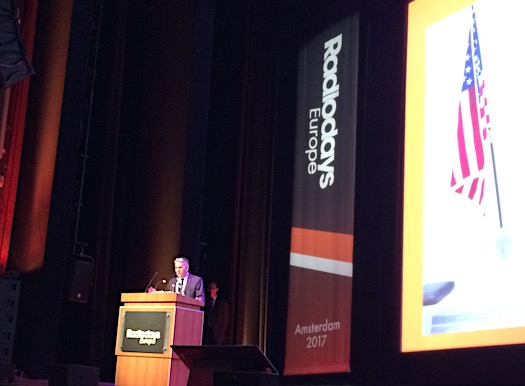 Continuing the theme, NPR USA's Joel Sucherman talked about National Public Radio's response to President Trump's habit of reinventing the truth and presenting 'alternative facts.'
"We're living in times where the president of the US takes to twitter for his attacks. Trump has created a world where proactive attacks and unsubstantiated claims have put opponents on the back foot."
A Pew Research Centre study found that only 2 in every 10 Americans trust the media, but 80% have lost trust in media. Sucherman attributes much of this loss of trust to the current attacks on media.
"Unlike politicians our job is not to win a popularity content… President Trump's comments about the media being an enemy of the people and an opposition party is not true. We are not opponents, we are just doing our job.
"The pattern of the world according to Trump seems to require fact checking to see if the sky is blue in this time of alternative facts…
"We in the media are doing our job… Not just fact checking Trump but all politicians."
Millions of people read the NPR fact checking transcript of the presidential debates, in fact more people than read the reports about the campaign, so he says there is an appetite from citizens to know the real facts. Some people are being whipped up into a frenzy of doubt and criticism, but there are still many others who want good journalism to inform them of what is really happening.
See the presentation here from our Periscope feed and view our tweets from #RDE17 below.