APN has reported its half year results this morning. Its Publishing division is challenged, but Radio is doing well.
The company has announced Net Profit After Tax, before exceptional items, of $19 million, but after exceptionals the company was in the red by $319 million. Australian Radio Network revenue was up by 8%, New Zealand's TRN recorded a 1% decline in revenue.
Revenue from the company's traditional publishing and outdoor businesses declined while digital revenue grew significantly. Overall, total revenue for the half was up 1% to $405 million, but the company reported an overall loss of $319 million. APN is paying an unfranked interim dividend of 1.5 cents per share this half.
The Australian Radio Network (ARN) strongly outperformed the market in the first half (H1) with revenue growth of 8% compared to a market decline of 1%. ARN outperformed the market again in July. ARN gained share in all metropolitan markets in which it operates. Ratings continue to trend upwards with the largest audience in its target 25-54 demographic in over 5 years. ARN has best in class margins and strong cash flows.
In New Zealand, both the market and The Radio Network (TRN) returned to growth in the second quarter (Q2) after a difficult first quarter. The market continued to grow in July. Overall for the half, total market revenue was up 1% while TRN revenue was down 1% (on a local currency basis). In the first audience survey of the year, Newstalk ZB remained the number one 10+ station in all three of the main metro markets, as well as the number one station nationally. Jane Hastings has been appointed CEO of TRN, commencing in September 2012 and we look forward to Jane's contribution to the business.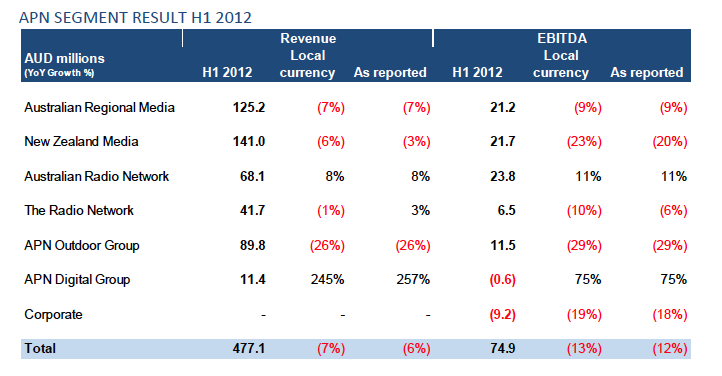 Announcing the results, APN CEO Brett Chenoweth said: "It has been a tough first half for our publishing businesses, particularly in New Zealand. While it is clearly a difficult result, our newspapers have remained very profitable and relevant despite difficult advertising markets and structural challenges.
"Newspapers continue to set the local and national news agenda each day and this content is now reaching a broader audience through our digital platforms. We are evolving our business model to capitalize on the shifting audiences and are well placed to do this from within our existing businesses and also through new digital plays that leverage our core assets and market reach.
"Our publishing divisions have undertaken substantial work to reduce our cost base and to rejuvenate our products to adapt to a changing media context. We have accelerated these reforms.
"APN's other media assets have delivered a robust performance, with two achieving stand out results. The Australian Radio Network increased revenue well ahead of the market, improved share and had the best audience ratings in its target audience in more than 5 years. Adshel's earnings jumped 42% as it made impressive share gains in both Australia and New Zealand."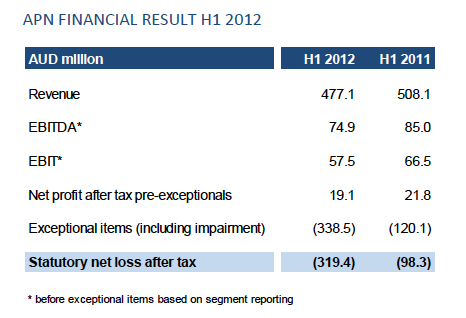 For the full financials, click here.