Thursday is the most popular day of the week to stream or download podcasts, and radio show catch-ups followed by true crime were the most popular categories in 2020, according to insights from the Australian Podcast Ranker, released today by CRA and Triton Digital.

Publishers in the ranker delivered more than 420.8 million podcast live streams or downloads from January to the end of November.

The number of unique devices used to listen has climbed from around 1.8 million per week when the ranker launched in October 2019 to around 3.3 million currently.



Chief executive officer of CRA, Joan Warner, says, "2020 has been an outstanding year for podcasting, with the Australian Podcast Ranker now tracking 2,600 active podcasts across a wide range of genres and publishers.

"Radio show podcasts were the most active category in 2020, with 101.3 million downloads. This is no surprise as it echoes the strong popularity of radio through the pandemic and reflects the established audiences these shows already have."

True crime was the second most popular category (67.6 million downloads), followed by comedy (63.5 million) and news (51.9 million).

Thursday was the most popular day for listening, accounting for 17% of downloads, and Sunday the least popular (10%).

The ranker reports monthly on the top 100 most popular international and Australian shows amongst participating publishers, and includes podcasts by radio, TV, print and independent producers. An All-Australian Top 100 list was introduced in April to highlight local content and a Top 10 Publishers list was launched in June.

An average of 1.9 hours of podcast content was downloaded per device per week in November, up from 1.7 hours in January.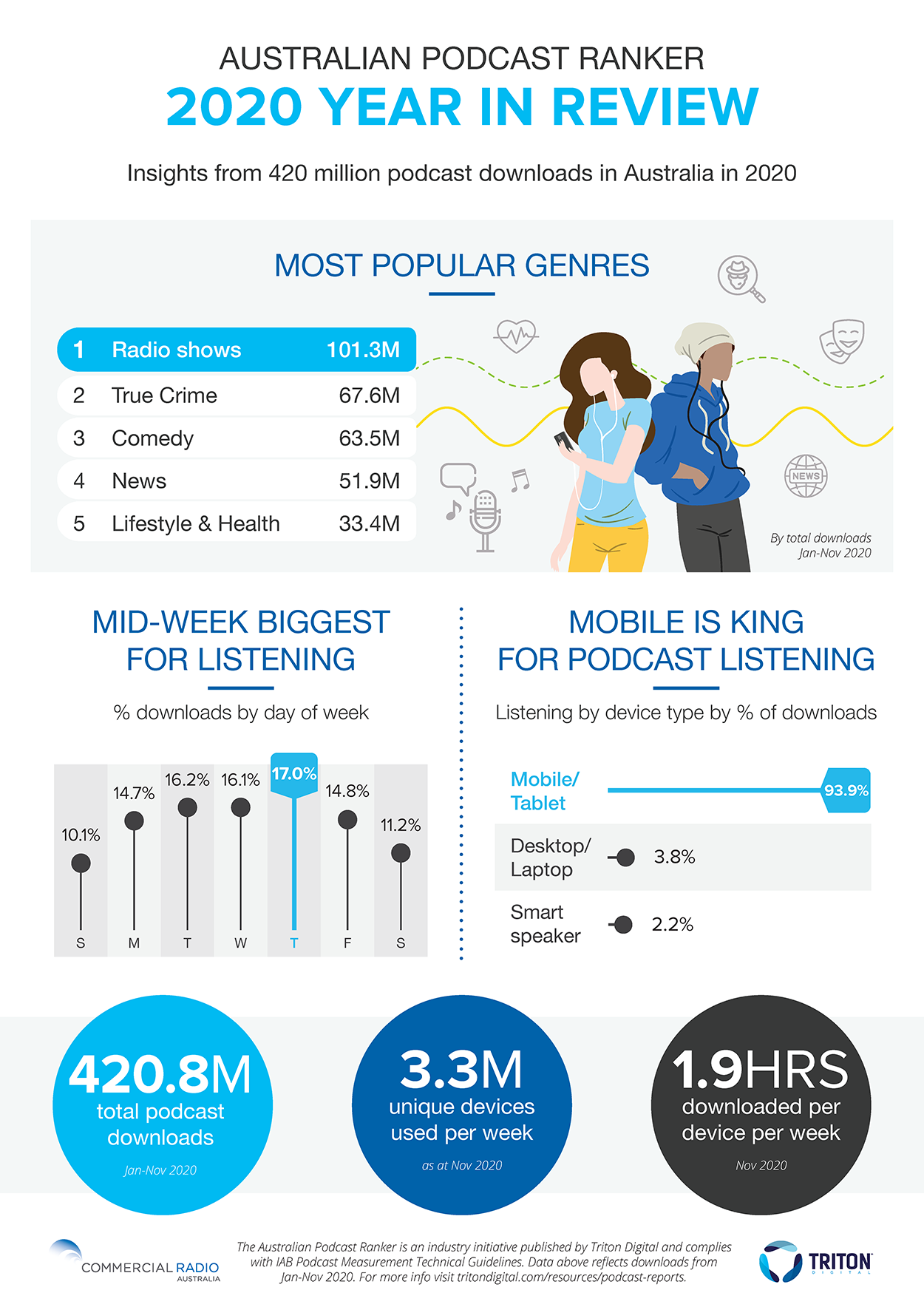 Triton Digital's director of market development for APAC, Richard Palmer, said the Australian Podcast Ranker served a need in the market for a consistent, independently-verified report on podcast performance.

"The Australian Podcast Ranker is being embraced and adopted by advertisers, providing valuable insight into both the top podcasts as well as the size, scale, advertising opportunities and key publishers in the market. We look forward to adding additional publishers and shows to the ranker in the coming months."
---
Subscribe to the radioinfo podcast on these platforms: Acast, Apple iTunes Podcasts, Podtail, Spotify, Google Podcasts, TuneIn, or wherever you get your podcasts.