Jacobs Media and the Radio Advertising Bureau have released the results of their latest study into the effects COVID-19 is having on listener habits in the US.

180 stations took part in the survey, sending the questionnaire out to their listener base, and getting back around 21,000 responses in the 3-day period from March 31st to April 2nd to give a snapshot of what people were thinking as the size of the pandemic was becoming evident.

While listening to radio has had a net increase of 2% on the question of "how has your use of media changed" (16% saying less and 18% saying more), unsurprisingly Netflix streaming (up 45%) and general internet browsing (up 36%) are at the top.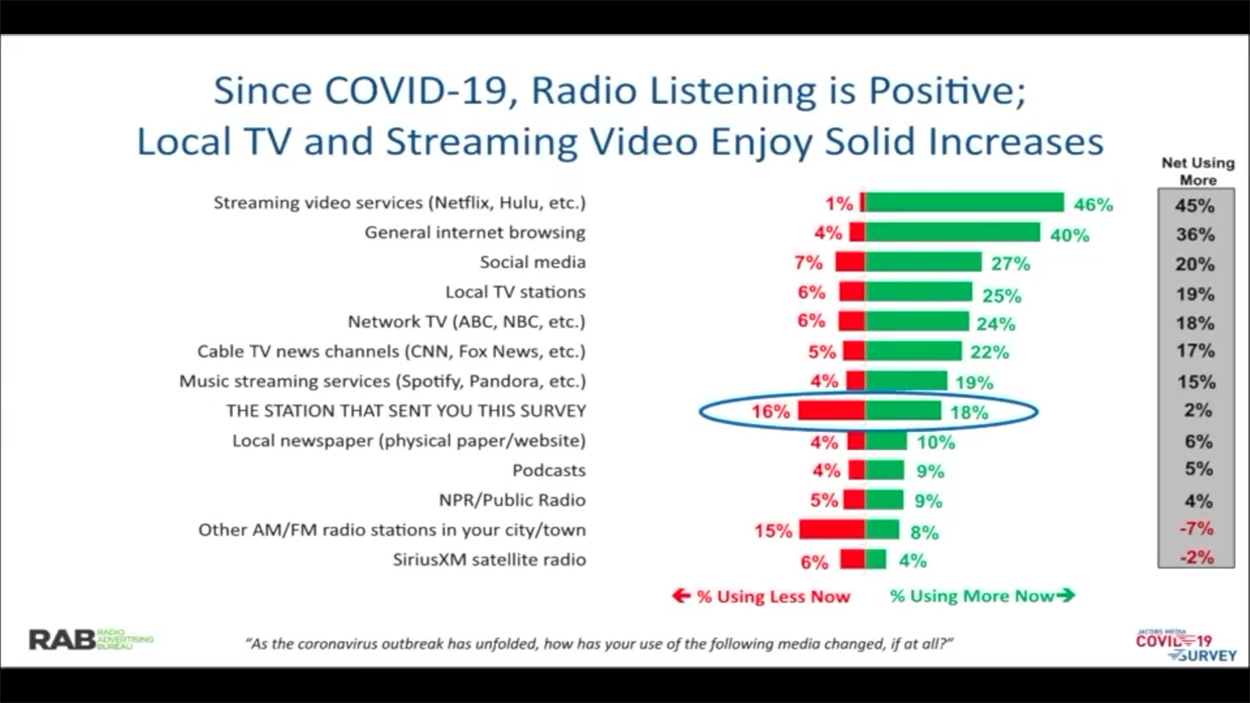 Radio is a trusted source of information about the crisis with Local Stations (The station that sent you this survey) trusted by 48% of listeners, just behind government bodies, the CDC and NIH.

NPR/Public Radio is also a trusted source (24%) in front of local TV (17%) and the Trump administration (16%) while social media trails everyone with only 1% trusting it as a reliable source of information.

The survey also took a look at the content of listeners local stations during this pandemic with 80% saying they feel their station is giving the right balance of information and humour, and 63% saying they believe their station is maintaining format and not getting too heavy with information.

Only 7% wanted their station to be more serious.

Listeners also want their station to stick to the basics of music, mornings and personalities, but they also want them to support local workers including first responders and grocery workers, and while more music, competitions and humour are seen as desirable, they are not keen for stations to open phone line to hear from other listeners tell their stories.

(Fred Jacobs says that the request for more competitions could be coloured by the fact that most of the respondents come from radio station data bases that have collected email addresses via onair competitions.)

The survey also found that there is a whole lot of spending going on, with 85% planning to get out and get groceries in the next week, while 34% will get food delivered from a local restaurant and 34% will shop for beer/wine/liquor.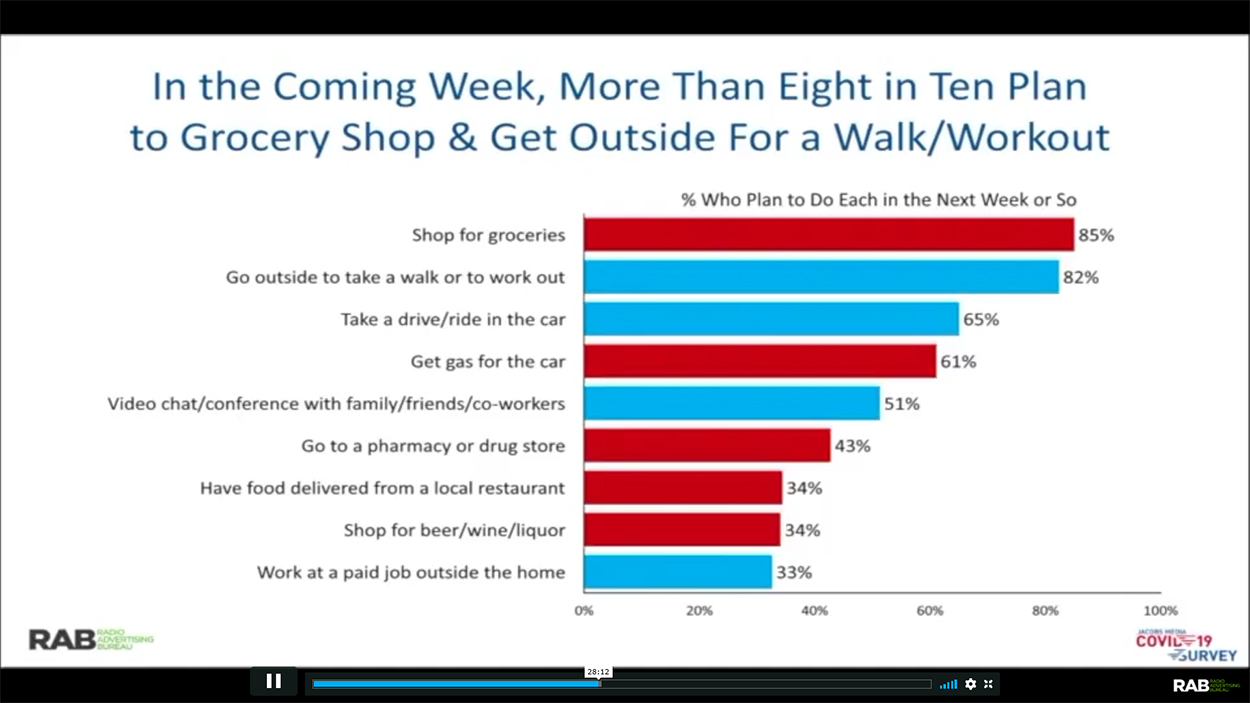 Key finding of the survey are
The audience is out of their comfort zones, physically and mentally

They are in odd locations and situations
Many are out of work or worried about their jobs

This is a full blown crisis, but it will end though things will be different
Most are more concerned about the welfare of a friend or relative than themselves
The economy is their biggest concern
They don't trust politicians or social media

Key finding for radio
Listeners trust their local radio station
They believe they are getting the right balance of information and entertainment
They are listening to radio streams on smart speakers, computers and phones
They want their stations to remain consistent, with emphasis on music, mornings and personalities
Despite the pandemic, they are still shopping, especially for groceries and other essentials
There are a lot of opportunities for radio to do something innovative in their markets, e.g. Sirius XM started #StayHome Radio and an exercise channel SoulCycle Radio
Stations should be making sure they are continuing to promote access via smart speakers, apps and streaming.
---
Subscribe to the radioinfo daily flash briefing podcast on these platforms: Acast, Apple iTunes Podcasts, Podtail, Spotify, Google Podcasts, TuneIn, or wherever you get your podcasts.