Radio is still the dominant medium for listening to audio in cars, followed by CDs then our own digital music collection, according to the latest Edison/Triton Infinite Dial research.
The next three sources of audio listening in cars are: online radio, satellite radio and podcasts.
Out of the car, podcast listening has increased, especially in the home. About 42 million Americans were estimated to have listened to a podcast in the past week, 15% of the population.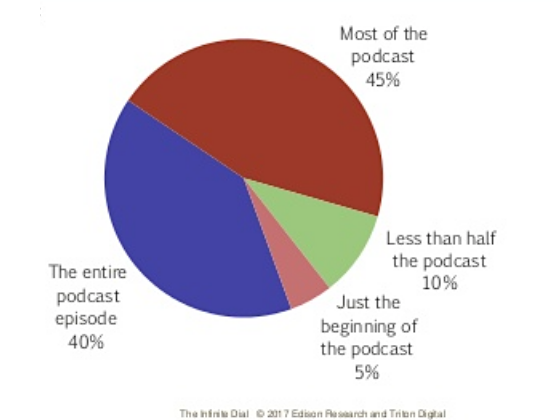 Most people listen to podcasts at home, with 40% listening to the end and the rest dropping off part way through.
Monthly online radio listening has increased in America. This statistic includes broadcast stations that are streaming on the new, plus non-broadcast stations and also music streaming services.
61% of Americans, about 170 million people, listen to online 'radio' at least monthly, according to the research, a steady increase since the studies began in 2000.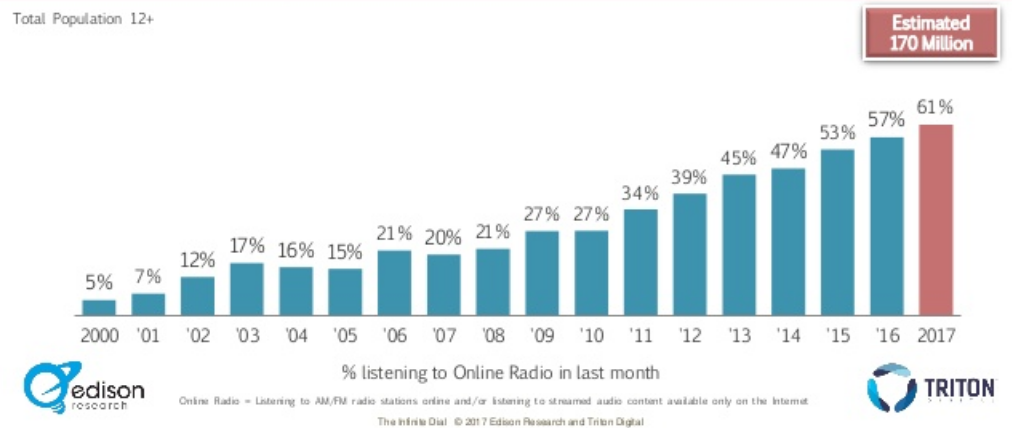 Podcasting continues to be a growth medium, as 40% of Americans 12+ say they have ever listened to a podcast, while 24% say they have listened to one in the past month, up from 21% one year ago. In addition, six in ten Americans are now familiar with the term "podcasting," a number that has risen 22% in two years.
The 2017 Infinite Dial, the latest report in a series dating back to 1998 that covers consumer usage of media and technology, also introduces coverage of "Smart Speakers," a category which includes voice-controlled devices such as the Amazon Echo and Google Home. Today, 63% of Americans 12+ are aware of at least one device in this category, while 7%, an estimated 20 million Americans, live in households that have at least one smart speaker.
Other survey highlights include:
• The Weekly Online Radio audience is now 140 million Americans, or 53% of Americans 12+
• Time spent listening to online radio surges to an all-time high of 14:39 per week
• Pandora continues to lead in the online radio space—32% of Americans have listened in the past month—but Spotify is a strong second at 18%.
• Social Media usage is beginning to consolidate around a few platforms, with Twitter's growth rate continuing to decline—especially 12-24
View all the slides below, or listen to a narrated presentation from Edison and Triton.