Radio ratings survey 8 results have just been released.
The shine has gone off the major talk stations in Sydney and Melbourne as the covid threat recedes, but they still remain at the top.
FM making a comeback but ABC #1 in Adelaide
ARN with 1 & 2 stations in Brisbane
The survey was conducted by GfK for Commercial Radio Australia between Sun Sept 26 to Sat Dec 4, 2021.
Click the charts to pop out a full size image.
Also check our new interactive charts to view each station's survey history.
Previous survey results here.
Sydney
2GB still way out in front with 14.5%, down 1.2
ABC Sydney in second place, down 2.9 to 9.4%
WSFM third, up 0.7 to 8.8%
KIIS fourth, up 0.3 to 8.3%
Fifth placed smooth steady at 7.9%
Melbourne
3AW in top spot, down 2.3 to 16.6%
Gold and ABC Melbourne equal second on 10.1%
Smooth placed third, up 1.0 to 8.0%
Nova fourth, down 0.3 to 6.2%
Fox fifth, up 1.1 to 6.6%
Brisbane
97.3FM gains top position, up 0.2 to 11.2%
4KQ slips into second, down 0.7 to 10.6
Nova drops to third place, down 1.8 to 9.7%
Triple M is fourth, up 0.2 to 9.1%
4BC fifth with 8.0%, up o.1
Adelaide
ABC Adelaide grabs top position, up 0.9 to 12.2%
Mix 102.3 slips into second spot, down 0.6 to 10.9%
Third placed Cruise lost 0.2 to 9.9%
Nova and FIVEaa were equal fourth with 9.5%
SAFM is fifth, down 0.7 to 7.4%
Perth
First placed Nova steady at 12.6%
Mix 94.5 moves into second, up 0.8 to 12.0%
96fm is third, down 0.7 to 10.7%
Fourth placed 6PR up 0.6 to 8.9%
ABC Perth is fifth, up 0.2 to 8.4%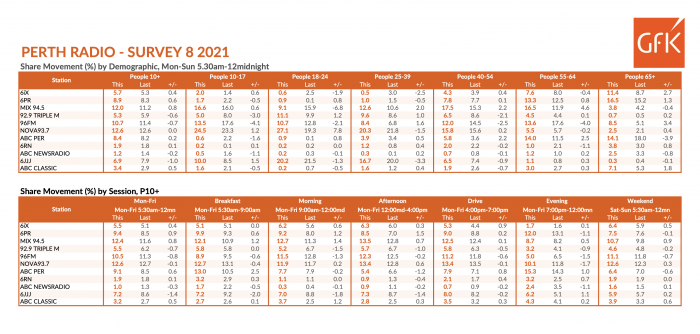 Here's Wayne's explainer of how to use the dynamic charts.