Ian Nicholls always wanted to be "on the wireless" and whilst still a student at Melbourne's University High he attended the "Vincent's School Of Broadcasting" then run by Bill Roberts in an inner City building.
To gain entry to "Vincent's" pupils used a key which was lowered from a third floor window on a fishing line. At the end of the School year of 1954 Ian Nicholls left University High and moved to 2LF Young as a general announcer.
It was the modest start of a career that is not yet over for the 74 year old. After a year in the Cherry Capital it was back to Melbourne to 3AK, above a bank in Grey Street St Kilda, and sharing a frequency with 2BS Bathurst. This frequency sharing meant that 3AK could only broadcast in daylight hours with opening and closing times depending upon the seasons of the year.
That's the way it was in 1955. After three years in the heart of Melbourne's Red-Light-District "Nicho" moved across the bay to 3GL Geelong as Breakfast Announcer. Then in 1958 the late Tom Jones, then News Editor at 3UZ poached Ian to Bourke Street, beginning Ian's career as a news reader/reporter/journalist.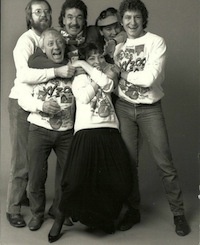 From "The Greater" to 3XY (59/64), briefly to 7HT (Hobart) and in 65 to 3DB (period pic below) where he mostly relayed to 3LK (Lubek) at lunch and drive time.
1969 it was to England and "Underground Radio" for 12 months then a return to 3DB and mid-dawns for five years. 1975 saw Ian change direction and move into sales and station representation for the Commonwealth Broadcasting Network, but after two and a half years was convinced to return to the newsrooms of firstly 3DB then 3MP, until in 1985 Ian joined the "3XYZOO" with Peter O'Callaghan and Jane Holmes.
In '88 to 3GL/KROCK for five years then whilst going through something of a traumatic time in his personal life, Ian left Victoria for 2LM (Lismore).
Pic: From back left, Peter O'Callaghan (now Magic), unknown, unknown, Richard Stubbs (ABC now), front row Ian Nicholls and Jane Holmes (Magic/3AW). Can you identify the other two, tell us in the comment window below.
In 1994 with personal issues straightened out, Ian Nicholls started a five year journey with me Overnight on 3AW. In 1999 and struggling with modern technology, Ian left 3AW for the ABC in Bendigo. After only a short time with the National Broadcaster, Ian took on the role of Manager and Breakfast Personality at Community station KLFM (Bendigo) where under his stewardship turned the wayward broadcaster into a local ratings winner.
Ian Nicholls told me "We had a great format and got extremely high ratings" he added "It was a lovely time that."
In 2009 Ian Nicholls retired to Torquay. Well he sort of retired. Two days a week Ian presents "News Geelong" on Channel 44. I first met Ian Nicholls in 1958. He's been there-a-bouts in my life ever since. You wouldn't meet a better bloke.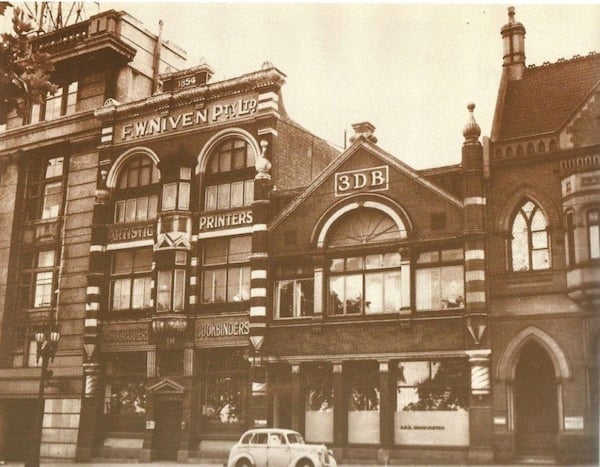 Keith McGowan