Chart Highlights – 18 July 2019
Biggest Mover: Post Malone & Young Thug up 220 spins to No.13 with 'Goodbyes'​
New No.1: Shawn Mendes' 'If I Can't Have You' knocks Ed & Justin off top spot​
High Point: Taylor Swift's 'You Need To Calm Down' cracks the Top 10 in at No.9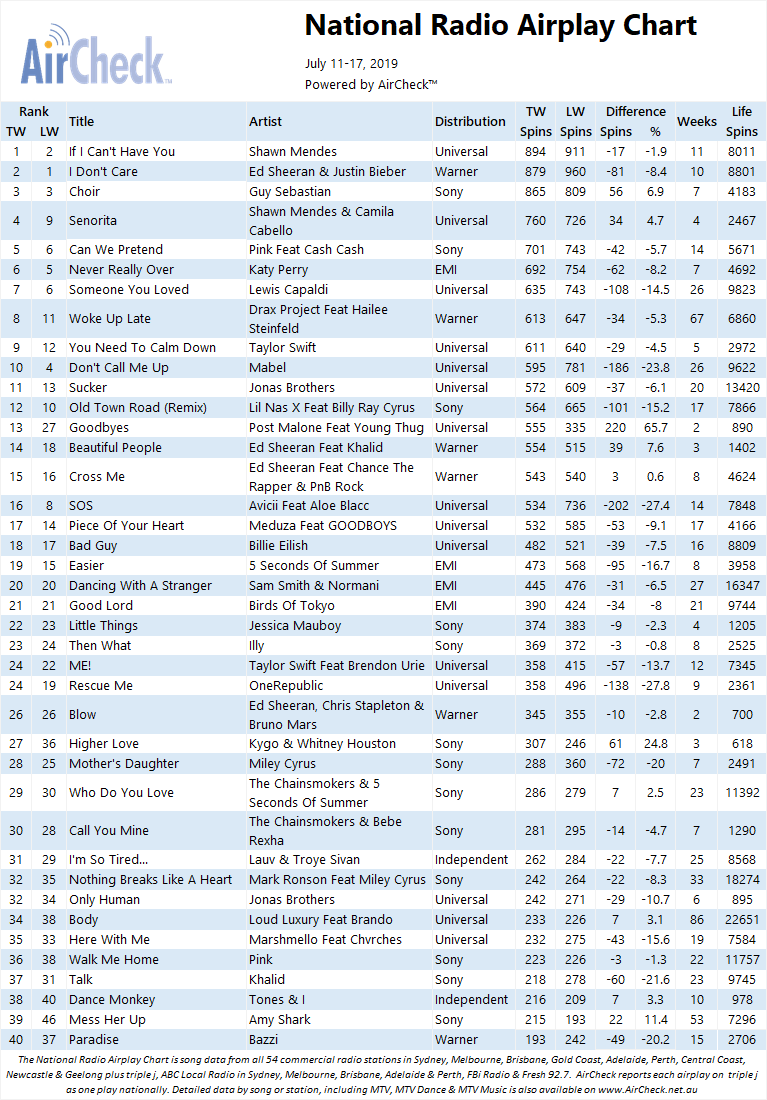 This week Post Malone took out the biggest mover crown on the AirCheck National Radio Airplay Charts, gaining 220 spins on 'Goodbyes' featuring Young Thug. The track received airplay across 20 stations across Australia, with Nova100 Melbourne the top supporter for the new track, adding 42 plays last week.
After 7 weeks of being the most played song on radio, Ed Sheeran and Justin Bieber's 'I Don't Care' was overtaken by Shawn Mendes' 'If I Can't Have you'. It was a tight race, with only 15 spins between the two tracks, but the Hit Network upping spins by 11% got Mendes over the line.

It was a successful week for Mendes, with a second track in the Top 5, 'Senorita' with Camila Cabello was in at No.4 with 760 spins.
Taylor Swift's 'You Need To Calm Down' reached No.9 in its fifth week of tracking, earning 611 spins. Nova 1069 Brisbane and Nova 969 Sydney were out in front, each spinning the track 42 times.

Swift's album, 'Lover' is due for release next month.