The SMPTE Media & Entertainment Tech Expo is being held in Sydney this week.
Steve Ahern checked out the exhibition for radioinfo.


Some of the more interesting new innovations on display were some 3D microphones and Rode's podcast production studio set up (main picture).

Both Sennheiser and Rode had 360 degree mics on display.

The golden Sennheiser four capsule mic is designed for 360° spatial audio recording, useful in virtual reality and multi channel audio creative. The AMBEO VR is an ambisonic microphone fitted with four matched KE 14 capsules in a tetrahedral arrangement. The design allows users to capture the surrounding sound from one single point delivering a fully spherical ambisonics sound.

The Rode Soundfield 360 degree mic records the entire spherical sound field, so that later, in post-production, producers can manipulate the sound by altering the mic directivity, position and rotation.

The mic can be used to create a full 7.1.4 surround mix through to a fully head-tracked 360-degree soundscape.

Rode also displayed a wireless mic kit called Wireless Go (red circled below) that is very useful for live social media feeds or video/smartphone interviews.

Many people forget to capture good sound when they record on smartphones or cameras. This accessory is a small lightweight clip-on addition to your field recording or streaming kit.
The transmitter has a built in omnidirectional mic and can also accommodate a lavalier external mic. The receiver connects to your camera, computer or smart device, using the 2.4 GHz spectrum with up to 70 metre line of sight transmission.

The kit uses128 bit encryption to avoid interference is dense RF and wireless environments such as news events and conferences.


The Rodecaster Pro setup on display featured the small studio mixer, which has built in effects pads and records audio to an inbuilt microSD card. It was paired with Rode's Podmic and mic arms.

The 4 microphone channels are able to power studio condenser microphones as well as conventional dynamic microphones. Users can quickly connect all microphones, with automatic level setting and one-touch recording. It also allows automatically set mix-minus audio routing when taking phone calls.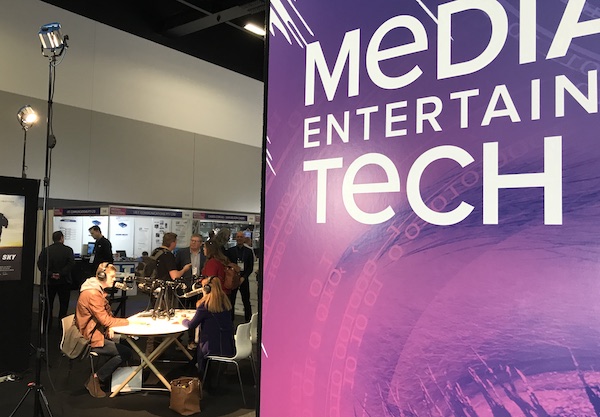 With the media making increased use of camera drones, an unexpected exhibitor at this year's expo was Australia's Civil Aviation Safety Authority (CASA).

You don't need to be licenced to fly drones, as long as you abide by the rules. Things for broadcasters to know about flying drones include:

Never fly a drone, model aircraft or multirotor near bushfires. While it might be tempting to record footage, you can pose a major safety risk to firefighting personnel in the air and on the ground. Firebombing is tough enough without extra aircraft in the sky.
You only need to be licensed and certified if you want to fly outside of CASA's Standard Operating Conditions (SOCs).
If the drone you are flying weighs under 2kg, you can fly under our 'excluded' category and must follow our SOCs.
If you fly a drone (remotely piloted aircraft) RPA under 2kg but for commercial reasons, you can fly your drone in what is called the 'excluded' category.
This means you'll need to notify us before you fly and operate within the standard operating conditions.
If you want to fly outside these operating conditions, you will need to be licensed and fly with a certified operator to fly commercially.
There might be local council and/or national park laws prohibiting drone flights in certain areas.
Research the area you plan to fly and contact your council or national park if you're unsure.
Don't operate near emergency services aircraft – if you fly, they can't.

Full CASA details here.


Related Report: Changing news workflows: Journos are working from small bureaux or home offices