With survey 4 done and dusted, here are some highlights from across the nation.
2GB retained top spot in Sydney, increasing its share by 0.1 to 11.8%, but then focus was on the breakfast shift this survey, with Ben Fordham relinquishing the breakfast crown to Kyle and Jackie O.

KIIS 106.5 jumped into second position, rising one share point to 10.6%, with Kyle and Jackie recording a big rise in the breakfast shift, up 2.6 to 15.5% in that timeslot. ARN's Duncan Campbell told radioinfo that Kyle is like a "kid in a candy shop" after today's results.

2GB breakfast dropped to second place, losing 0.2 to 13.3%. ABC Sydney was third in the breakfast ranking, dropping 1.2 to 11.9%.

Ray Hadley recorded his 134th consecutive win in the Morning slot with a 13.7% share.
Greg Byrnes, Nine Radio's Head of Content, says Nine Radio's talk network has "posted strong growth in the 25-39 demographic where we were up 26%, while in the 40-54s we were up 6%. He told radioinfo there is no chance that Alan Jones will return to the network.
KIIS pushed smooth to third place overall, down 0.8 to 10%, followed by ABC Sydney down 0.5 to 9.6%. WS FM was in fifth place, up 0.1 to 8.3%.

In other notable moves, 2Day slipped below ABC Classic, losing 0.2 to 3.3%, while 2UE moved up slightly, gaining 0.6 to 3%.

Nationally, Nova has a cume of 3.6 million listeners, 387,716 listeners ahead of its nearest competitor. Nationally Nova's drive show, Kate Tim and Joel is the number one drive show In Sydney Nova has a cume of 1.06 million listeners.
Commenting on smooth, Nova's Paul Jackson says he is delighted with the station's strong results in the Sydney market again this survey. "With Simon Diaz # 1 overall in afternoons and Byron, Cameron and our weekend line-up #1 FM, smoothfm continues to deliver on its commitment to play some of the best artists and greatest tracks and provide a feel good escape for listeners across Sydney."
Nova won the 10-17 demographic, KIIS won the three demographics between 18-54, smooth won 55-64s, just ahead of ABC Sydney, while 2GB won the over 65 demo.

Across the day, 2GB won mornings, smooth won afternoons, KIIS won drive, 2GB won evenings and weekends.
Melbourne
3AW held its top position, down 0.1 to 15.5. Ross and Russ in Breakfast and Neil Mitchell in Mornings posted "another round of extraordinary results in Melbourne," according to Greg Byrnes. The station won all shifts in the Melbourne market.

ABC Melbourne jumped into second place with a big gain of 2.3 share points to score 11.1% overall, regaining some of the numbers it had during last year's Melbourne lockdowns.

Gold was placed third, down 0.7 to 10.4%, followed by smooth in fourth place, up 0.2 to 7.8%.

SCA's Fox was in fifth place, down 0.8 to 7%. SCA nationally won the "key buying demo, 25-54s nationally," reaching 4.84 million listeners each week. The Hit network is number 1 with women 30+, according to SCA's media release.
Nova won 10-17s, triple j won 18-24s, Fox won 25-39s, Gold won 40-54s, 3AW won the over 55s.
Brisbane
It's tight at the top of the Brisbane market as usual. Top station Nova slipped by 0.3 to 10.8% overall, while 97.3FM gained 0.4 to 10.2%, moving into second place.

Triple M dropped into third place, down 0.3 to 9.9%. Fourth placed 4KQ dropped 1 share point to 9.3%.

Nova won breakfast ahead of Triple M. Mornings was won by 97.3FM, slightly ahead of Triple M and 4KQ. B105 won afternoons, 97.3 won drive, ABC Brisbane won evenings and 4KQ won weekends.

Nova won 10-17s, B105 won 18-39s, Triple M won 40-54s, 4KQ won the over 55s.
Adelaide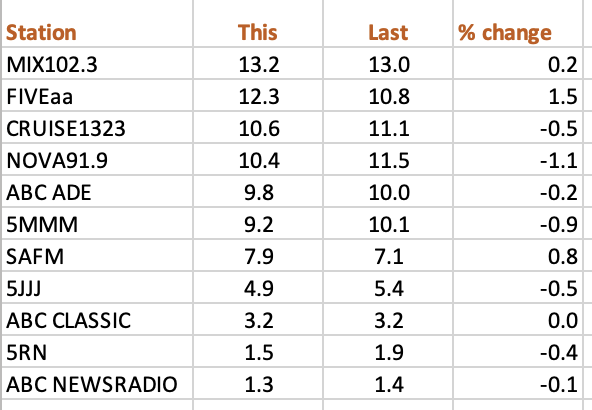 Mix consolidated its top position, up 0.2 to 13.2%, against a fast rising FIVEaa, up 1.5 to 12.3%.

Third placed Cruise slipped 0.5 to 10.6%, while Nova was fourth, down 1.1 to 10.4%, followed by ABC Adelaide, down 0.2 to 9.8%.

FIVEaa is the leader in Breakfast, with David Penberthy and Will Goodings gaining 1.7 to 15.5% in that shift, ahead of ABC Adelaide.

Mix won mornings and afternoons, Nova won drive, FIVEaa won evenings and weekends.

Nova won the 10-39 demographics, Mix won 40-54s, Cruise won 55-64s and FIVEaa won the over 65s.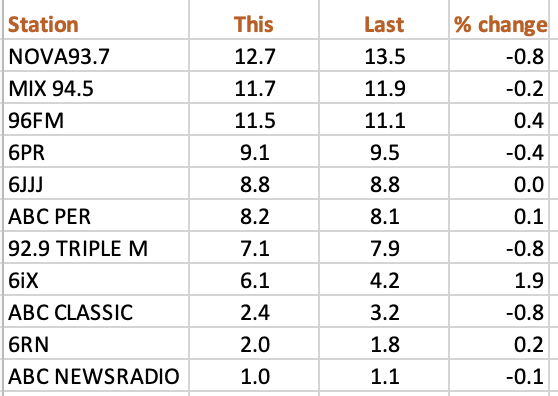 Nova retained top spot, slipping 0.8 to 12.7%, followed by Mix, down 0.2 to 11.7%.

In third place, a rising 96fm is closing in on the leaders again, up 0.4 to 11.5%.

6IX had the biggest gain of the survey, up 1.9 to 6.1%.

Nova won breakfast, 96fm won mornings, Mix own afternoons, Nova won drive, ABC Perth won evenings and 96fm and Nova won weekends.

Nova won the 10-39 demographics, Mix won 40-54s, 96fm won 55-64s and ABC Perth won the over 65s.
Related reports: Trends, Cumes, Spin, DAB Stations, Raw Results.
---
Subscribe to the radioinfo podcast on these platforms: Acast, Apple iTunes Podcasts, Podtail, Spotify, Google Podcasts, TuneIn, or wherever you get your podcasts.