As SCA takes control of the Spirit Network in Western Australia, there is one station still left with an uncertain future, Spirit FM in Bunbury, previously known as 6EL on AM 621.
SCA made a commitment to the ACMA that it would divest itself of the station, and Grant Blackley recently told us a sale is imminent.
Rumours are strengthening that the station will be sold to SEN. The rest of the network is scheduled to rebrand to Hit and Triple M next week.
As a public company, SCA would not be able to comment on the sale until it is finalised and notified to the stock exchange. radioinfo believes the in-principle sale has been agreed but not yet legally finalised.
When we called the station for confirmation, our enquiries were referred to Croc Media.
If true, a sale to Croc Media would make strategic business sense, given that SEN's sports format would not conflict with the formats on SCA's other stations in the market.
The current Spirit station in Bunbury employs five staff. We have been told it is "business as usual" at the station until official details of any sale are finalised.
Sales revenue in the area was reported to be "good" in the past financial year, although a potential change of format to sport would undoubtedly change the way local sales are made. AFL football has a strong following in WA and it is likely that the expansion of the SEN Network, if it happens, would be good for national revenue to the network, although it may decrease local revenue.
The City of Bunbury is located in "one of Australia's fastest-growing regions," according to investment information from the city council.
Situated less than two hours from Perth, it is considered the commercial and residential heart of the South West region of Western Australia.
"Dubbed the second capital of the state, the City of Bunbury has a buoyant and multifaceted economy coupled with a culturally diverse community. Bunbury's population is estimated at more than 32,000 and has affordable residential prices, facilities similar to those found in major capital cities, and an enviable lifestyle," according to the Council
An ACMA spokesperson has told radioinfo: "On 18 December 2019, the ACMA announced that it had granted approval to Southern Cross Media Group Ltd for temporary breaches of the two-to-a-market media control rule for radio and the media diversity rule in Bunbury, Western Australia. Approval was granted on the basis of a court-enforceable undertaking from Southern Cross to divest a commercial radio licence in Bunbury."
The map of former Spirit network stations is below.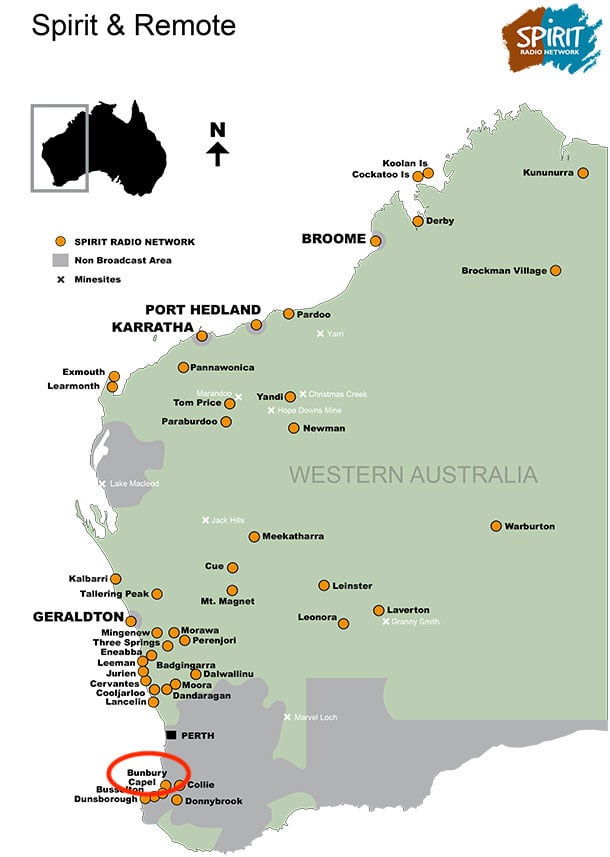 ---
Ask Alexa
:
'Alexa, play radioinfo flash briefing'
or
ask Google Home
:
"Hey Google. Play the latest Radioinfo flash briefing podcast."
---