Chart Highlights – 2 August 2019
Biggest Mover: Sam Smith up 256 spins to No.17 with 'How Do You Sleep'​
New No.1: Guy Sebastian reaches No.1 with 'Choir' receiving 873 spins​
Local Music: Tones & I's 'Dance Monkey' hits new peak at No.12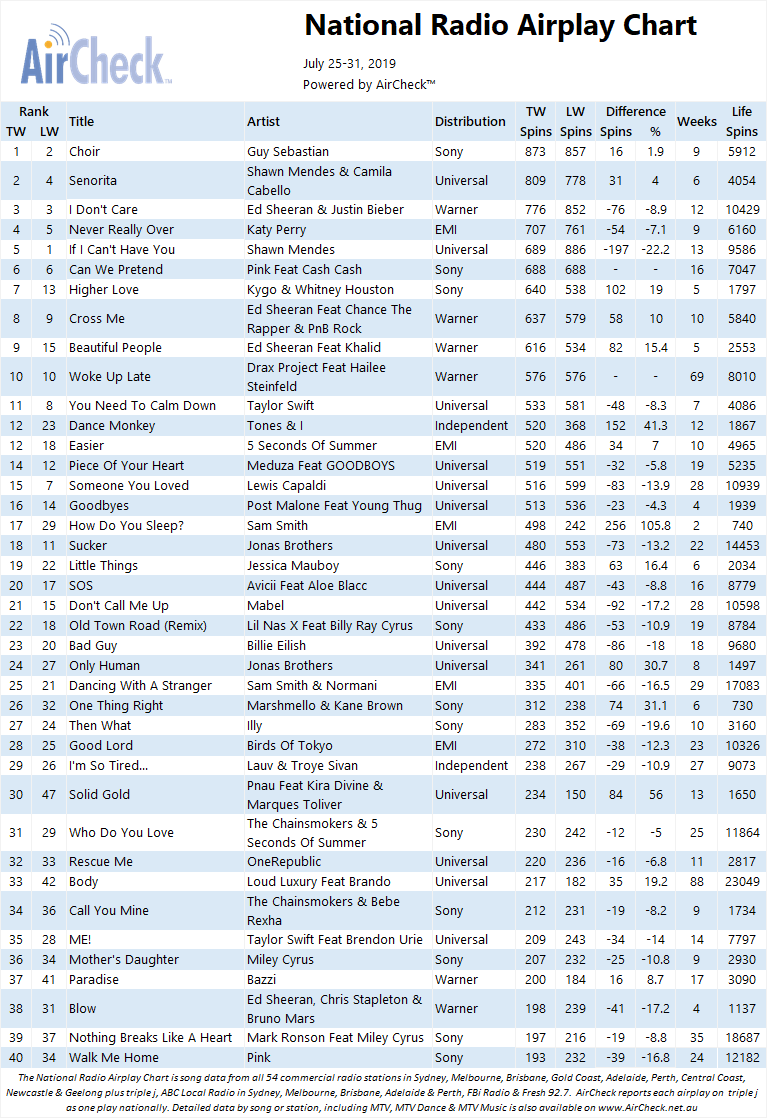 After the success of 'Dancing With A Stranger' with Normani, Sam Smith followed up with 'How Do You Sleep?' and after debuting at No.29 last week on the AirCheck National Radio Airplay chart, the track gained 256 spins landing at No.17.

20 stations across Australia spun the track last week, while Nova969 Sydney was the track's top supporter adding 38 spins.
Guy Sebastian went from strength to strength with his latest release 'Choir' hitting No.1, earning spins on 26 stations and while the Nova network accounted for almost 30% of airplay, KRock Geelong also had the track on high rotation, contributing 51 spins.
Fellow Aussie Tones & I's 'Dance Monkey' continued to rise following her debut at Splendour in the Grass last month and the song tied at No.12 with 5SOS' 'Easier', both earning 520 spins.
Last week's biggest mover 'Higher Love', Kygo's remix with Whitney Houston's vocals, moved inside the Top 10, gaining a further 102 spins.