In an Australian media first, SCA will give Coldplay fans the ultimate live experience with a global live audio stream of the band's completely sold out Enmore Theatre gig in Sydney next week, June 19.
In celebration of Coldplay's new album Ghost Stories, SCA and Parlophone/Warner Music Australia have partnered to offer fans the unique opportunity to connect with Coldplay.
The live stream of the performance, which will take over the entire Today and Triple M Networks, will air across all 91 SCA radio stations, including digital. It will also be available on 90 mobile-optimized websites, 72 smart phone apps and at the dedicated coldplayaustralia.com.au microsite.

The much-anticipated gig will play out across the country and around the globe commercial free.

SCA's Head of Radio Content Craig Bruce is "thrilled to be partnering with Warner to deliver next-level engagement to millions of Coldplay fans both locally and globally in what will be an Australian media first. We're committing all of our air time to this once in a lifetime opportunity and providing a multitude of ways for audiences to connect with this phenomenal music act."

Managing Director Parlophone and Warner Bros Mark Poston said: "This is a powerful collaboration in which fans of Coldplay and music lovers win out. Everyone involved with the band – including the band themselves – are really pleased that now millions of Australians who couldn't be at The Enmore can now listen in live to this special and unique show from arguably the biggest band in the world right now."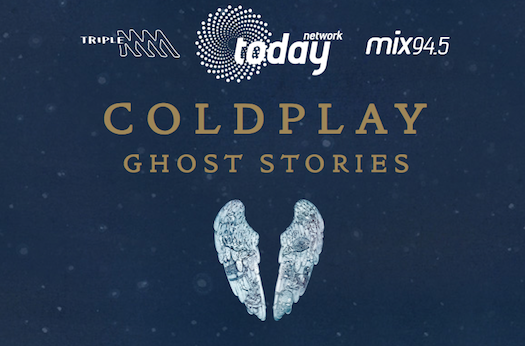 Through this exclusive collaboration, SCA has additionally secured the only remaining Coldplay tickets in town and will be giving listeners the chance to win their place at the sold out gig leading up to the concert.
Coldplay have been partnering with broadcasters in innovative ways on the tour to promote their new album, Ghost Stories. Last month's show in Paris could be heard live in the internet and last week's show from the Royal Albert Hall in London was broadcast live by Bauer's Absolute radio stations.

Coldplay's new album 'Ghost Stories' is out now.