SCA's diversification with its radio portfolio has helped cushion the affects of COVID-19 on revenue for the full year ending June 20.

Revenue for the Group was down by 18.2% to $540.2m on the previous year, while the EBITDA was down by 30.9% to $108.2m.

Both SCA's Audio and Television divisions were down by around 18% overall, and while the metropolitan radio advertising revenue declined by 25.3%, regional radio performed a little better although revenue was still down by 13.1% on 2019.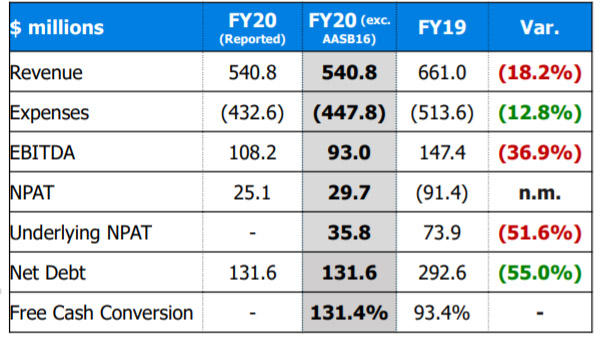 The effect of COVID-19 was most pronounced from the middle of March with Q4 revenue down by $34m. Despite the severe impact of the pandemic since mid-March, SCA achieved a positive EBITDA contribution in all four quarters. This included EBITDA of $21M in the June quarter, compared to an average of $26M for the preceding three quarters of FY2020.

$16m in JobKeeper support reduced the impact on labour costs, and there were also cost reductions that incorporated $12m is discretionary savings.

SCA raised $168.6m in an equity raising in May this year and as a result the Groups net debt position was reduced by 55% to finish the year at $131.6m.
There has also been an increase in radio listening throughout the day during COVID-19, with most notable increases across the daytime shifts
Speaking to radioinfo's Steve Ahern on our podcast, Blackley explained the reason for not paying a shareholder dividend in the next year. "Most businesses have looked very hard at whether it is responsible to pay a dividend in these uncertain times. We have taken the decision not to pay a dividend… What we need to see is a stronger recovery and sustainability."
SCA has "very high liquidity with $271 million cash on hand, which it will apply to pay down debt. At this time high liquidity is a good thing… shareholders respect that."
The company raised $169 million with a capital raising and also implemented "a series of cost measures to reduce the cost base by $65 million in that quarter.. that sits as cash on hand and accelerates the debt reduction by 55%."
Blackley also acknowledged the government's Jobkeeper package as an important support to SCA and many Australian companies. He is not sure whether SCA will continue to be eligible for it once the first stage or eligibility requirements changes after the end of September. "Given the unchartered waters, the recognition by government was that employees and companies needed assistance… we recognise that contribution."
SCA operates in 105 markets around Australia. Some of those markets will have their local breakfast shows cut back as of next week as part of moves towards a "leaner operating model," foreshadowed today at the AGM (see our other report)
"SCA continues to be Australia's largest audio group owning and operating 98 FM, AM and DAB+ radio stations around Australia, together with PodcastOne Australia, Australia's premium commercial podcast network," he said during the AGM.
"Next week, we're excited to be launching SoundCloud Radio and DAB+ in Brisbane, Sydney, Melbourne Adelaide and Perth. SoundCloud Radio, which will be available by live stream all around Australia, will attract a young, highly engaged and influentioal audience seekeing access to new and ererging artists.

"Consumption of audio in Australia, including radio and podcasts, continues to grow. Audio has now only remainded a popular companion for people working from home during the COVID-19 lockdowns but it is also more accessible than ever before through internet-enabled devics such as mobile phones, tablets, desktop computers and smart speakers. SCA's suite of radio stations, radio and original podcasts and smart news updates is avaiable on all these devices."
Looking forward to FY2021, SCA has been reviewing its Hit and Triple M brands and developing strategies for implementation this year.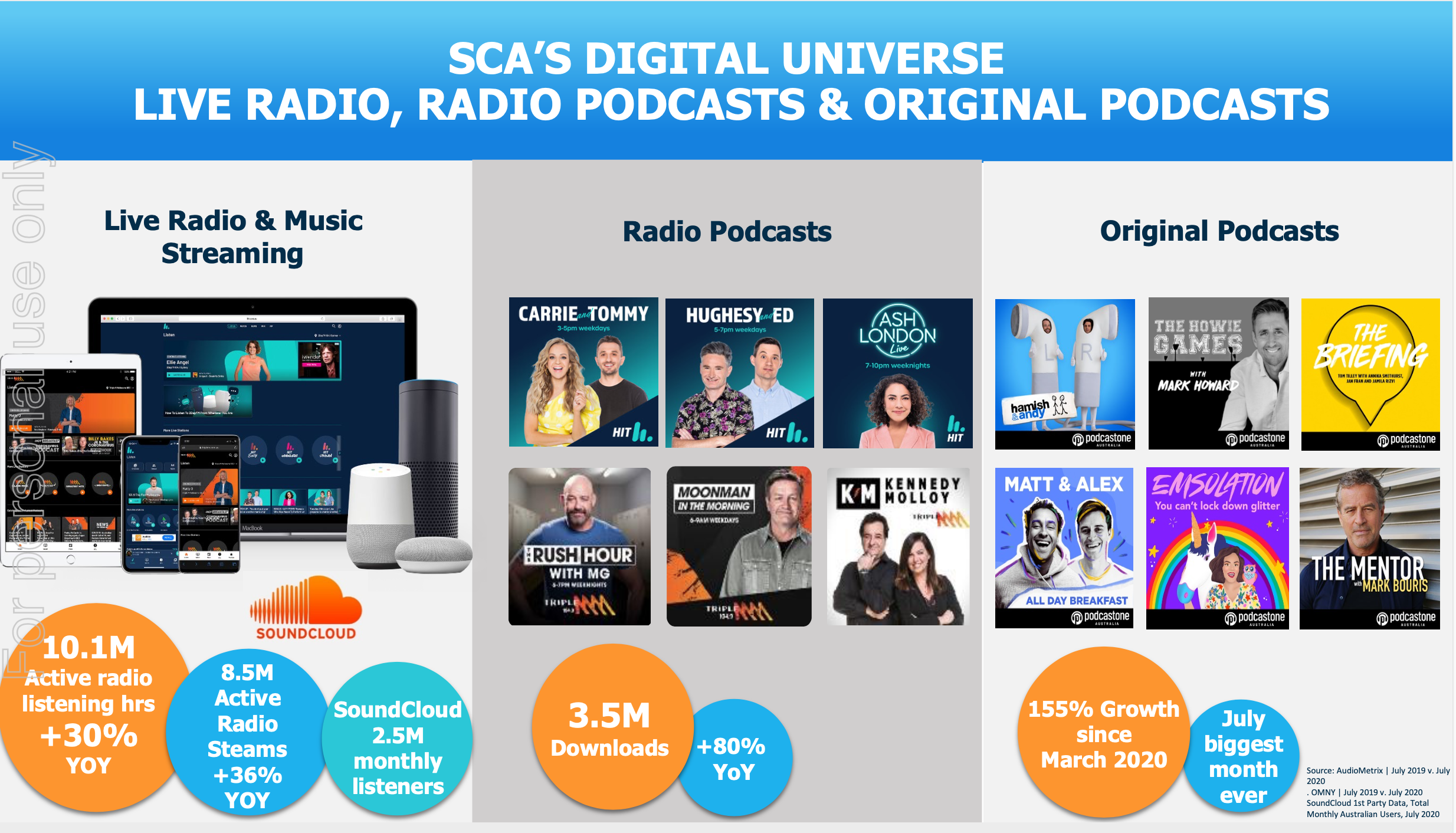 Related report: Big changes for Hit network regional breakfast shows from Monday
---
Subscribe to the radioinfo flash briefing podcast on these platforms: Acast, Apple iTunes Podcasts, Podtail, Spotify, Google Podcasts, TuneIn, or wherever you get your podcasts.