Seven West Media, the parent company of the Spirit and Red FM networks in WA, has reported annual financial results today.
The company has reported a statutory net loss of $745.0 million for the year ended 24 June 2017 after significant one-off writedowns of its television business.
Excluding the writedowns, Seven West showed an underlying profit after income tax, excluding significant items net of tax of $166.8 million on total revenues of $1,679.4 million.
The company's radio division revenue increased by $2 million.
EBITDA of $306.7 million is down from $363.5 million in the corresponding period. This is within guidance outlined at the company's 2017 interim financial results.

A final dividend of 2 cents per share (fully franked) has been declared.

Radio Division
Redwave Media is a division of the Seven West Media group, with 9 radio licences across regional WA. It is geographically the largest radio network in Australia.
Redwave's two regional radio networks, RedFM and Spirit Radio, reach consumers from Wyndham in the far north of WA, through to Bremer Bay in the south. The stations are heard in regional WA towns plus remote mine sites and some oil and gas platforms.

The Radio division increased its revenue from $9.2 million last year to $9.4 million this year.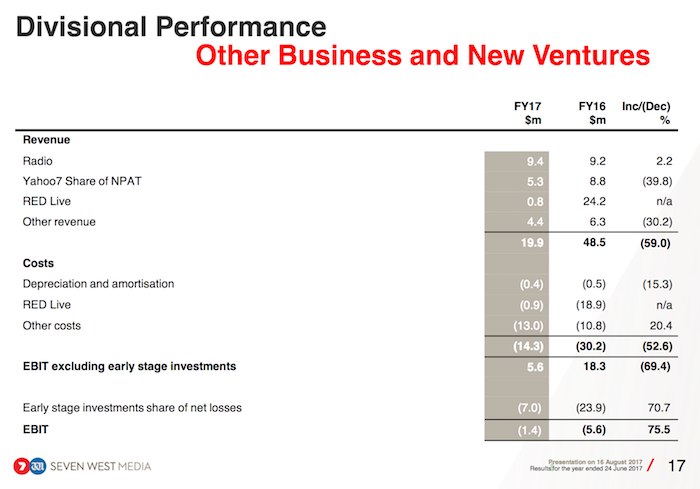 Managing Director and Chief Executive Officer of Seven West Media
Tim Worner
said:
"Our results reflect a tough market, one that continues to change at pace, but a pace that we must match in our transformation. Despite these tougher conditions, we continue to lead in the core markets in which we compete, while at the same time making the necessary and sometimes difficult decisions in the transformation of our business."