According to latest Standard Media Index figures, advertising spending dropped in May, with magazines the worst performer and the radio/audio and cinema sectors being the best.
SMI partners with leading global media buying agencies to provide independent, accurate and timely advertising expenditure data to its clients. Data is sourced directly from advertising agencies' billing systems and then aggregated to show the combined picture of media Agency ad spend across all major media.
Estimates for May indicate that agencies spent $623.9m on advertising.
The strongest growth in May came from Radio (+10.9% ex audio websites) and Cinema (+16.9%).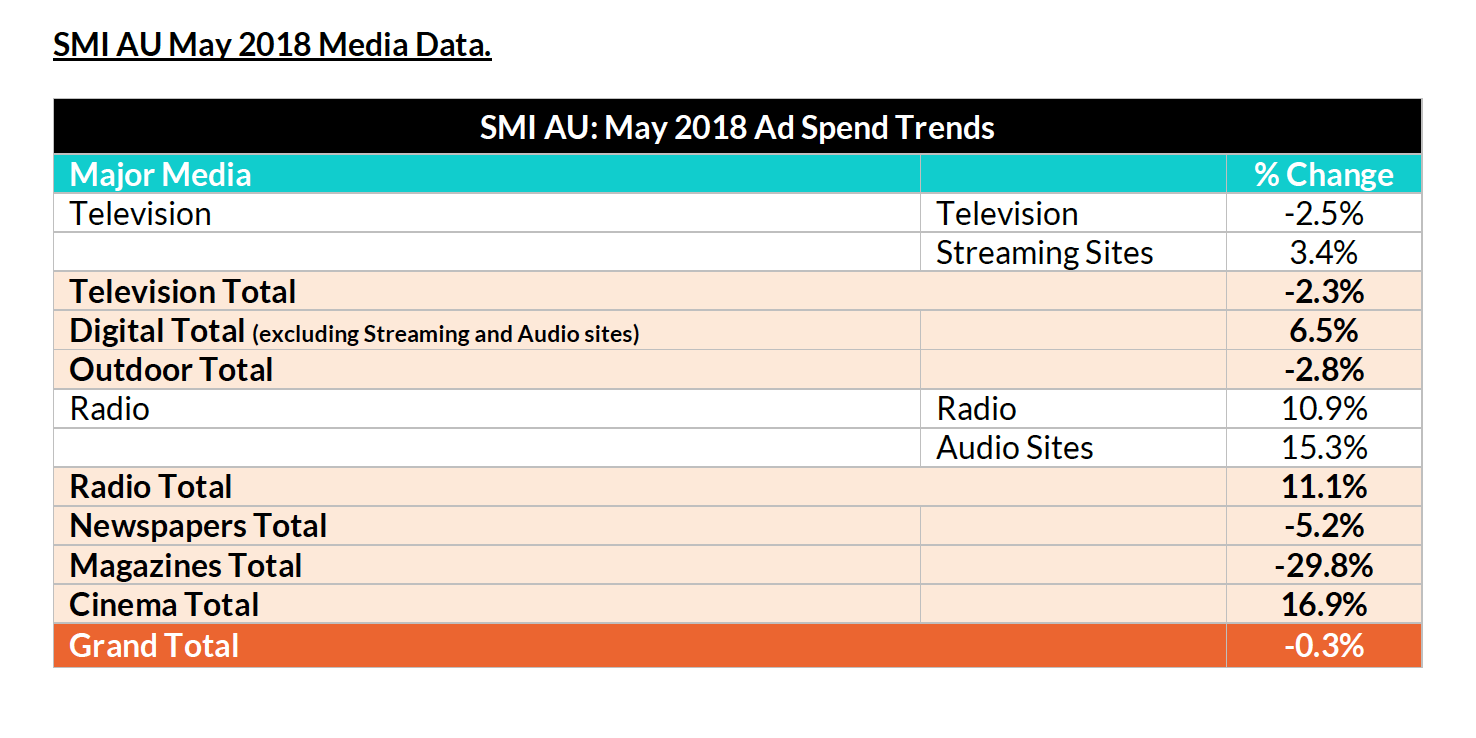 While the market achieved record ad spend in April, it faced a tougher benchmark this month given the huge growth in Government spending seen in the lead up to the 2016 Federal election which saw total bookings reach $642.4 million in May that year, according to SMI's AU/NZ managing director Jane Ractliffe.
Also the market lacked any impetus this May from one-off events, with the NRL State of Origin series falling entirely in June this year while one match was played in May last year. Despite that, the Metropolitan TV market grew Agency bookings by 0.5% this month.
Agency spending to the Digital media slowed in May with the total up a lesser 2.8%, with the SMI data also highlighting the diverging fortunes of various Digital media. For example, Agency bookings to the Search and Social Media sectors continued to grow rapidly with their total ad spend up 12.8% and 13% respectively this month. But as programmatic bookings continue to rise (+15.3% in May) the amounts spent directly with Digital Publishers continues to fall and this month was down 19% YOY.
Total ad spend so far this calendar year is up 5.1% at a record $2.89 billion, and for the financial year it's up 3.7% at another record of $6.68 billion, according to the SMI Index.