Australia's advertising market continues its remarkable recovery from the COVID pandemic with SMI's early July data already showing strong double-digit growth, partly boosted by the Tokyo Olympics broadcast.
SMI AU/NZ Managing Director Jane Ractliffe says SMI's interim July data release, which does not yet have late Digital media bookings included, showed the value of advertising demand was already up 18.3% from last July, and when Digital media ad spend was removed to make the data like-for-like then total growth soared 40.8%

And on that basis July bookings are so far just $6 million below that achieved in the pre- COVID world of July 2019.

Ractliffe says, "This is now the fourth straight month in which we'll be reporting a growth rate beyond 40% and that's an extraordinary turnaround in the market from the COVID downturn seen last year. We always expected the ad market to bounce back but I think most observers would be surprised at the strength of ongoing demand."


She said that despite the latest COVID outbreaks the market was so far staying the course, with no evidence of any reduced demand yet visible in SMI's Forward Pacings data (which tracks the value of future confirmed advertising payments over the last three years).
"With more than half the month of August to go we can already see the value of ad spend for the month is only 2% below that achieved for the whole of August last year, highlighting another month of huge demand, while the level of ad demand now seen for September is well above where it was at this point over the past two years," she says.
"This also mirrors what we're hearing from our media agency partners…with the first wave of COVID last year there was an instant retraction of ad spend but that's definitely not happening this time. The market may be more cautious, but there's not the instant mass cancellation of campaigns that we saw last time as the market has become more accustomed to managing the new COVID environment."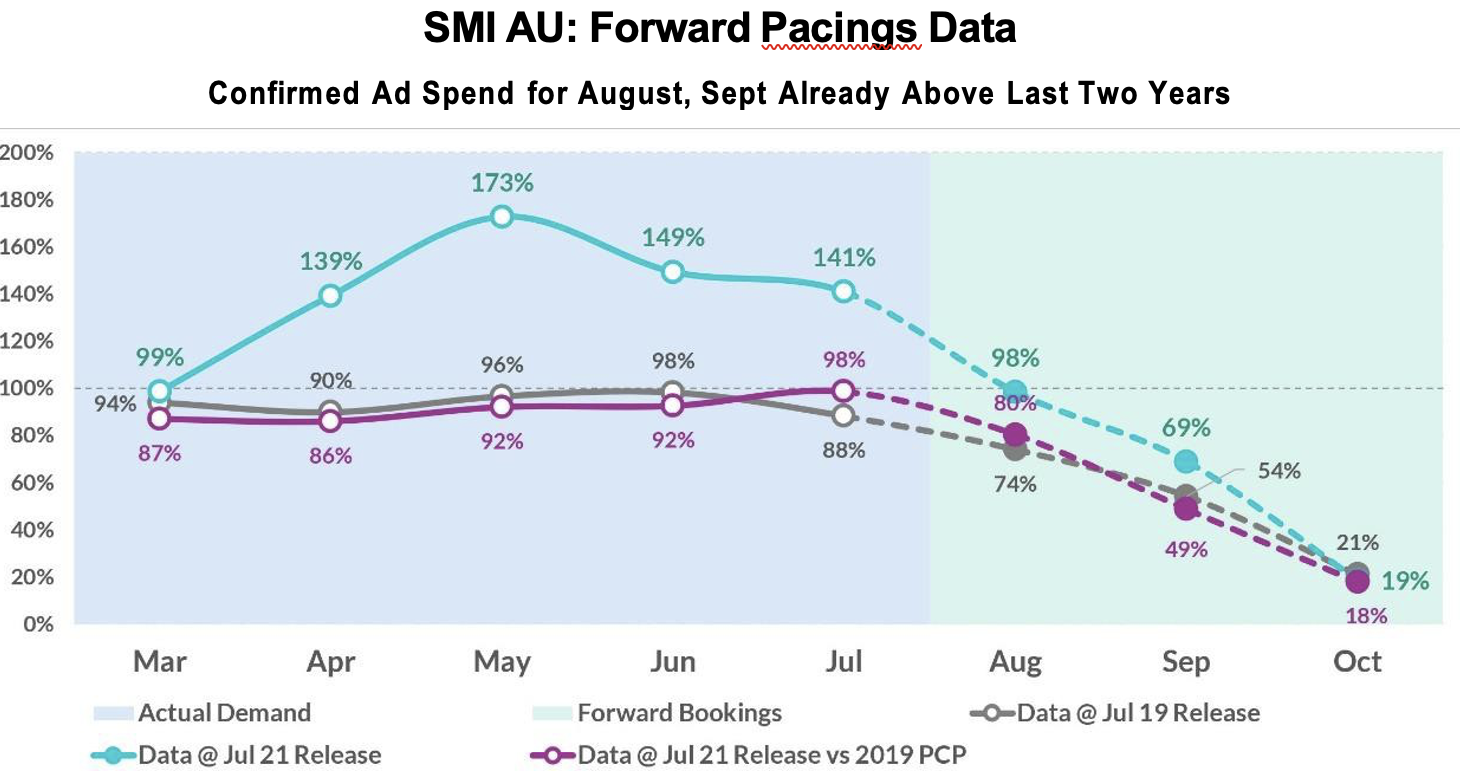 The month of July was most notable for the successful Tokyo Olympics broadcast on Seven, which aided an impressive 41.9% increase in TV ad spend, with the TV total $33 million more than reported for July 2019.
Other media also performed well in July with Radio bookings are already up 12%, the Outdoor media's recovery continuing with a 98% increase in ad spend and advertisers are returning strongly to Cinema with the media reporting July ad spend of $3.5 million compared to $179,000 last year.

And in other SMI news, a new Retail Online Digital sector has been introduced to the database this month to provide more focus on the emerging eCommerce/Retail market.
This is the second new media sector introduced into the SMI AU dataset this year, with a Programmatic Outdoor sector joining as a new part of the Outdoor media landscape in April this year.
---
Subscribe to the radioinfo podcast on these platforms: Acast, Apple iTunes Podcasts, Podtail, Spotify, Google Podcasts, TuneIn, or wherever you get your podcasts.