The media releases and spin from the PR and Marketing departments are in for Survey 7.
Read them below – refresh the page during the day to see the latest.
Check our earlier reports on the raw results and analysis.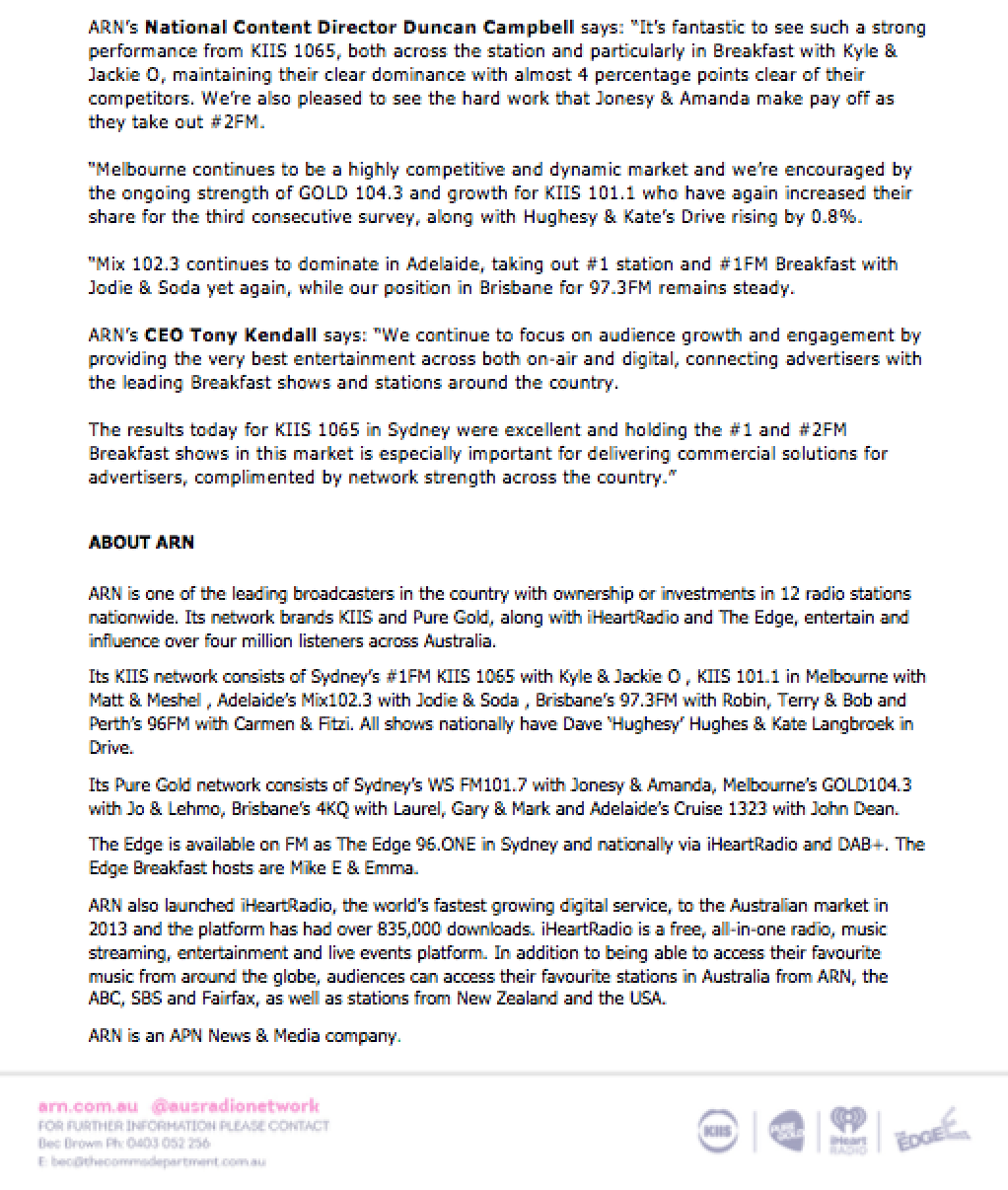 Triple M Melbourne
Triple M's Hot Breakfast with Eddie McGuire, Luke Darcy and Mick Molloy has secured its highest ever audience share of 9.9% and maintains its standing as the #1 FM breakfast radio show in Melbourne

Fox FM's Fifi, Dave and Fev lifted from 8% to 8.5% and maintained their #2 FM breakfast radio spot

Hamish and Andy are the #1 FM Drive show in Melbourne, lifting from a 9.6% share to 11.9%. They are also the #1 Drive show nationally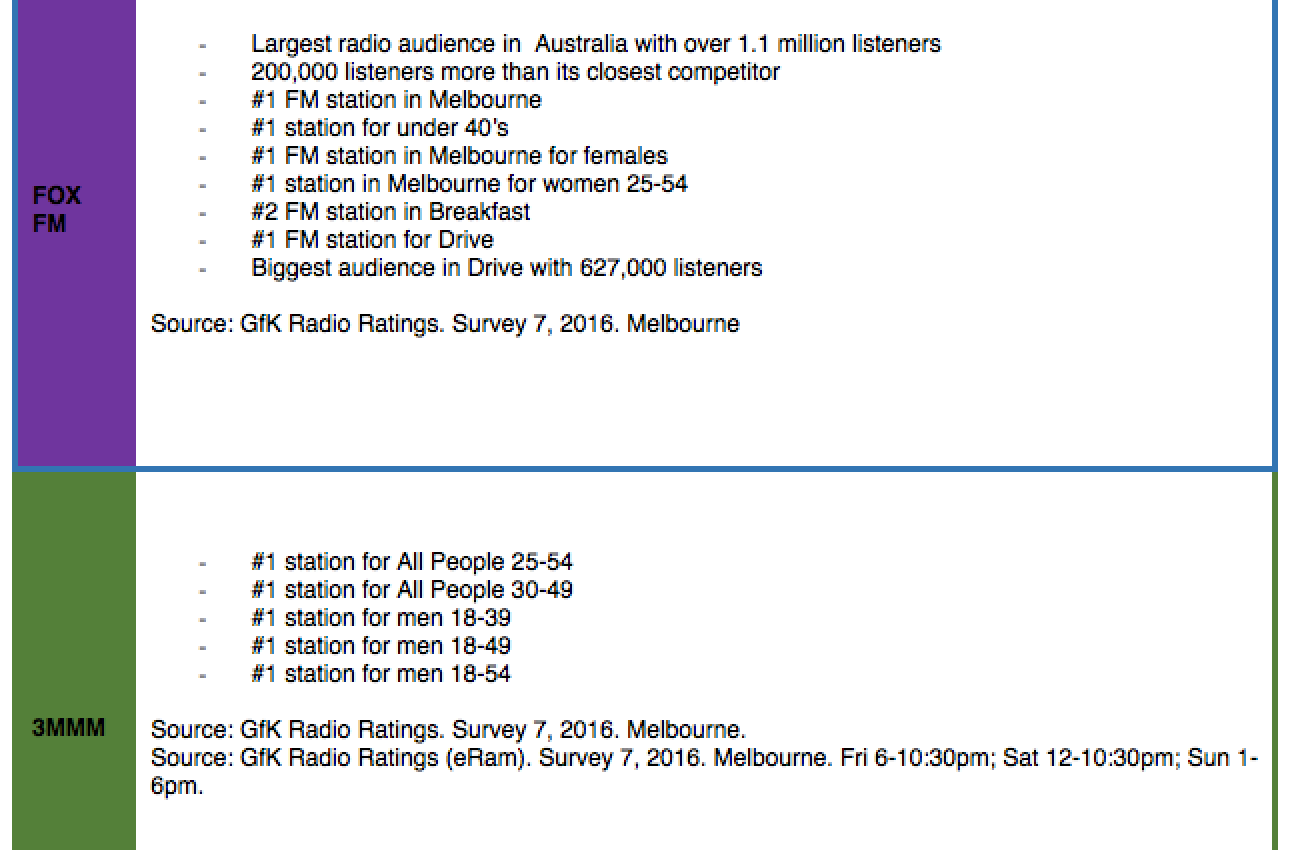 Highlights for NOVA Entertainment nationally and in the key markets for radio survey 7.
· The Nova Network is the #1 metro network in Australia cume (3,275,000) and share (equal No 1 on 8.8%)
· The Nova network has the most listeners 25-54 (1,820,000)
· Nova's Smallzy's Surgery #1 national night show in share (10.8%) and cume (859,000)
· Nova's Kate, Tim & Marty (4-6pm) are Australia's most listened to Drive show (1,452,000)
· smoothfm 95.3 is Sydney's #1FM (9.7%)
· smoothfm 91.5 is Melbourne's #1FM station for People 25+ in share (8.2%)
· smoothfm 95.3 and Smooth 91.5 is the #1FM network in Sydney and Melbourne combined (8.6%)

· Nova 96.9 is Sydney's most listened to station (916,000) and the #1 Station Under 40 (13.8%)
· Nova 106.9 is the #1 station in Brisbane in share (13.2%) and cume (575,000)
· Nova 100's Chrissie, Sam & Browny's are #1FM with women 25+in share (7.8%) and cume (228,000)

· Nova 106.9's Ash Kipp & Luttsy are #1 Breakfast (530-9) in share 12.6% and cume (332,000)

· Nova 937's Nathan, Nat & Shaun are the most listened to Breakfast show in Perth– cume (304,000)

· Nova 919's Lewis & Lowe have most Breakfast listeners with 180,000 cume
hit92.9 R-N-Be #1 all people under 40!

Survey 7 results dropped this morning and hit92.9 have ended up on an enormous result, not only dominating under 40's in Perth, but also leaping to the #2 overall spot.

With competitions including hit92.9's Last Man Standing and RnB Here and There, and content such as Heidi, Will & Woody's Race Day Parody and Bush Chook ad, the hit92.9 team has worked hard to secure a 22.4% share for all people under 40 and a record cumulative audience of 537,000 listeners.

Oh, did we mention planning the hottest RnB gig of the year, hit92.9's RnB Fridays Live?

Heidi, Will & Woody are poppin' bottles in the studio (along with the boss) with largest share increase of any FM breakfast show in WA, going up 0.9% to 11.4%.

Join hit92.9 in celebrating the following wins:
Number One Station all people under 40 with a 22.4% share
Number One Station all people aged 18 – 39 with a 22.3% share
Largest cume audience in Perth for people 18-39 with 307,000 listeners
Number one all people 25-39 with a 22.3% share
Largest share increase for FM breakfast show, up by 0.9%
Southern Cross Austereo Perth General Manager, Linda Wayman said:
"hit92.9 produces radio that is guaranteed to bring a smile to your dial and with yet another record number of listeners, it's clear a lot of people in Perth are smiling, particularly the Under 40 listening audience where hit92.9 dominates! However, the fact hit92.9 is now Number Two in 'all people' for the first time in four years, and Number two in the 25-54 age group, indicates that the station also has broad appeal."

hit92.9 Perth Content Director, Amanda Lee said:

"Today, I want to 'cheers' my incredibly hard working and talented team that have contributed to the station's highest ever cume audience! The content this team produces each and every day blows me away and they absolutely deserve this result. With RNB Fridays Live and a few other tricks up our sleeve, we can't wait to end the year on a high!"

Source: GfK Radio Ratings. Survey 7, 2016. Perth.

1116 SEN Melbourne's Home of Footy
SEN delivers its best result for 2016

1116 SEN, Melbourne's Home of Footy, welcomes the latest GfK Survey 7, 2016 results, with growth in a number of areas
SEN overall delivered a 4.8 share All People 10+ (Monday-Friday), the station's best result of 2016

SEN overall is No. 2 with Men 25-54 with a 10.1 share

Breakfast with Frank and Ox delivered their best result of 2016 with a 4.2 share All People 10+

Hungry for Sport with Kevin Bartlett is again the station's top rating program with a 5.3 share All People 10+, his best result of 2016
General Manager at 1116 SEN, Cathy Thomas, is pleased with today's strong survey result.
"Following an outstanding AFL season, we have seen growth in the Breakfast, Morning, Afternoon and Drive shifts as a result of our extensive coverage of the NAB AFL trade period which is of huge interest to SEN's audience," said Thomas.
"There's plenty on the horizon and the sport coverage won't slow on SEN with a live broadcast from Kingston Heath for the World Cup of Golf from 23-27 November, full coverage of the 2016 NAB AFL Draft on Friday 25 November and live calls of all Melbourne Victory and Melbourne City home and away games."

No secret, mix94.5 holds #1 position for 25th consecutive survey!

With the sound of variety, mix94.5 has maintained its number one position for the 25thconsecutive survey, staying on top of the ladder with a whopping 16.9% share for all people aged 10+.

With a record breaking cumulative audience of 582,000 listeners, mix94.5 has let that cash register sound ring, giving away a share of $50,000 with mix94.5's Secret Sound and daily travels with Clairsy, Matt & Kymba's A Holiday a Day!

Clairsy, Matt & Kymba continue their number one breakfast position in survey 7, with a share of 14.6%. That's 312,000 listeners tuning in to the hilarious trio!

Raise your glasses as mix94.5 celebrate the following wins:
Number one, 25th consecutive survey, all people 10+ with a 16.9% share
Record cume audience of 582,000 listeners
Number one in the breakfast with a 14.6% share
Number one in drive, on 18.4%, with a 5.5% lead over its nearest rivals
Number one work day on an 18.4% share, 6.8% ahead of nearest rival
Number one for 25-54 year olds on a 19.4% share
Number one on weekends with a 16.3% share

Southern Cross Austereo Content Director, Erica McGee said:

"No matter the time of day or night, mix94.5 is number one. Perth people LOVE listening to Perth people on the radio – and that's what we give them, in breakfast, workday, drive, nights and on weekends. mix94.5 rules!"

Southern Cross Austereo Perth General Manager, Linda Wayman said:

"These are outstanding results for an outstanding radio station. To be such clear leaders in both Breakfast and Drive and to dominate the workday as mix94.5 does is testament to the work by a talented product team that goes into producing great radio for our listeners. Congratulations to all those involved."
Source: GfK Radio Ratings. Survey 7, 2016. Perth.