Our analysis of Survey 7 results by network and cities.
See the raw figures here.
Refresh this page during the morning for more updates.
Look back on last survey's analysis article here.
Networks
SCA
It was a huge result for the HIT Network – up in every market.
The biggest result was in Melbourne where Fox gained a massive 1.5 in share to kick 2.1 clear of its nearest FM rival (GOLD104.3) and take second place overall ahead of ABC774.
Adelaide's HIT107 too surged ahead, gaining 1.3 for an overall 10.4 share in that market. HIT had modest gains in Perth, Brisbane and Sydney too.
The networks success seems to have come mostly on the back of strong gains in daytime music shifts.
Triple M
Once again Melbourne led the way for an otherwise patchy result for the Ms. Eddie's Hot Breakfast returned a 9.9 share along with strong gains in Mornings and Afternoons. Adelaide remained steady on 9.7 while Brisbane lost 0.8. Sydney remains problematic for the network – down to a 4.9 share overall.
In Perth, though, all remains rosy with Mix94.5 consolidating its top spot, piling on 1.3 to be 16.9 overall, 5.3 ahead of its nearest rival, sister station HIT 92.9.

ARN
It was good news for ARN in Sydney where it could boast the number one and two FM breakfast shows but not FM overall – that honour goes to smooth. Still, a 1.9 surge for Kyle and Jackie O that puts them in second place overall in that shift ahead of ABC702 is nothing to sneeze at – even for them.
Adelaide's number one spot remains firmly in the hands of MIX102.3 despite the station bleeding -1.8 in share. But CRUISE1323 continues to contribute from the AM band, up 0.3 to a 8.6 overall.
In Brisbane, both 97.3 and the venerable 4KQ returned zero movement in share holding down the #2 and #5 spots respectively.
In Perth, 96FM has some work to do having shed -1.0 with a 7.4 share overall leaving it in 7th place in that market.
Meanwhile in Melbourne KIIS101.1 managed to gain 0.2 but remains languishing in last place among its commercial FM rivals while GOLD dropped 0.6 to remain in second place (FM) but a long way behind FOX which has kicked away to be 2.1 ahead on a 10.1 share.
Nova Entertainment
smoothfm
The question on everyone's pursed lips is can smoothfm hold on to its astonishing gains of recent times. The answer is: pretty much.
Okay, 95.3 in Sydney dropped a tiny -0.1. But it is still leaves it in first place (FM) and second place overall behind 2GB. In Melbourne's 91.5 is not so blessed having shed -0.4 with three FM stations ahead of it on the ladder.
Nova
It was a solid survey for the Nova brand with very little movement on overall shares. Sydney was up 0.3 (7.3 overall). Melbourne -0.4 (6.4 overall). Brisbane -0.2 (13.5 overall) – still #1 in the market. Adelaide – no change (11.3 overall). Perth -0.1 (11.2 overall).

Macquarie Media
Talk
They're in the mood for celebration at Macquarie radio headquarters. And why not? 2GB has just won it's 110th straight survey along with Ray Hadley and Alan Jones whose personal tally is now 103.
In Melbourne 3AW dropped a bit audience share but who cares? It's still way out in front. And Brisbane's 4BC reversed a downward trend – up 0.9 to a 6.2 on the back of a 8.2 share of Breakfast. 6PR in Perth went up by 0.9 too to a 7.6 share overall.
Adelaide's FIVEaa dropped -0.5 but who cares? Certainly no one at Macquarie. The station still has a 10.1 share and besides, it's owned by Nova.
The only blot on Macquarie's talk escutcheon is 2UE which is back to a 4.7 share from 5.2 last time since it's format change to Talking Lifestyle. Still, we are informed that the format is selling products for its sponsors, so that's worth celebrating.
Magic
Now that the sale of 2CH is in the hands of Deloitte, the station gained 0.5 to land on a 3.6 share. That 0.5 gain was lost in Melbourne with Magic1278 down to a 2.9 share while Brisbane's 882 edged up by 0.1 to reach a 3.9.

ABC
Local Radio
Until recently, it has been customary for ABC's 702 and 774 to hold down second place in Sydney and Melbourne behind 2GB and 3AW respectively. But as they say in politics, the swing is on.
702 with its 9.0 share is now in 4th place behind 2GB, smoothfm and KIIS1065.
In Melbourne, 774 does one better in 3rd place with a 9.5 behind 3AW and FOXFM.
in the other capitals, which lean more towards music stations, ABC Local Radio is generally not as prominent. Adelaide's 891, however, has done exceptionally well to grab 2nd place with an 11.4 share of audience.
In Brisbane, 612 gained 0.3 in share to hold down 6th place on 8.2. And in Perth, 720 has a 8.6 which is good for 5th place.
triple j
As is often the case, it was a mixed bag for the js. Sydney -0.4 (5.3 overall). Melbourne up 0.3 (4.7 overall). Brisbane – 0.6 (7.9 overall). Adelaide up 1.1 (6.1 overall). Perth -0.8 (9.4 overall).
Cities
Sydney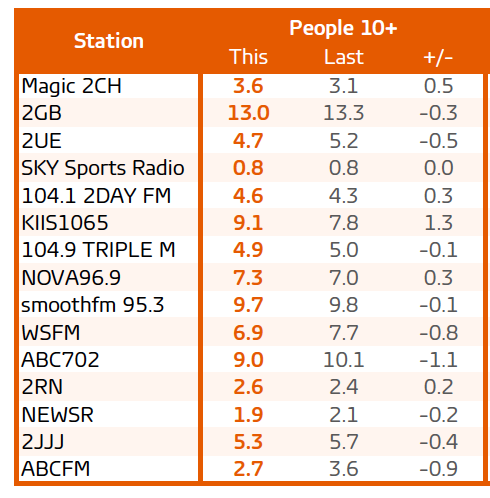 KIIS 106.5 scored the biggest gain this survey, up 1.3 share points and moving up the rankings again. ABC702 suffered the biggest drop, down 1.1 share points.
2GB was top once again, down 0.3 to 13.0% overall, giving the station 100 surveys at number one.
Smooth moved into second place overall after a slide by ABC702 left the second position open. Smooth was down 0.1 to 9.7%.
Third placed KIIS scored 9.1%, up 1.3, followed by ABC702, whcih slipped into fourth place on 9.0%, down 1.1.
Nova 96.9 was in fifth place, up 0.3 to 7.3%.
Melbourne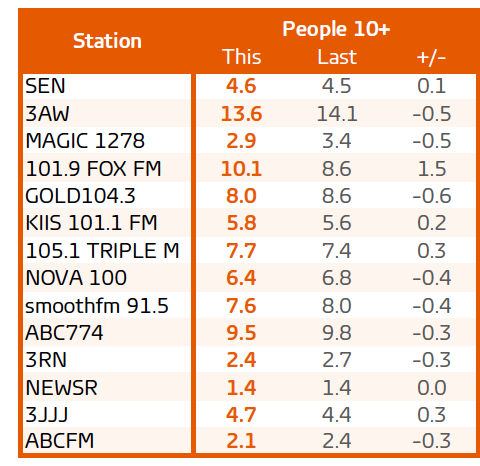 Fox scored the biggest gain this survey, up 1.5 share points in a survey with otherwise little movement for the rest of the market.
3AW retained top position, down 0.5 to 13.6%.
Fox jumped into second spot, with its 1.5 gain moving it to 10.1%.
ABC774 slipped into third position, down 0.3 to 9.5%.
Fourth placed Gold lost 0.6 share points to score 8.0%.
Triple M was fifth, up 0.3 to 7.7%, followed by smooth then Nova.

Brisbane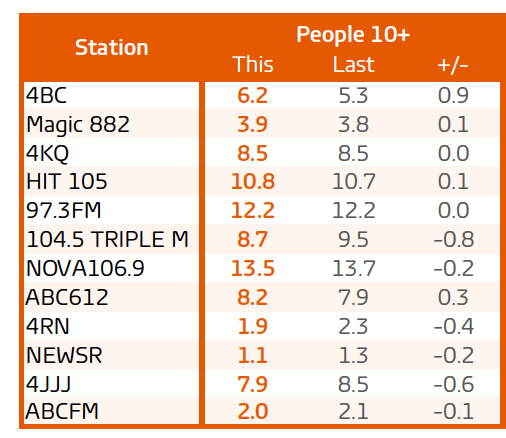 4BC had the biggest gain of the survey, up by 0.9 share points, while Triple M had the biggest drop, down 0.8. Other market movements were negligible.
Top station Nova 106.9 slipped 0.2 to 13.5%, followed by 97.3FM steady in second place on 12.2%.
Third placed HIT105 gained 0.1 to 10.8%.
Triple M held its fourth place position despite a drop of 0.8 to 8.7%.
Fifth placed 4KQ was steady on 8.5%, followed by ABC612 on 8.2%.

Adelaide
Hit 107 had the biggest gain of the survey, up 1.3 shar epoints, and Triple J also scored a strong gain of 1.1.
Mix 102.3 had the biggest loss, down 1.8 share points, but still retained top spot with 14.0%.
Moving into second place, ABC891 gained 0.9 to 11.4%, closely followed by Nova 919, steady on 11.3%.
Hit moved into fourth place with a rise of 1.3 taking it to 10.4%.
Fifth placed FIVEaa lost 0.5 to 10.1%.
Perth
Top station Mix 94.5 had the biggest gain this survey, up 1.3 share points to 16.9%.
HIT 92.9 gained 0.6 and moved into second position on 11.6%.
Nova 93.7 lost 0.1, slipping into third position on 11.2%
Triple J was fourth, down 0.8 to 9.4%, followed by sister station ABC720, down 0.1 to 8.6%.