Port Hedland was host to the second ever North West Festival over the weekend, well covered by the guys at Spirit 1026 Hedland and also the state-wide WAFM network which broadcast live form the Racing commentary box at the Port Hedland turf club on Saturday.
The OB was hosted by Adam Ballard and Sebba Claassen who radioinfo readers will remember from early this year when he was holed up at the station which was in the path of tropical Cyclone Rusty.
After the success of last year's debut, which featured big acts in the Hedland sands such as Hilltop Hoods, Melbourne heavyweights The Living End and The Cat Empire, old favourites Regurgitator plus the fresh sounds of Indie darlings and WA's own San Cisco. The crew at Sunset events set up another line-up of great music for 2013 including former Powderfinger front man Bernard Fanning, New Zealand's own Ska troupe The Black Seeds and a bunch of local stars, Abbey May, 360, Bluejuice, Vance Joy and stalwarts of the Aussie rock scene Grinspoon which came to the Pilbara for the one-off yearly show.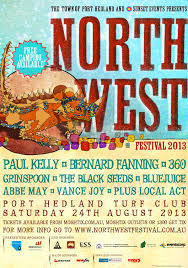 The major drawcard of the festival for this year was the appearance of legendary Australian songwriter Paul Kelly.
Apart from the odd cyclone, Sebba says, "Port Hedland is definitely a highly 'under-rated' location for a music festival, because you rarely have to worry about the forecast of rain, its pure sunshine and warm all year round, and the Hedland sunsets can be absolutely spectacular, providing the perfect backdrop for live music.
I think it's events like this that provide signs the Pilbara is moving forward as a region, in particular the Town of Port Hedland, which has experienced a huge growth in Community events over the past couple of years, and now the fact that it has its own large scale music festival is just another chance for the community to come out, get together and have a rocking good time. It's what they deserve as a majority residents of Hedland do work up to 12 hours a day and 6 day a week," says Sebba.