Radio ratings survey 8 results have just been released.
2GB's Ben Fordham regained top breakfast spot in Sydney
ABC drops in most cities
Brisbane market settles
3AW gains most in Melbourne
Nova consolidates lead in Perth
The final survey for the year was conducted by GfK for Commercial Radio Australia between Sun Sept 25 to Sat Dec 3, 2022. The Victorian state election was held during this period.
Previous survey results here.
Cumes and DAB+ results coming soon.
The interactive data graphs are below the raw figures.
Click the city charts to enlarge them.
Results
SYDNEY
WS FM enjoyed the biggest gain, up 1 share point while ABC Sydney had the biggest drop, down 1.5 share points
Top station 2GB gained 0.9 to score 12.5% overall, Ben Fordham's breakfast show regained top position in the market
Second placed KIIS gained 0.3 to 11.6% with Kyle and Jackie's breakfast show moving back into second place in breakfast
Third placed smooth gained 0.1 to 10.4%

MELBOURNE
3AW gained most, up 1.4 share points to 15.1%, Triple M (down 1.4) and ABC Melbourne (down 1.3) dropped most.
3AW remained top, on 15.1%
Second placed Gold gained 0.4 to 11.9%
Fox moved into third place, up 0.6 to 8.9%
BRISBANE
Triple j had the biggest gain, up 0.9 to 6%, while 4BH lost most, down 1 share point to 7,4%
Top station B105 slipped 0.2 to 13%
Second placed Nova was steady on 12.7%
Triple M was third, down 0.5 to 10.5%
ADELAIDE
In a survey with little movement, Triple M gained most, up only 0.9 to 9.8% and RN lost most, down only 0.9 to 9.8%
First placed Mix was up slightly, gaining 0.3 to 11.8%
FIVEaa moved into second position, up 0.8 to 11.1%
Nova slipped into third place, down 0.8 to 10.1%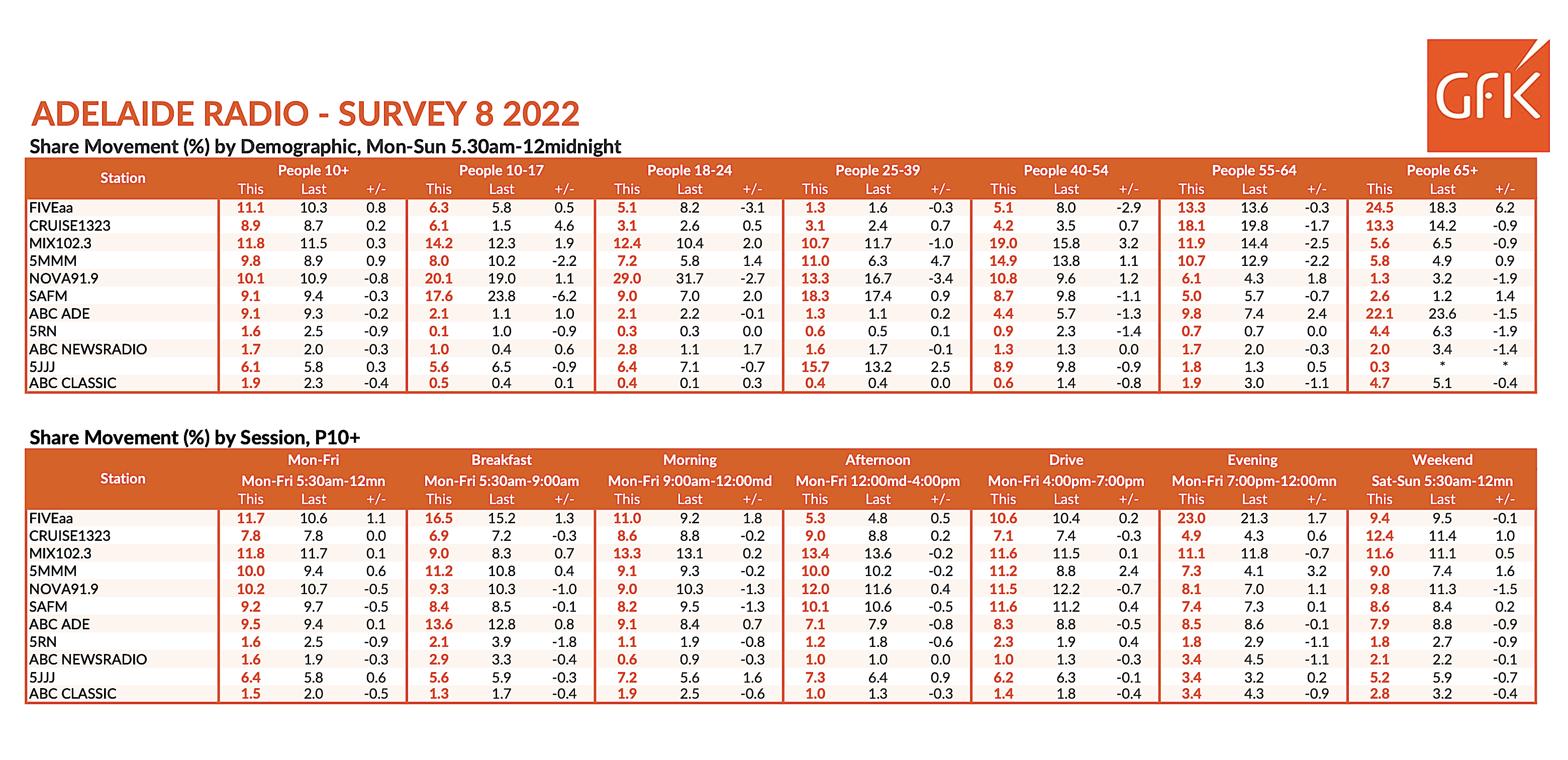 PERTH
Nova gained most, up 0.9 to 17.9%, MIX lost most, down 1.1 to 11.2%
Nova retained its top position at 17.9%
Second placed Mix scored 11.2%
Third placed 96fm slipped 0.3 to 11.1%

Data Charts