A nationwide search to find Australia's hottest radio hunk is on with Take 5 magazine is asking radio listeners all over Australia to vote on who turns their dial up to the max.

So far 3486 readers and radio listeners have taken part and the top 20 so far are listed below in alphabetical order.

The current title holder of Take 5 Radio Hunk is, Brendan 'Jonesy' Jones, 51, from WSFM and he's back in the top 20 together with talkback king Ray Hadley, 64, funnyman, Dave Hughes, 48, Ed Kavalee, 39 and KIIS shock jock legend Kyle Sandilands, 47, also gets a look-in.

To nominate your favourite, email [email protected] or visit the Take 5 Facebook page.

1) Dave Hughes, 48, HIT
2) Kyle Sandilands, 47, KIIS
3) Ryan 'Fitzy' Fitzgerald, 42, Nova
4) Ray Hadley, 64, 2GB
5) Brendan Jones, 51, WSFM
6) Mark Soderstrom, 48, MIX FM
7) Ben Fordham, 42, 2GB
8) Mark Geyer, 51, Triple M
9) Brendan Fevola, 38 –FOX
10) Byron Cooke – FOX
11) Woody Whitelaw, 30 – KIIS
12) Tim Blackwell, 38 – Nova
13) Cameron Daddo, 54 – Smooth FM
14) Mick Molloy, 52 – Triple M
15) Ed Kavalee, 39 – 2Day FM
16) Grant Denyer, 41 – 2Day FM
17) Luke Darcy, 43 – Triple M
18) Sam Pang, 45 – Nova
19) Shaun McManus, 43 – Nova
20) Steve Price, 64 – 3AW
The final Top 20 including the hunky winner, who gets a sexy shoot in Take 5, will be announced in August.
And if you think the competition isn't fierce, last year's runner-up, Ray Hadley, has begun his own campaign to gather nominations, saying that last year, "I was beaten in a photo finish by Jonesy… he just went on Facebook and said vote for me so he had me covered straight away."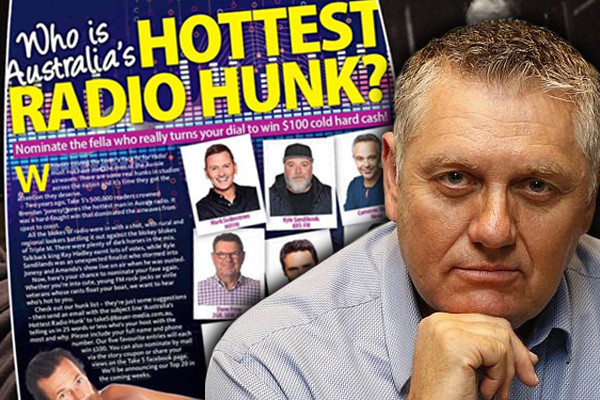 3AW's Tom Elliot, who has been left off the top 20, is making a late run reminding listeners that he was once runner-up in the Cleo Bachelor Of The Year award.