Tesla is offering its owners an upgrade to their entertainment system to "access new features, as well as a more advanced and smoother user experience."
There's one problem though. The new upgrade will remove AM, FM and Sirius (USA) radio from the system.
Tesla's update briefing note says:
"Owners of Model S and Model X built March 2018 or earlier will be eligible to purchase an Infotainment Upgrade, enabling access to some of our favorite features like video streaming and an expanded Tesla Arcade, in addition to a more responsive and faster touchscreen experience. Eligible owners will be invited by email to schedule an appointment to purchase and install the Infotainment Upgrade through Tesla Service… for $2,500…
"Your touchscreen will be more responsive and smoother, rendering images and web pages faster. You'll also gain additional features that enhance both the entertainment and functionality of your car."
then goes on to note:
"Some audio and music features will be removed from your car as a result of this change… You will still have access to internet radio and music streaming, including streaming over Bluetooth."
The change is listed as an "improvement," although Australian Tesla drivers who drive beyond Australia's cell phone zones may not agree with the term.
With recent bushfires knocking out other forms of communication, broadcast radio is consdiered an essential service. Europe has mandated that all cars sold there should receive free to air digital radio signals. It may well be that defect notices could be issued to cars in Australia or Europe if they do not have free to air radio receivers.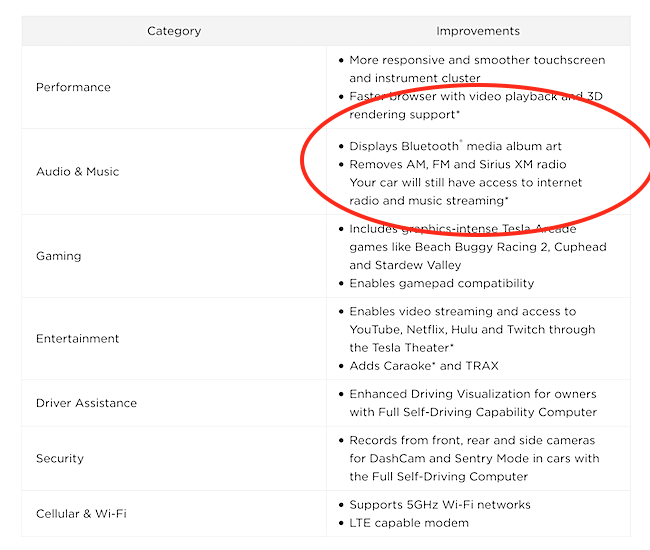 The new console will look like this.
---
Ask Alexa
:
'Alexa, play radioinfo flash briefing'
or
ask Google Home
:
"Hey Google. Play the latest Radioinfo flash briefing podcast."
---