In a week that's been filled with rumour and gossip about who is and isn't going to be on the Today Network next year, stand up comedian and former Triple J presenter Tom Ballard set tongues wagging yesterday when he announced on his twitter account:
Excited to announce I'll be presenting the Tindr Top 50 Countdown on 2DAYFM in 2015.

But it's not true. It was a joke.
What else would you expect from a topical radio-aware comedian in a week like this.
Just in case it was true, we checked our sources. Tom told radioinfo:
Haha! No sorry, it was the "Tindr Top 50", i.e. a joke on the Shazam Top 50 show thingo 🙂
He didn't fool us, but some other radio watchers had their legs pulled a little by Tom.
Then again, if SCA can just get Tindr to sponsor a new show… well maybe……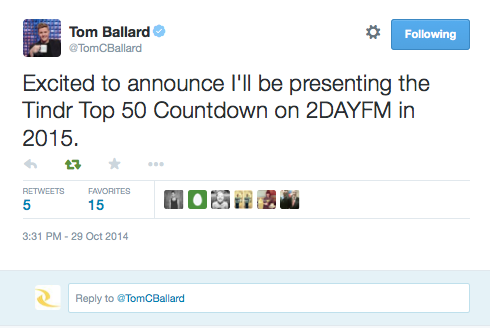 One thing that Tom IS doing, is hosting a comedy night next month with a radio theme. Click the poster below for bookings.