Chart Highlights – 26 November 2020
Biggest Mover: Tones & I climbs to No.15 as 'Fly Away' gains 353 spins​
Heating Up: Paul Woolford, Diplo & Kareen Lomax reach new peak at No.13​
New Music: Collaborations from Dua Lipa & Miley Cyrus and Shawn Mendes & Justin Bieber enter the chart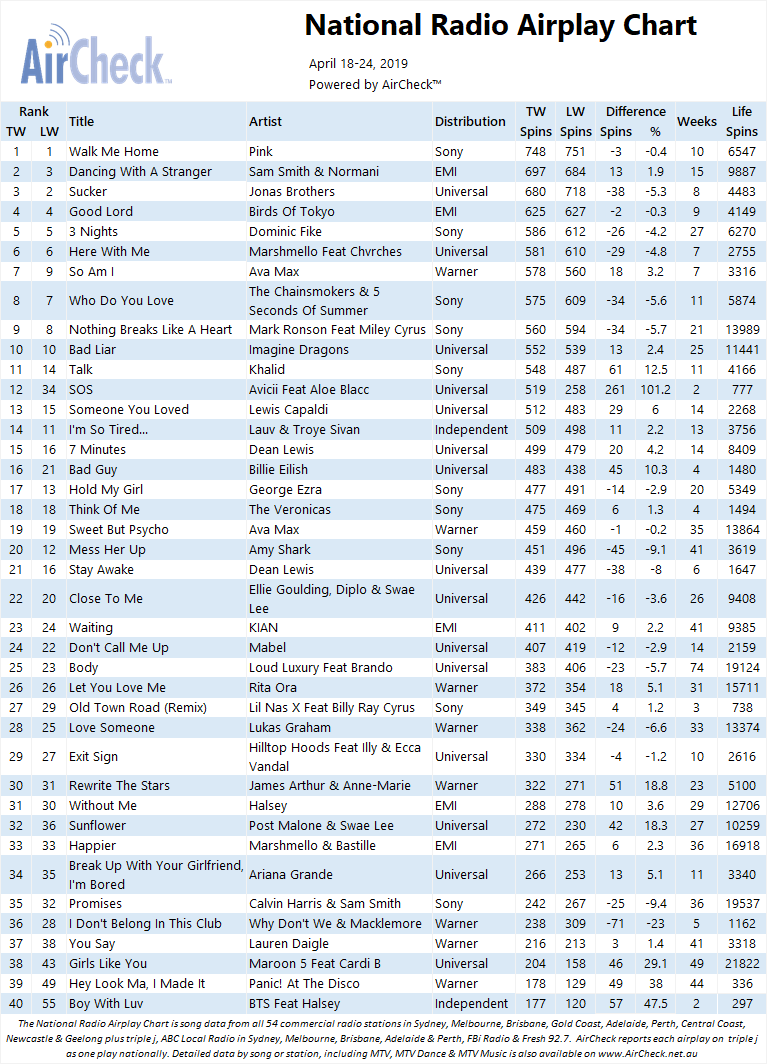 This week Tones & I's latest release, 'Fly Away', landed at No.15 after rising 39 places on the AirCheck National Radio Airplay Chart. The track earned 472 spins across 23 stations with 2DayFM Sydney showing the strongest support, adding 41 spins, followed by SAFM Adelaide (36 spins). The Hit network was out in front, averaging 34 spins per station, followed by the Nova network adding 16 spins across the board.
Paul Woolford, Diplo & Kareen Lomax were up 130 spins this week with 'Looking For Me'. Across Australia, 20 stations spun the track, with The Edge Sydney the top spinner, adding 50 instances. The Hit network made the greatest change in airplay from last week to this week, increasing spins by 55%.
It was a battle of the pop star collaborations this week, with two brand new drops from four superstars: Dua Lipa & Miley Cyrus and Shawn Mendes & Justin Bieber. Dua Lipa & Miley Cyrus' 'Prisoner' debuted at No.31 with 266 spins, while Shawn Mendes & Justin Bieber landed at No.39 with 'Monster' earning 195 spins. Even though 'Prisoner' earned more spins, 'Monster' received more adds with 16 stations jumping on board, compared to 15 for Dua Lipa & Miley Cyrus.
---
Subscribe to the radioinfo podcast on these platforms: Acast, Apple iTunes Podcasts, Podtail, Spotify, Google Podcasts, TuneIn, or wherever you get your podcasts.