In the first Bendigo Xtra Insights survey in 18 months, Triple M is back on top, just, in Bendigo.
Stablemates Hit91.9, with new regional breakfast duo of Nick and Jules, were still slightly ahead (22.5, down 0.4) of long time Triple M hosts Cogho and Mandy, up 1.7 to 22.1.
For all audiences 10+, Triple M was up 2.0 to 22.1, Hit was down 1.4 to 21.2, next was ABC Central Victoria, steady at 9.2.
Triple M saw the biggest leap in cumulative audience, up 6000 to 68K. Hit was down 1700. Gold Central Victoria and ABC Radio National saw the next best increases in cumulative listening, both up around 2500.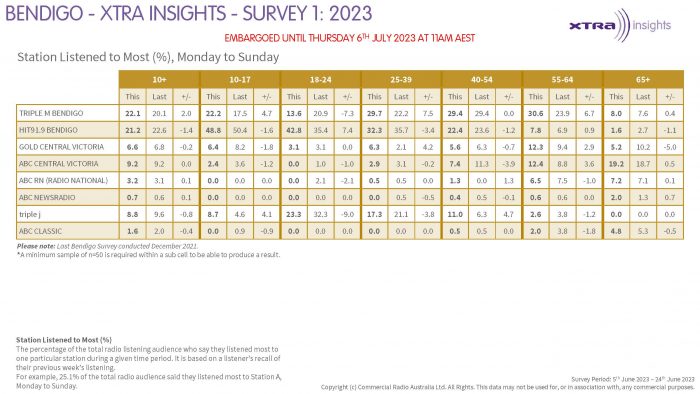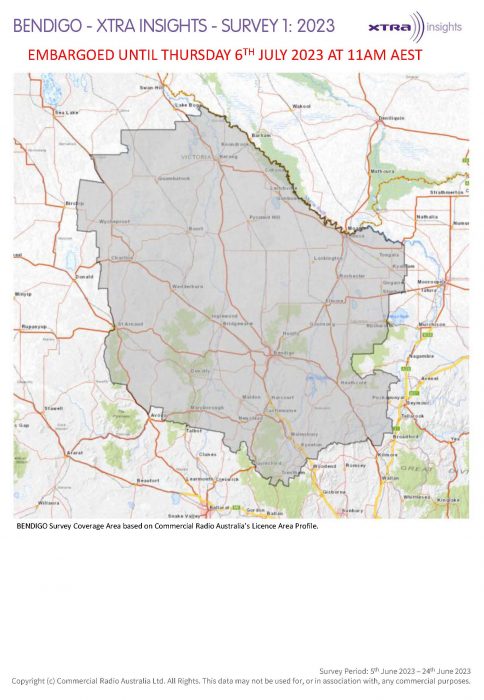 Blair Woodcock, SCA Head of Regional Content, said:
"We're thrilled to see today's survey ratings for Bendigo's 93.5 Triple M and Hit91.9! Not only claiming the #1 and #2 spots respectively, both stations have hit all key demos and together reach more than 57% of the Bendigo region. These results are a testament to the hard-working team who should all be extremely proud today."
SCA
#1 and #2 stations in Bendigo
10,000 people are tuning in to an SCA station every week, reaching 57.6% of the market
Triple M Bendigo
Triple M Bendigo #1 P10+
#1 Station Listened to Most P10+
#1 Station Listened to Most P25-54
#1 Breakfast Most M25-54
#1 Drive Most P25-54
#1 Drive Most P40+
68,500 people are tune in to Triple M Bendigo every week
Hit91.9
Hit91.9 Bendigo #2 P10+
#1 Station Listened to Most Breakfast P10+
#1 Station Listened to Most Drive P10+
#1 Station Listened to Most F25-54
57,700 people tune in to Hit91.9 every week