The Australian radio industry has evolved in a highly competitive way, with Commercial and ABC radio services both growing up together since the 1930s.
Like a family, with two close siblings sharing the same upbringing, both major sectors of the industry have become strong together, through conflict, competition and collaboration.
It is not the same in the UK however, where the national broadcaster had a monopoly on the broadcast airwaves until 1973.
With a seven decade head start, the BBC became the most dominant radio broadcaster in the country, and commercial radio has been fighting to catch up for the past 40 years. Only recently has commercial radio listening overtaken BBC Radio.
Due to the dominance of the BBC and the British public's love for their national broadcaster, British commercial radio also had to fight a batte of perception, that the BBC did the most for the public and that commercial stations were only in it for the money.
A just released report by the UK's commercial radio industry seeks to counter that view.
It pushes the 'public value of commercial radio,' showing the industry's commitment to news, weather, local services, community and social action, technology and innovation.
Radiocentre CEO Siobhan Kenny, in the forward to just released a booklet called ACTION STATIONS, says:
"The figures speak for themselves – over 13 hours of vital public service content each week, comprising local news, weather, travel, community and music events – and over £25 million raised for charity in 2015 alone. Beyond the figures lie the real life stories. Radio being there when listeners need it most. During the floods in the North of England at the end of 2015 for example, a number of stations were a lifeline for stricken residents. Lancaster-based radio station, The Bay, was broadcasting on an emergency generator for several days from 6 December and was the only source of public information available to local people, as all other communication and power sources had gone down. "
As in Australia, the British Government is considering reforms of outdated media laws, and Kenny comments on that too, using the opportunity of the publication to push the change agenda for the industry:
"Radio listeners now have more choice than ever, with 21 national commercial stations launched in 2016 in the biggest ever expansion of digital radio. Radio is now increasingly consumed on digital and internet connected devices. So we are delighted that the Government is looking at reforming outdated regulation which will allow radio to compete even more effectively in the audio world and unlock even more benefit for listeners."
Britain's Culture Minister Matt Hancock is also featured in the book, writing about his time working in commercial radio.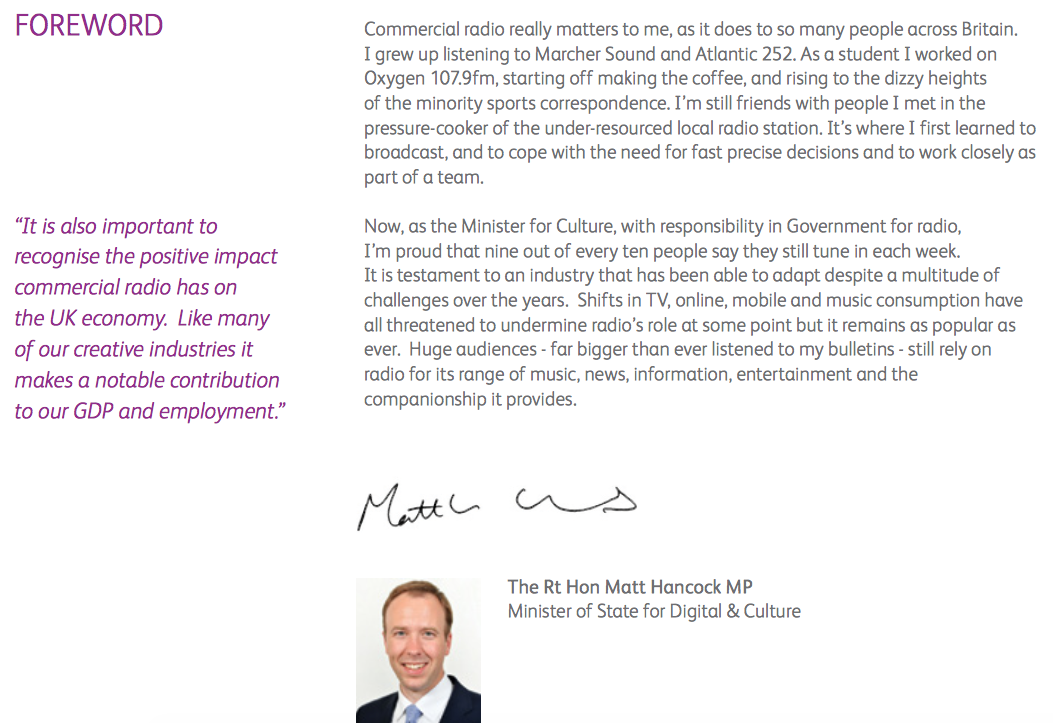 The study's main message is that 13 hours and 15 minutes of 'public value' are broadcast each week on UK Commercial Radio.
Commercial radio plays an important role in the daily lives of millions of people across the country, says the booklet, not only entertaining and informing listeners, but also providing effective advertising for businesses and supporting the economy.
Commercial radio also provides a huge advertising boost to local economies, with a weekly average of 32 businesses advertising on each station:
"Radio advertising works for these businesses, with 96% of stations aware of local advertisers who attribute their business success to radio. Many campaigns are so successful that local stations broadcast regular testimonials highlighting how radio advertising was instrumental to the success of their business. The industry supports this success with 87% of stations investing in their own commercial production, producing advertising or sponsorship messages for clients.
Advertising revenue rose by 2.9% to £592m in 2015, the highest level for eight years. According to econometric analysis of radio advertising campaigns the return on investment (ROI) that this provides is a very significant £7.70 for every £1 invested. Therefore in 2015 return on investment for commercial radio delivered an estimated £4.6bn value to advertisers. Alongside this, value to music sales is estimated at £103m in addition to direct payments of around £50m to artists and songwriters."
Read the whole report here.