Peter Saxon speaks with 2UE's 30 year man – now unlocked
If next month, 2UE, currently branded 'Macquarie Sports Radio' (MSR), was to hold a party for all its 30 year veterans on staff, John Stanley would cut a lonely figure amidst the celebrations.
It is a measure of his many capabilities that he has managed to survive several regime changes and numerous formats. If he were a knife, Swiss-Army would be a more fitting surname than Stanley.
With a yearning to become a political commentator, his radio career began in 1975 as an announcer at 2VM Moree. He spent two years there before moving to 2BE (now 2EC), Bega. He first tasted radio journalism at 2ST Nowra. Then, having made it to Sydney via 2UW (now KIIS106.5) he landed a job at 2SM (still 2SM) working with Laurie Oakes in Canberra. He was soon poached by the old Macquarie Network to be their political correspondent, a position he held through much of the 1980's.
Finally, he joined 2UE where he worked as Alan Jones' first producer and as a station floater as well as assistant to the great John Brennan with the aim of becoming a future program director.
His big on-air break came in May 1990 in "horrific circumstances." The legendary Brian White, aged 56, died, suddenly, of a massive stroke. John was asked to take over The Brian White Drive show and its huge 2UE audience. He recalls the station manager at the time, Nigel Milan, rang him saying, 'Do this for a couple of years to get it out of your system because I want you back in programming.' 30 years later he's still on air.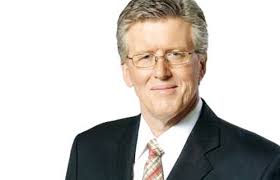 It is little wonder that in the reshuffle from the ill-fated Talking Lifestyle brand to Macquarie Sports Radio, John is one of the very few (Tim Webster (left) is another) of the on air presenters to be offered a role in the new format. Over the years, John has always had plenty to say about sport on his various radio programs and for the past eight years he's been a regular on the ABC TV's Offsiders. He knows a lot about horse racing and is an NRL tragic – the St George-Illawarra Dragons' #1 fan.
During the 2000 Olympics while others were covering the popular sports such as swimming and track, he was assigned to the archery and, as luck would have it, ended up calling an unexpected gold medal for Australia.
"I'd be lying if I didn't say that I'm disappointed because I think we discovered a chemistry between me and Garry that really worked and was quite rare.
When I spoke to him last week, just three days into heading up the Macquarie Sports Radio Breakfast show, it was clear that he was happy to embrace 2UE's latest iteration "I'd be lying if I didn't say I'm excited." he enthused. "I love sport and I think I can do this really well. I'm really looking forward to the challenge."
Yet, he admits to being disappointed that his previous John & Garry Breakfast show with Garry Linnell was abruptly cancelled, "I'd be lying if I didn't say that I'm disappointed because I think we discovered a chemistry between me and Garry that really worked and was quite rare. The audience had a real connection with what we were doing. And I wouldn't rule out the possibility of doing something with Garry in the future, we've become quite close.
"But, in the end, the company's got to make a commercial decisions about whether they're making money out of what they're doing and the station, overall, wasn't generating the kind of numbers that they wanted."

That was 2UE's golden era when the Lamb family and John Conde was in charge and John Brennan was running the place as program director
When John joined 2UE, 30 years ago, it was owned by Alan Bond, then Kerry Packer who, despite his acumen with television and magazines, was clueless when it came to radio. Before long, ownership returned to the Lamb family, who reportedly bought it back for a fraction of what they'd been paid for it just a few years earlier.
"That ushered in a period of great success through the nineties – probably the highest point of talk radio in this country," says John. "Alan Jones and John Laws were at the peak of their powers. Mike Carlton came in and Stan Zemanek was there at night. It was not only a line-up of very powerful voices but it was also a broad range of views across the station. Mike Carlton had very different views to Alan Jones and I was different to them. I don't know that it is possible to do that anymore because the radio spectrum is so fragmented.
"That was 2UE's golden era when the Lamb family and John Conde was in charge and John Brennan was running the place as program director all the way through the nineties leading up to the Sydney Olympics, which we covered in 2000."
It was during that period that John experienced the highlight of his career, taking over the Drive show from Brian White. "When I was at school," he recalls, "I used to listen to Brian White on the radio and that was what I wanted to do when I grew up. Then in terrible circumstances to be the person appointed to replace him and then to successfully carry on the mantle of him was probably the highlight of my career."
But then, soon after the Sydney Olympics, Southern Cross, at that time owner of Melbourne's hugely successful 3AW, took over 2UE believing that they could export their management style to Sydney and make the station run more efficiently.
The Southern Cross era was quite disastrous
John recalls, Southern Cross chief, "Tony Bell came in and gathered staff together in the foyer to make people aware that Southern Cross wasn't coming in to cut staff or to cut costs but support the station and to help grow the business. And I think it was a month later that he stood in the same foyer with a considerably smaller staff after a whole heap had been made redundant to announce the new approach that was being taken. And I think from that point, Southern Cross's stewardship of 2UE had been poisoned."
That precipitated perhaps the greatest blunder in modern radio history when Southern Cross lost both Alan Jones and Ray Hadley to their then low rating rival 2GB. The ratings turn around was swift and in over 15 years since, 2UE has never recovered.
"The Southern Cross era was quite disastrous," John laments. "Yet, if you talk about the post Jones-Hadley era, the audience numbers that 2UE was delivering at the time weren't too bad. But they were paying three of the four people doing the prime-time shifts during the day – I was doing Afternoons – the other three Steve Price, Laws and Carlton were all getting the sort of money you'd be paying at a number one rating station not a station that was rating number four or five. That's when the station started to deteriorate financially."
In 2007 Fairfax took over some of the Southern Cross assets including 2UE, 3AW and 4BC. A major format shift dubbed Generational Change, was based on a strategy to bring in a roster of presenters who had similar conservative leanings to those on 2GB but were much younger. In 2010 Jason Morrison was lured over from 2GB and Paul Murray (left) from Triple M along with former One Nation Chief of Staff David Oldfield. Try as they might, they could barely lay glove on the 2GB powerhouse.
By 2013 Generational Change was considered a failure. John says, "That exercise and its aftermath prompted Paul Murray and Jason Morrison to leave radio for TV, which is a shame because they're both among the best in the business."
Radio is an exciting but tough business. Most stations in any given 30 year period will have experienced the kind of ups and downs that 2UE has. Few employees survive 30 years in it, let alone at one station. Perhaps the secret of John Stanley's longevity is his adaptability to any management regime or format change that's thrust at him.
Having an audience and having them engage with you is a privilege that I count myself lucky to get paid to do
"Having gone through the nineties as the number one station," says John, "there's a lot of swagger and arrogance about being number one and having the biggest audience in town. But having spent the last 15 years sitting much lower in the ratings, I've learnt the lesson that you've still got a substantial audience listening to you whatever your ratings are when you're on the air in a capital city… which is what we've always dreamed of doing when we were kids: wanting to be on radio and to sit behind a microphone talking to people on a capital city station.
"Having an audience, having them listen to you every day and having them engage with you is a privilege that I really count myself lucky to get paid to do. And that doesn't change now because I'm now doing something that I really love which is sport and I think we can do it in a way that hasn't been done before."
Finally, I ask John a speculative question that I thought might not go anywhere: Thinking of sports identities, who would you say has had a career in sport that most closely compares to your career in radio?
Almost without hesitation, he says, "I'd probably like to think… Jason Nightingale (veteran Dragons winger) who's playing his 250th game for St George tonight. He's always been an unfashionable player, he's not your classic winger. He's got an unfashionable way of running yet is one of the few players to have notched up 250 games. He's just always there, he's really reliable and he gets the job done. He does it quietly without making a lot of fuss. And I'd like to think that's what I do. I just do my job."
Peter Saxon
Note this article was first published 16/4/2018 and was for paid subscribers only