Former ABC Sydney Morning presenter Deb Cameron has passed away.
She is believed to have died of cancer.
Ms Cameron took over the morning show from Virginia Trioli in January 2008 and left in 2011 after her contract was not renewed.
She began her career as a journalist at The Warrnambool Standard, and in 1985 joined the Fairfax group, working at The Canberra Times and later The Sydney Morning Herald. She was a correspondent in New York and Tokyo, and lived in Jakarta for five years, while working as a senior journalist for The Sydney Morning Herald.
Director of ABC Regional and Local Radio Michael Mason said:
"Deb's many friends at ABC Radio are saddened to hear of her passing… [she] made a significant contribution to ABC Sydney for many years as both a guest commentator and presenter.
"Our thoughts are with her family at this time."
Richard Glover said Cameron had "a great heart and a great spirit and she also had this journalistic fairness and balance".
"When I think about Deborah, I think the main word for her — other than smart and funny and all those obvious things — is that she was sincere, which is quite a rare quality.
"She was an enormously genuine person and I guess that's how I'll remember her."
Ms Cameron is survived by husband, Greg Earl, Asia Pacific editor for The Australian Financial Review and two children who live in Sydney.
The news was released on Twitter by former colleagues and friends.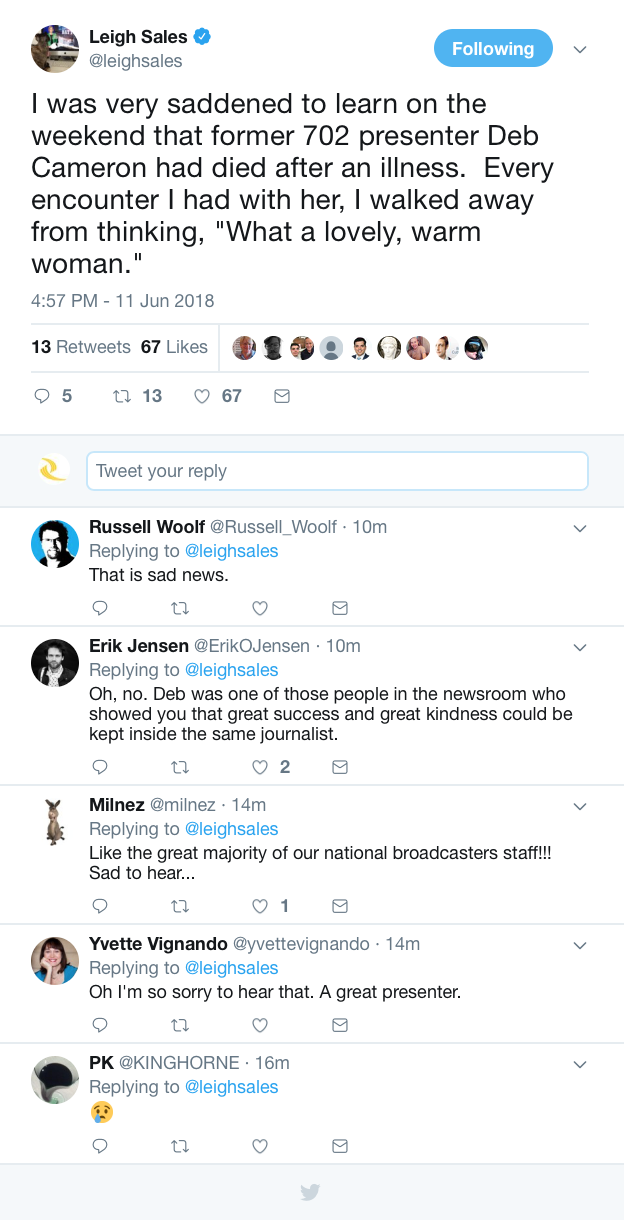 Reflecting her Warnambool roots, Deb Cameron would always sign off her show with then words "hoo roo."
RIP Deb Cameron… Hoo Roo.