Former 2GB personality and voiceover artist John Martin has passed away.
After a career in radio, John joined the NIne Network in the early years of Australian television and also worked at 2CH in the 1960s.
His friend Ken Sparkes paid tribute to him, saying: "John was blessed with an amazing voice and a wicked sense of humour…
"John was one of the unsung heroes of the Nine network when it reigned supreme. The sadness of seeing him in his final days unable to speak was for all his friends heartbreaking."
Phil lentz, voice-over artist and admirer of John's work said: "He was one of Australia's major talents a few decades ago. He was also one of the voices of the Nine Network for many years. He had a great voice and I loved hearing him on commercials when I worked in provincial Queensland radio."
Phil also sent radioinfo a commercial from John circa 1969 and a picture from his time at 2CH:

Other voiceover artists have also paid tribute to John on Ken's facebook page: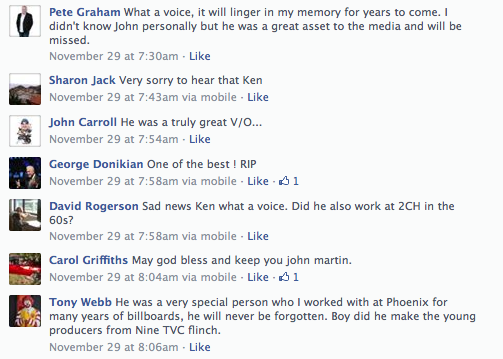 There is another John Martin in the radio industry. He was former president of the CBF and is currently writing a book on the community radio sector. That John Martin is alive and well.