Speaking at Radio Days Europe, Nova Entertainment's Tony Thomas told the story of smooth fm's success, sharing learnings about the marketing and brand of the station.
"After the unsuccessful early formats on the frequency, we found a gap in the market," he said.
"There was no soft AC format, so we formulated a strategy in 2011 to look at what we would do next.
"We formed a very tight group of ten people to work on the concept… we wanted to take the market by surprise with our new brand."
The launch team wanted to build a station around an emotional feel. The emotion was 'relax.'
"It helped us to develop a very clear strategy," explained Thomas. "A strong strategy allows you to consistently execute opportunities against it."
In creating the brand, smooth wanted to understand the needs of the target audience.
The consistent thing that came out was 'busy-ness.' The audience had very busy lives with lots of noise and clutter, so this was a connection point for the programming and marketing teams.
"We built the station to give people a moment to shut out the noise and relax."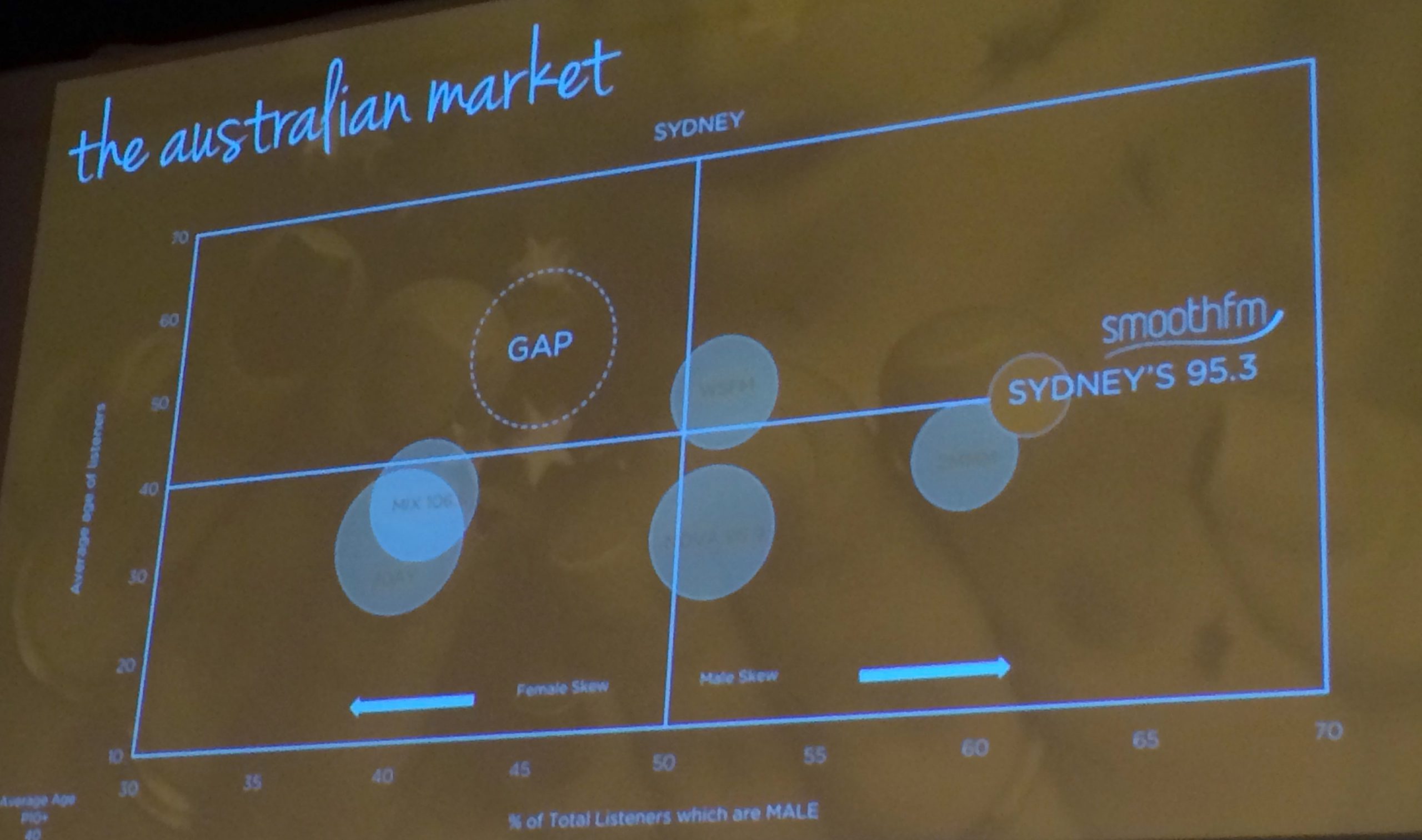 The Smooth format has "huge margins" according to Thomas, because the cost of production is low and the return is high, now that the station has reached its high position in the ratings (number 1 FM in Melbourne last survey, just fractionally number 2 FM in Sydney). "We believe there is still room for further growth," he said.
A soft AC format had the risk of being perceived as "daggy and old," but smooth wanted to make people proud they were listening to this station. "We had to ensure we had a broad audience, not just our target of 35-54 only, and we had to build a strong lifestyle element around the brand that our audience could be proud of."
The station launched with Michael Buble as the brand ambassador and has consistently built that brand with targeted promotions and a consistent format.
"The playlist is crafted on a feel good now sound. It has become a very successful format," he said, acknowledging the research done by Wayne Clouten and the team at BPR.
Tony Thomas explained the brand marketing extensions that have been developed and also talked about how important it is to get ad agencies to experience smooth, so that they do not have pre-conceived stereotypes about the brand.