Chart Highlights – 19 December 2019
High Point: The Weeknd up 12 frames to No.16 with 'Blinding Lights'​
Biggest Mover: Harry Styles' 'Adore You' up 155 spins to No.26 with 324 spins​
New Entry: Amy Shark teams up with the Chainsmokers on 'The Reaper' at No.33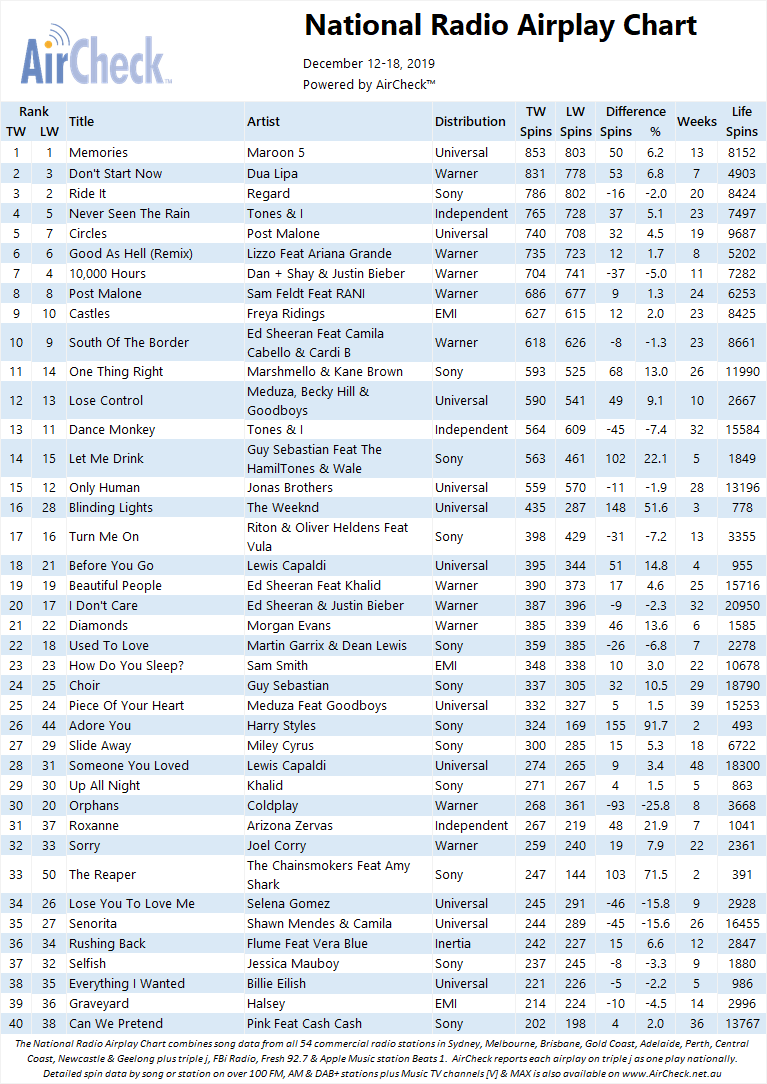 This week, Maroon 5 held on to the top spot for the last AirCheck National Radio Airplay Chart of the year. Gaining 50 spins, 'Memories' inched ahead, while Dua Lipa's 'Don't Start Now' moved into No.2 with 831 spins overtaking Regard's 'Ride It'.

The Weeknd's 'Blinding Lights' was up 148 spins landing at No.16 with 435 spins. The KIIS network upped spins by 400% while for the Hit network airplay was up 250%. KRock Geelong also began supporting the track last week, adding 6 spins.

Harry Styles climbed 18 frames to No.26 with 'Adore You'. Earning 324 spins across 20 stations, the track's top supporter was KIIS 1065 Sydney adding 35 instances, followed by 101.9 The Fox Melbourne with 31 spins.

Aussie Amy Shark joined forces with The Chainsmokers on 'The Reaper'. The collaboration rose 17 places to No.33. The Edge Sydney spun the track the most with 27 instances, followed by Hit 105 Brisbane and Hit 92.9 Perth.

The National Radio Airplay Chart will return on Thursday January 9th, 2020.