Despite the rain, we found Nova Entertainment's Program Tzar, Paul Jackson, in a self described "sunny disposition." And why wouldn't he be? He has all his ducks in a row – except for one.
Jackson: The standout performer of the day has to be smoothfm in Sydney. Wonderful topline number with a 7.2 share. And number three FM overall – very exciting and on the trajectory that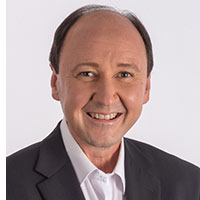 we have always talked about. Continually improving. Connecting with audiences. And then Cameron Daddo number one at nights. And a 5.5 share at breakfast for the ACRA nominated Bogart Torelli and Glenn Daniel (left). It is delightful!
radioinfo: Are people getting tired of the full on, high energy personality style of radio that's been around for decades on the FM band?
Jackson: That's a good question. I think possibly, we haven't really explored fully this style of new position and easy to listen to radio station before. smooth came in with a really good start and has slowly built from there. I think it's about awareness as more and more people go onto shops where its playing in or doctors, dentists, taxis and so on. I think there's always been a gap for something like this. It's distinctive and it's unique and there's much appeal across the board from the younger end to the older end.
radioinfo: How far does smooth skew towards females?
Jackson: In this particular book? I will have to get back to you on that one. But in the previous book it was only 56%. We've got huge male appeal as .well.
radioinfo: While the rest of your stations remained relatively steady, are you disappointed with the Nova result in Sydney, given that Fitzy and Wippa work so hard in Breakfast?
Jackson: Yes, of course. They do work so hard and they are great guys with a really good team around them. And everyone gives everything they've got every day. But most radio station programmers can say that about their breakfast teams. But you don't always get what you deserve.
The bottom line is, of course we're disappointed with any number when it goes backwards. We just have to keep trying harder to do better.
radioinfo: I can't recall the radio market being so volatile in both Sydney and Melbourne…
Jackson: They're highly, as you say "volatile" – I say volatile and active market places. Around this country there's an inordinate amount of marketing of different radio stations going on. That must play into people's consideration. They must be swept along by that at various times.
We're not making excuses for any number that doesn't go the way we would want it to. All we can say is that we will continue to try harder to engage the audience more.