A radio campaign by Clemenger BBDO Sydney for Dry July has won the Gold Siren Award for Australia's best radio campaign at the annual 2019 Siren Awards.
The "Ducking Autocorrect" campaign, by creatives Ben Clare and Celia Mortlock, took out the Gold and Silver Awards at an event in Sydney hosted by comedian and Triple M breakfast host Lawrence Mooney.
The campaign uses humour to urge people to go alcohol-free during July, to avoid embarrassing mistakes and autocorrect failures when drunk texting your mum or partner.
The Silver Siren Award for best single radio ad was won by Christie Luxton, Cristian Staal and Shaun Conroy, from Clemenger BBDO Brisbane, for "Barbershop" for Keno.
Mike Lange and Michael Thomas from Cutting Edge won the Silver Siren for Craft, also for the"Barbershop" ad for Keno.
The awards were judged by the Siren Council, a panel of creative directors and producers from leading advertising agencies across the country.
The 15th annual Siren Awards, run by Commercial Radio Australia, are designed to encourage excellence and creativity in radio advertising. The event was attended by creative writers, directors and producers from leading agencies and executives from the radio industry.
The Siren Client Award of a cash prize of $5,000 was awarded to John Skaro, Phil van Bruchem, Rachel Blacklaws and Alex Walding from BWM Dentsu and Cox Inall Change, for their ad "Bill Bowelly", for Bowel Cancer Australia.
Joan Warner, chief executive officer of CRA, said: "We congratulate all the winners and finalists for displaying an exceptional level of creativity in their work. These awards are a great reminder of the ability of radio to cut through and create a strong impact on listeners."
The Siren winners across the single and radio campaign categories were selected from hundreds of entries throughout 2018-19 over five rounds, plus a final call.
The winner of the Gold Siren receives automatic entry for their campaign into the Cannes Lions International Festival of Creativity in June. The creative and their client also wins accommodation, airfares and delegate passes to attend the event.
Here's the winning script from the "Ducking Autocorrect" campaign
COPY
Client: Product: Campaign: Dry July
Dry July 2018 Ducking Autocorrect
Ducking Seriously? 30"
VO:
Sometimes your phone's autocorrect is a little piece of shirt.
Once you have a few glasses of wind, your coordination goes out the store. And then you are really ducked.
Like when you're trying to dent a text massage to your girlfriend and you say, "Sweaty dreams curry pie."
Like, ducking seriously? Duck! Duck! Duck!
Why the duck, does it always duck up?
But if you go alcohol free for Dry July you will be okey donkey. Search Dry July and sign up today.
To listen to the winning ads click here.
Winners receiving their awards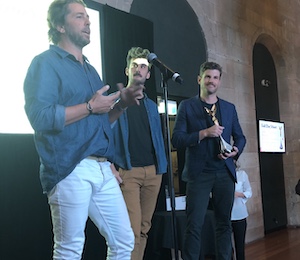 Pictures: Peter Saxon