This is the first question I ask students of my classes and I usually get a whiteboard full of answers once they have warmed up. There is one answer that I never get. It will be the basis of my next podcast; but I'll come back to that.
The last time I asked that question I was anxious about the classroom dynamics. I was teaching the company CEO, a year 11 student, a gentleman with PTSD, an autistic young man and a former high flying professional who was slowly and unexpectedly losing his sight. It was the latter who gave me this answer, which set the tone for the rest of the weekend –
"It's what I listen to in my ears every night as I try to go to sleep. I listen to everything and everyone. It is totally immersive and it makes me feel less alone."
I want to share one more outcome from the above class. Late the first day I got them to pair off and record a mock podcast together. Naturally, they gravitated toward the person in the room with which they had the most in common. The next day they worked in duos again, but this time I paired them with the person they probably would least likely have selected. The resulting audio was so profound that one of the students suggested magic had occurred. Two have contacted me this week to say that they are continuing their conversation, exploring their vastly different perspectives on theatre and creativity.
With that in mind, one of MY responses to the above is that a podcast can answer questions you are afraid to ask out loud and challenge your existing beliefs in a non-confrontational and exploratory fashion.
In most of my new era post COVID classes I have educators looking to adapt their teaching to an online audio platform. One, a University Lecturer in Policing and Security, put his hand up and asked our group,
"One of the 2005 London bombers stopped to buy something from a service station and was over charged 50p. He went back and demanded his 50p change. Considering the act he was about to commit that resulted in him losing his life, why would he quibble over 50p? I wonder that often. Do you think my students would also wonder at that story or should I just stick to the manual?"
I'll never forget that question, or story.
That moment was when I realised that the best podcasts are the ones where the presenter is a subject matter expert or able to extract such moments from their guests. I've heard podcasts where professional voice actors are relating the material on behalf of a business or individual who is uncomfortable with their own voice (the single biggest reason why many don't consider a podcast as something they can "do"). That professional may sound technically perfect – but they can't adlib a story like the above with the same inside information or thought process. They are simply reading words on a page.
As controversial as this opinion may be to my radio peers, I think the best podcasts are created by those speaking with that inside information, understanding and enthusiasm. Whether the podcast is presented in layperson's terms or using the jargon of the industry is up to the individual or group putting it together. There are highly successful niche podcasts like The Laundromat Resource Podcast (billed as a podcast by laundromat owners, for laundromat owners) and those such as the current No 1 podcast in Australia – Stuff You Should Know, which discusses all manner of stuff, in lay persons language – most recently the story of the heiress Patty Hearst that helped the world know what the word brainwashing meant and whether acid rain is still a "thing". I get my students to think over the title of that podcast. How frankly it states I know stuff that you should, and you should believe what I say. If certain people stated their intent like that they'd be run out of town, but that podcast gets 30 million downloads a month so perhaps the Patty Hearst episode is more relevant than I thought!
Podcasts can be catch up news and radio; particularly popular in Australia especially in the last 12 months. We've coped with natural disasters and now isolation and COVID consequences – the ABC's Coronacast continues to answer questions and win awards.
Podcasts can explore and even solve crimes and cold cases (The Teacher's Pet was a landmark podcast with an ongoing trial and legal battle in Australia). However, like the radio broadcast of War of the Worlds some 80 years ago, you can be so totally immersed in a crime podcast that you are unaware that the content is fiction, or perhaps relating a different perspective to how a case actually played out in court. True crime continues to be a favourite podcast genre.
Podcasts can retell stories like an audio book. Recreate plays. Bring to life inanimate objects. Immerse you in new world. I've had the delightful experience of someone "seeing" something in my podcast that I hadn't put there. Another was blown away at hearing my audio voice come out of my real mouth! These are what I would call creative angles of podcasting.
Business wise, podcasting can be a way of communicating with your customers and reaching new ones. If you wish to become a recognised industry expert or spokesperson on your area of expertise then a podcast is a great way to start. Most of us never see ourselves in this light but once Ben Fordham has rung you up because he need someone who can speak about the declining population of koalas and you happen to run Koalacast (what a great name for the podcast btw!!) then you are on your way. The podcast itself may not earn you millions of dollars, but the connections and networks it can supply you and your business might. I've helped facilitate this process from lawyers, to security firms, tour guides to sexual health advocates. It is about getting the message right for the intended audience and finding the time and enthusiasm to keep at it consistently. Three more of my favourite podcast buzzwords right there – time, enthusiasm and consistency.
When I started in community radio back in 1998, I was at liberty to create radio programs in my own creative vision. What I made were music theme shows that put songs side by side that would send shivers down my current music director's spine. In between I would talk. A lot. Where the songs charted, background of the artist, inside trivia about the song. My Floral Arrangement has The Yellow Rose of Texas, La Vie En Rose and White Roses by Deb Conway as a sequence. I saw nothing wrong with that. Years later I was taken off 2CA (classic hits) and put of 2CC (talk) because I had so much to say. I still do, especially on popular music. But music and podcasting do not go hand in hand.
Yet.
Podcasting has changed my life and career and I have the capacity to assist so many others to use it to better their business practice and personal lives too. There is so many ways audio can benefit workflow, especially in the current climate. Of course, podcasts can benefit radio by allowing us to catch up on what we missed from Kyle and Jackie O this morning, or in the 8 am news. As so many of us are no longer stuck in the car for the commute to work, how we listen to radio has seismically changed. Film production has been virtually shut down for nine months. There's only so many reruns and catch ups we can take before we hit saturation point. Nothing is new anymore.
And yet, we keep seeking nostalgia, expansion of knowledge and connection. And customers/consumers are prepared to pay for the experience.
To that effect, I'm going to use my own area of expertise and create a music and trivia podcast, even if the word music NEVER comes up when I ask students the question.
Spotify thinks there's a market for it. I'll try that platform and see how it feels. The podcast will incorporate other channels, including here on radioinfo, and test whether music, radio and podcasts can work together on a much larger; perhaps even a global stage.
I've come full circle. It starts next Friday Dec 4. Watch this audio space.
About the author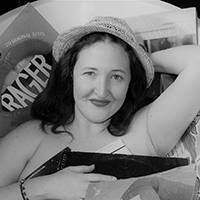 Jen Seyderhelm is an announcer, podcaster, producer, writer, news reader and music historian. She works for 2CC in Canberra.
Jen's podcast, 20/40, celebrates friendship and connection between two women with a 20-year age gap. She is taking her podcast, teaching and storytelling skills on the road in 2020 as part of an exciting national conversation project.
---
Subscribe to the radioinfo podcast on these platforms: Acast, Apple iTunes Podcasts, Podtail, Spotify, Google Podcasts, TuneIn, or wherever you get your podcasts.