For most people, a long term career in radio is career enough.
Lisa Sweeney has done more in radio than most as well as two years on the international comedy circuit and a stint in Canada, writing fiction. Now, after seven years at AFTRS, at age 57, she's on the move again.

Why? Let's ask her…

Her first media job was in 1980 as a "copygirl" for the iconic Ita Buttrose at the Women's Weekly. Next came a cadetship at the Brisbane Courier Mail. So far, it was all about becoming a journalist in print until Lisa took a sharp turn into left field doing live performances – something between stand-up and improvisation theatre.

"It was actually a film-based project," she explains. "We had this shocking old 1960's b-grade film called Astro Zombies. The audience would come and sit in a cinema and watch the film and we'd be in the back row with the original soundtrack turned down while we lip synced a new soundtrack, live in the cinema.

"We performed constantly to sell-out audiences for two years right around Australia and then we took it to the Edinburgh Fringe Festival and we did a season in London and a season in Dublin.

"Prior to that, having been a newspaper, reporter it was all about the writing for me but when I was doing the performing stuff, I found my voice and I wanted to put that to use and that's when I went to 2UE."

One could say that's when her career really took off as a traffic reporter in the 2UE chopper.
"When I went to 2UE, (left) I applied for a job in the newsroom and they said no – because you haven't got any radio news experience yet. But how about you do the helicopter traffic reporting for a while to get some broadcast experience before you move into news. So, that was where I started (on radio) for a couple of years and did the helicopters and then I produced on Alan Jones's production team."

A week after they told her she wasn't ready for the newsroom, they asked her to do some court reporting in between helicopter shifts. Pretty soon she found herself in the newsroom, reading news on the weekends – and then she read and edited the news in Stan Zemanek's evening show. She was just 26.

Things then took another sharp turn. "I just sort of stumbled on the ABC. I got married and was planning a family. Then one day one of my old 2UE colleagues rang me and said come and work over here. They've got paid maternity leave. So, it wasn't at all a strategic decision."

After reading news for a while at the ABC, she somehow moved into management. "You have those moments when the news editor went away on a week's holiday and I filled in."

Soon she was managing regional radio throughout NSW. Then national editor of radio news. Until she was in charge of all the news services that were delivered locally including the 7 o'clock television news in eight centres around the country and all of the radio news output with 500 staff in 50 locations.

Lisa had turned 48 and was at the peak of a career that would more than satisfy most people's ambitions. Yet for her, there were other things to do.

"I left the ABC – I'd been there for 18 years and I was about 18 years from 65 at that point. I thought, I've still got another 18 years of working ahead of me and I've just done 18 years here, do I want to keep doing this for another 18 years? No was my answer to myself."

So, Lisa took the family to Canada for a couple of years, as one would, and wrote fiction. Then one day she spoke to Mark Collier who was, at the time, Director of Radio of AFTRS. "We'd been colleagues a couple of times over the years. And I said to him, if you need anyone for a guest lecture let me know. Very soon after that he offered me a job acting as head of radio while someone was on maternity leave. That person went on maternity leave and never came back so, seven years later I'm still here."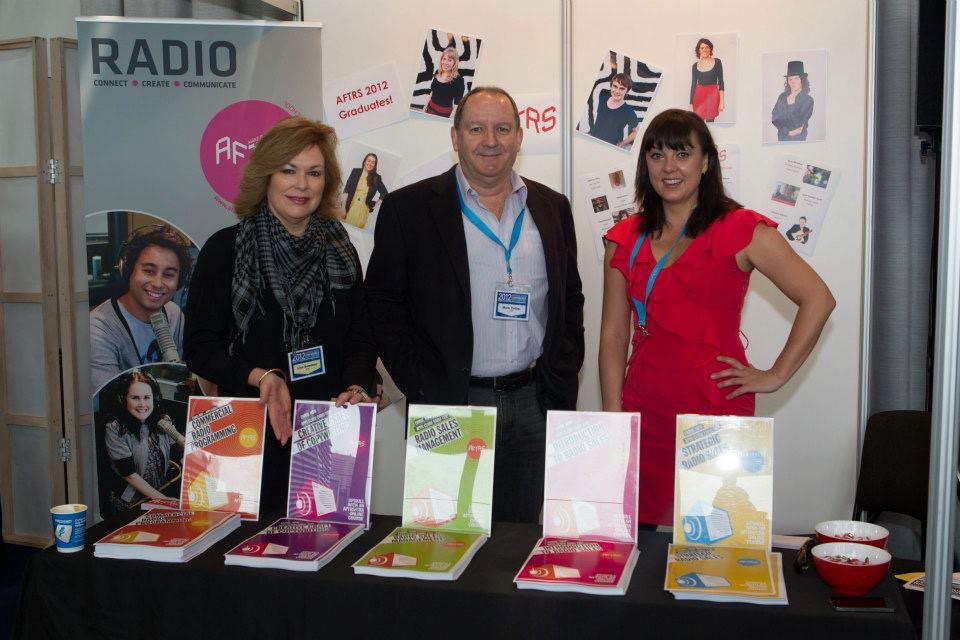 Lisa, Mark Collier and current Head of Radio, Fyona Smith.

Lisa has much to be proud of. She says that if she's left a legacy at AFTRS, it would be: "A big bunch of wonderful young broadcasters who are out there in an industry that I am proud to stay in contact with and many cases am still mentoring.

"Then there is the fact that we've really worked very hard on diversity as well as having very employable students we also have a much more diverse cohort. For example this year we've got two indigenous students. We've got a student who is on an SBS bilingual scholarship and another student who was an Iranian refugee who has been doing an ABC scholarship and internship as well as the rest of the students who are very talented.

"I'm also proud of the work I did as lead trainer on the Sydney Trains Project which was a voice announcement project where I designed the curriculum and I was lead trainer and we trained 3,500 railways guards and station staff to make better voice announcements and the impact of that I'm very proud of because I feel that it continues to have an impact for millions of rail commuters every year because the communication that they're receiving from those railway staff has improved so much."

Yet, guess what. She's leaving. Again.

"It's that number thing again," says Lisa. "I'm 57 now and I figure I'm seven years from my natural retirement age. I've been here for seven years… do I want to keep doing this for another seven years?"

Well, no. It's not that she didn't love being at AFTRS. It's not that it wasn't fulfilling. It's just that she felt that there was more to do, more things to try in life. "It's wonderful that broadcast skills and journalist skills are just so transferable and so valued elsewhere and I'm actually moving on into a role in State Government.

"I'm going to Service NSW and I'm going to be the spokesperson for the organisation as well as leading internal communication and cultural change."

Service NSW is the one stop shop for everything from rego and driver's licence renewals to birth certificates.

"I'm most looking forward to being the organisation's story teller. The thing that I'm most looking forward to is moving into an area that is really innovative and is very future focussed. At a later stage of my career to be able to be involved in something that is so progressive and so future focussed, it just reminds me of how valuable my skills are from having had a career in broadcasting and how relevant I can continue to be. I'm not a person who ever wants to really retire and I know that moving forward I'm able to remain relevant by using these skills," says Lisa Sweeney.
Check out Lisa's top three interview tips in the video below.