Like most things, from hotels and restaurants to appliances and financial products, radio networks are star-rated by consumers online.
Seek, the giant online jobs page, provides a platform for employees, past and present, to rate their experience of working for an employer and give detailed feedback for the benefit of prospective employees.
Topping the list is Nova Entertainment with a 4.6 star average from 7 reviews. Of all the companies listed by Seek, that makes it pretty much the best company to work for, in any category, in all of Australia. The only other organisations that come close are Seek, itself on 4.4 and The Salvos at 4.2.
Six respondents gave NovaEnt 5 out of 5 stars with an Audio Producer proclaiming "It's the best place I ever worked," while an ex-Sales Account Exec laments, "Wish I had never left." The one reviewer that felt the Nova workplace merited only four stars was a Digital Content Producer who was happy with the "fun environment, free tickets to events and travel" but thought that the work life balance was a bit of a challenge.
Level pegging on 3.9 is SCA (65 reviews) and ARN (22 reviews).
3.9 is an excellent score, on par with The Royal Australian Navy, Country Road and JB Hifi but just behind QANTAS, The Australian Electoral Commission and Apple.
For ARN, ex-employee comments include one Sales Rep who gave it 5 stars "Great workplace, awesome team and very supportive management," and another Rep who gave it 1 star and said it was "Horrible."
For SCA the 5 star comments ranged from a Senior Tech from who worked in Hobart for nine years who said 'Love the place' to a Journalist who gave it 1 star and wrote, "How do you escape from here?"
Next came the ABC, just a smidgen behind on 3.8 (71 reviews) level with Dell, Unilever and Ikea.
'Regional Radio gave me invaluable training and experience,' read one 5 star comment while another from a Technical Consultant who left 2 stars said 'No opportunities, no forward planning, and small budgets' but conceded a positive in that the workplace was close to Central Station.
Macquarie Media only had two employee reviews to its name, both in Sales and neither one happy. Between them they awarded MacRadio an average of just 1.5 stars. Although one did give them 4 out of 5 for work/life balance.
Here are the top line results and current standings: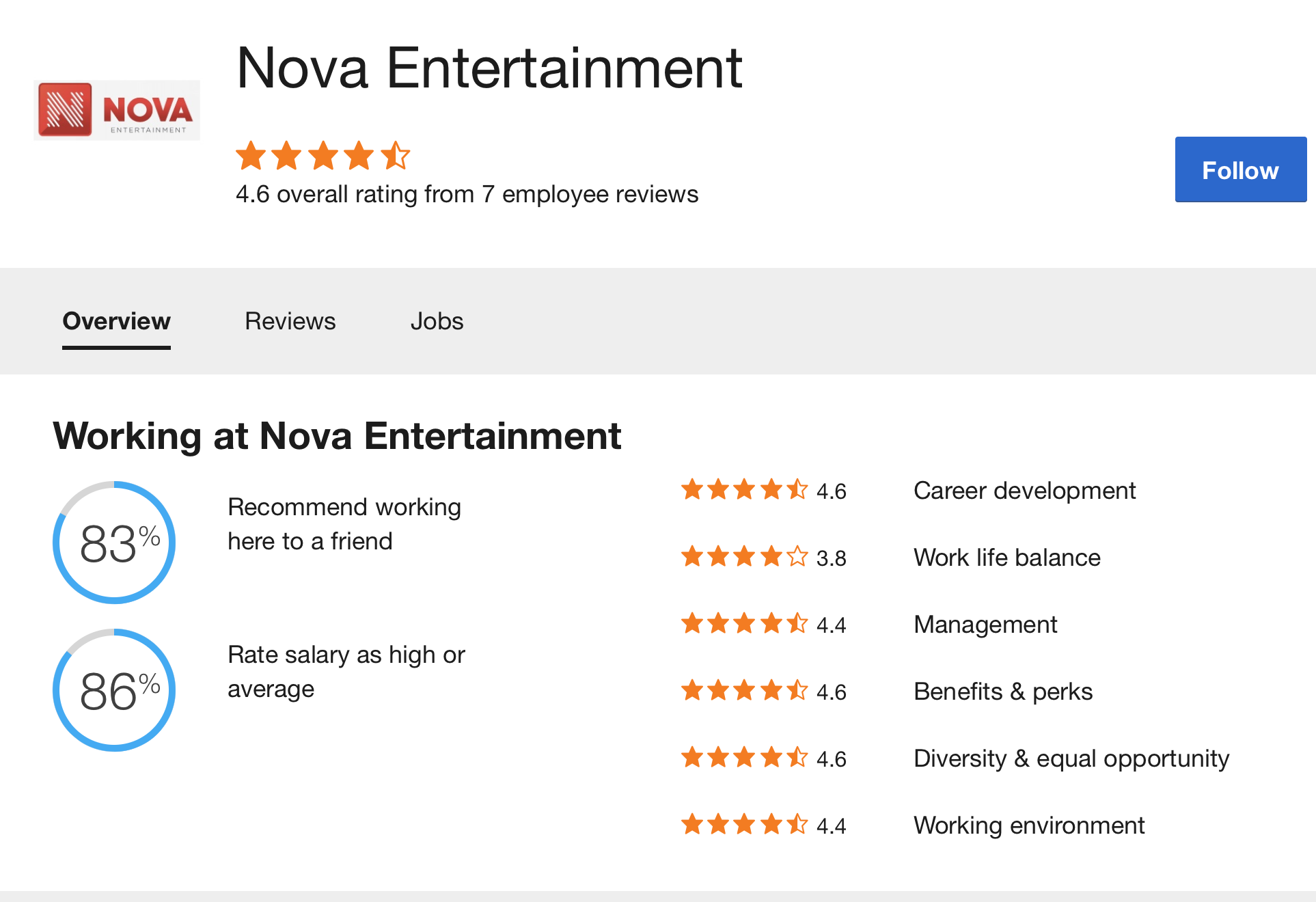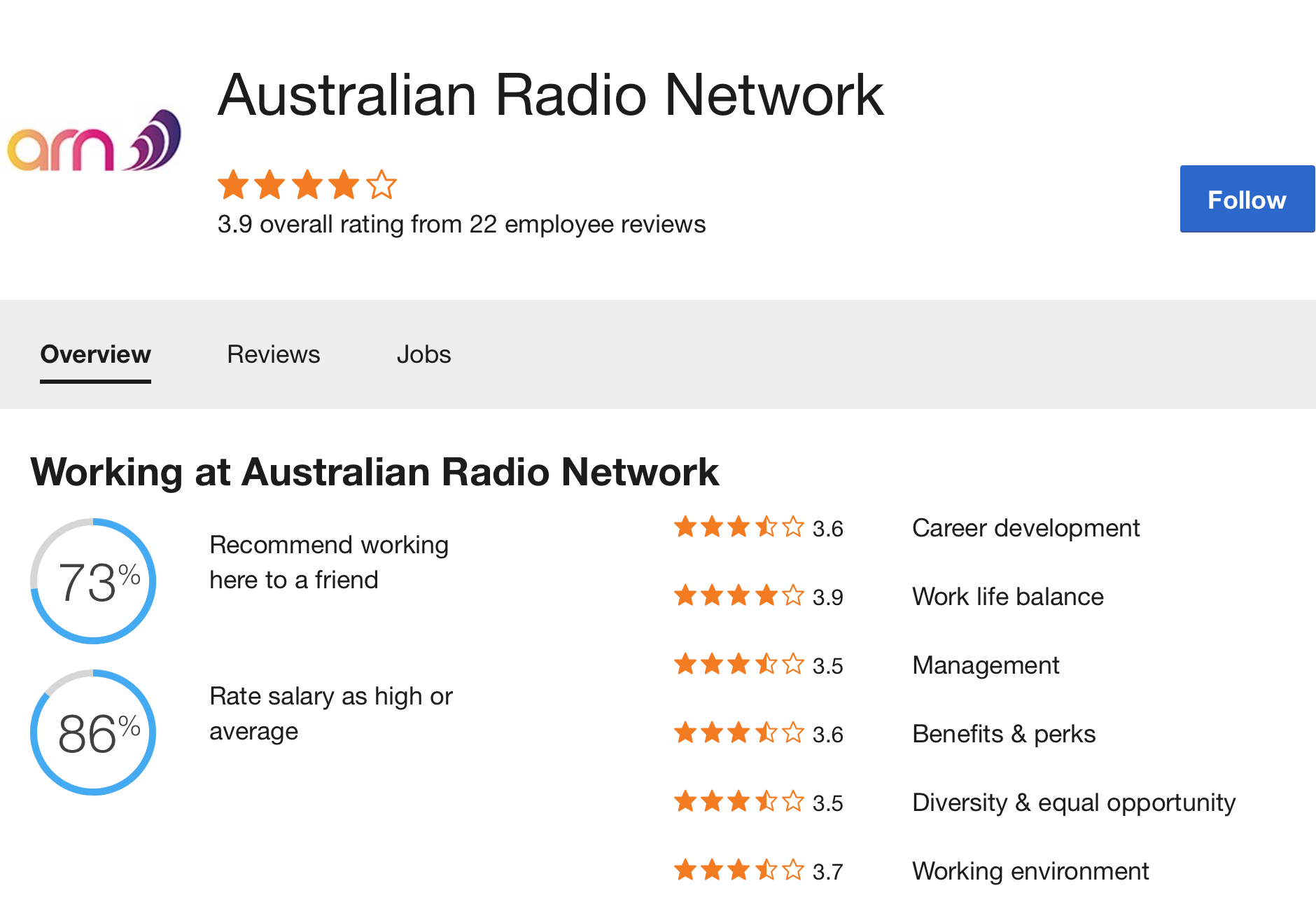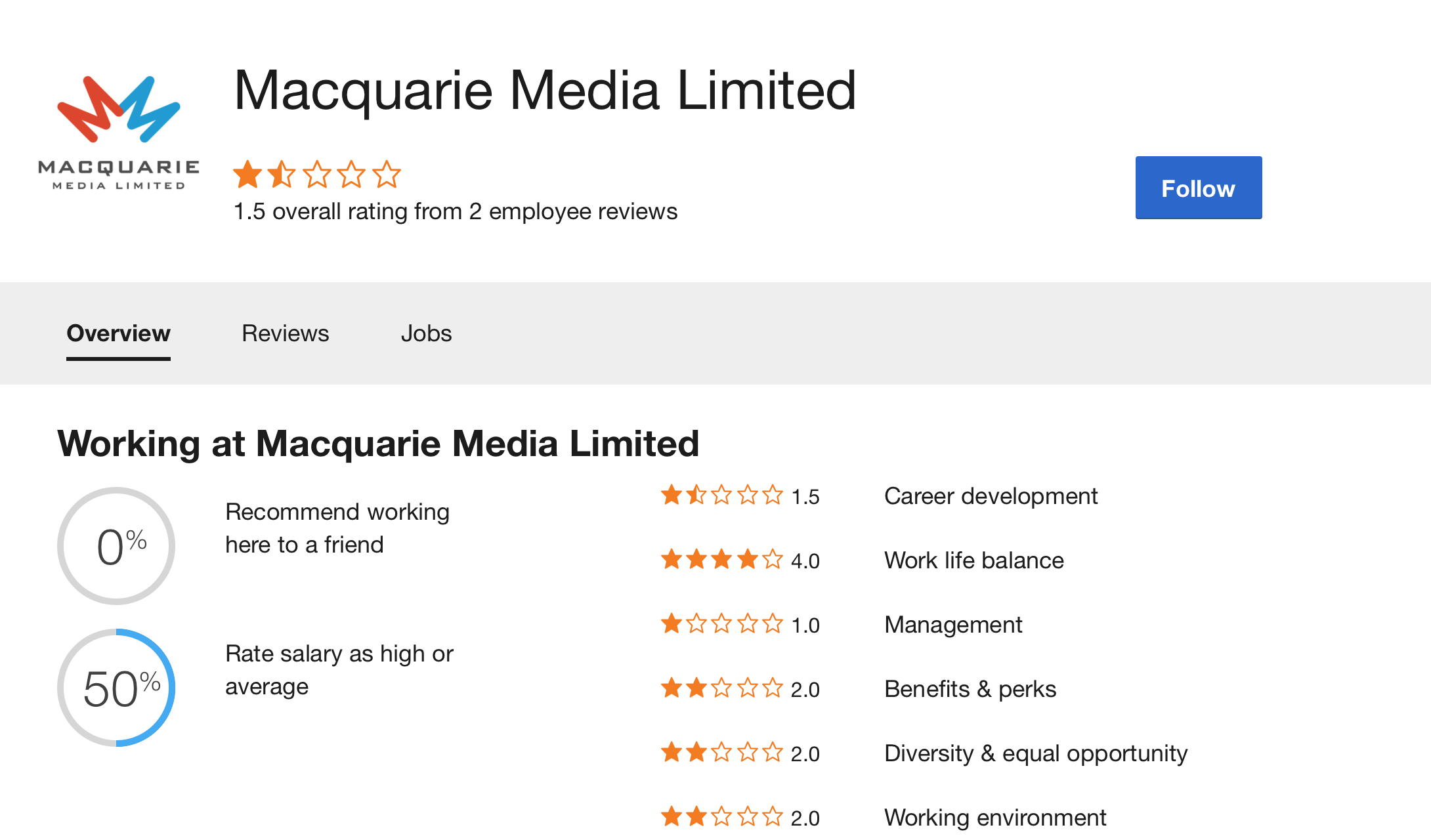 The radioinfo jobs page is here. Check out our latest listed employment opportunities.