Comment from Peter Saxon
Soon after Survey 4 was released last Tuesday, WSFM PD Charlie Fox walked into the on-air studio to tell Jason Staveley the good news. Jason was filling in on the Breakfast show for Jonesy and Amanda while they were on holidays. They'd shot to outright number one "FM" with an 11.5 share, 2.5 ahead of now-stable mates Kyle and Jackie O on KIIS.
Charlie had even better news for Jason. His regular Afternoon shift had posted an 11.6 share making him number one between Midday – 4pm in Sydney. But this time, there was no "FM" disclaimer. He was number one outright, beating even the 2GB juggernaut. It was a career milestone that every announcer strives for.
Yet, Jason had little appetite for celebration.
Less than 12 hours earlier, he'd been the subject of a Media Watch investigation. Four weeks prior to that, he was sitting at home watching the television news as a murder scene filled his screen. To his horror, Jason was watching his own mother's house from the helicopter that hovered above.
At least three media organisations broke their own Code of Practice by not: 'taking all reasonable steps to ensure that murder or accident victims are not identified directly or, where practicable, indirectly before their immediate families are notified by the authorities.'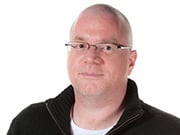 Although the Media Watch segment identified Jason (left) by name and showed a picture of him, they didn't mention his occupation – at his request.
He didn't want this story to become about Jason Staveley the radio announcer and media personality. Nor did he want to point the finger specifically at the media outlets involved in this incident. He simply wanted all media newsrooms to be aware of the hurt and anguish they can cause to innocent members of the public by putting the need to be first with the news ahead of proper consideration for victims' families.
Jason told Media Watch, "The impact on our family has been devastating, especially given there are young grandchildren to protect. Personally, I'm now on medication to sleep, anti-depressants and seeing a psychotherapist."
When radioinfo first posted the story last Monday night, just hours after it went to air on the ABC, Jason was already asleep in preparation for next day's Breakfast shift. By the time we got into the office that morning, there was a message waiting for us. It was Jason asking us to take the story down because it did what Media Watch hadn't; connected his name to the radio industry. Not wanting to cause Jason any further grief, we did as he asked.
It is not our intention to sensationalise this tragic and deeply personal episode in Jason's life. And we trust that no other media outlet will be tempted to do so either. Rather we feel that radio is not just an industry, it's a community too – a relatively small one at that. Many of us know Jason, or know of him, and count him as one of our own. On that basis, it's news we 'need to know.' And, hopefully, now that one of our own has fallen victim to the news cycle, it will serve as vivid reminder that we are all vulnerable to poor a poor decision made in a newsroom.
Despite the hours newsroom staff spend in meetings discussing the Codes of Practice and their obligations to uphold them, it seems that far too often all is forgotten in the rush to air.
The reason that Jason Staveley the radio announcer agreed that we should run this story after all, is to deliver a message to all media: "They should always be aware of the impact our content has on ordinary, everyday people and they should use the Codes of Practice as the filter they should be."
Everyday people should never be seen as just content fodder for media outlets. They have friends, work mates and families – real lives that can easily be affected, or even destroyed, by careless exposure of wrong information. Or, as in this case, the right information, just at the wrong time.



Peter Saxon