This week we published online listening figures from 2SM, showing how John Laws' online listeners outnumber those of 2GB's Ray Hadley.

And they do, by one measure. But that's only part of the story.
The figures were sourced from Shoutcast, 2SM's audio streaming platform of choice, and are being used to promote Laws' online listening results.

Now that radioinfo has made those figures public, 2GB has revealed to us some information about its online streaming figures.

Shoutcast is only one audio streaming platform. It was used heavily in the early days of streaming, but now, with TuneIn Radio and other aggregators picking up streams and distributing them through their own platforms, Shoutcast is no longer the streamer of choice for many stations.

2GB's Digital Manager Richard Palmer has told radioinfo that Macquarie Radio Network moved its main audio streaming feed to another platform, Hostworks, and now keeps its Shoutcast stream going only for listeners who are still using that platform. 2GB offers a range of streaming outputs, including flash, mp3 and quicktime.

Palmer says: "It's good to see what other stations numbers are, because online streaming is now an important part of the radio industry."

In the spirit of 'I'll show you mine if you show me yours,' 2GB has released its online listening figures to us, which show that 2SM's highest Shoutcast figure of 808 listeners (18th of Feb, 11:10am) is 751 listeners behind 2GB's lowest figure, as measured on all its streams. Night time broadcaster Brian Wilshire's lowest monthly number of 1,559 (21st of Feb).

On 2GB's streaming platforms, the Hadley program (yellow line) has 4902 listeners when it begins at 9am, while the Laws show (green line) on 2SM has fewer listeners.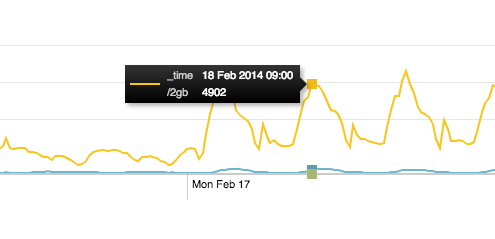 2GB's figures show that during this month, the highest online unique listeners were gained on 10th of Feb at noon, just as the Ray Hadley Morning Show was ending. The peak online listener number was 6,013 unique listeners.

So far, in the month of February (1-24 Feb) 2GB has 40,722 online unique listeners who listened to online live audio streams for a total of 333,822 listening hours.