US research company Edison Research has found that young people are now using the internet more than radio to find new music.

Edison Research's latest study began by dividing the US population into nearly equal parts using typical demographic groups.
Millennials, are defined as those between 13 and 34, are one-third of the population. The 35-54 group is also one-third, and the 55+ age group is one-third as well.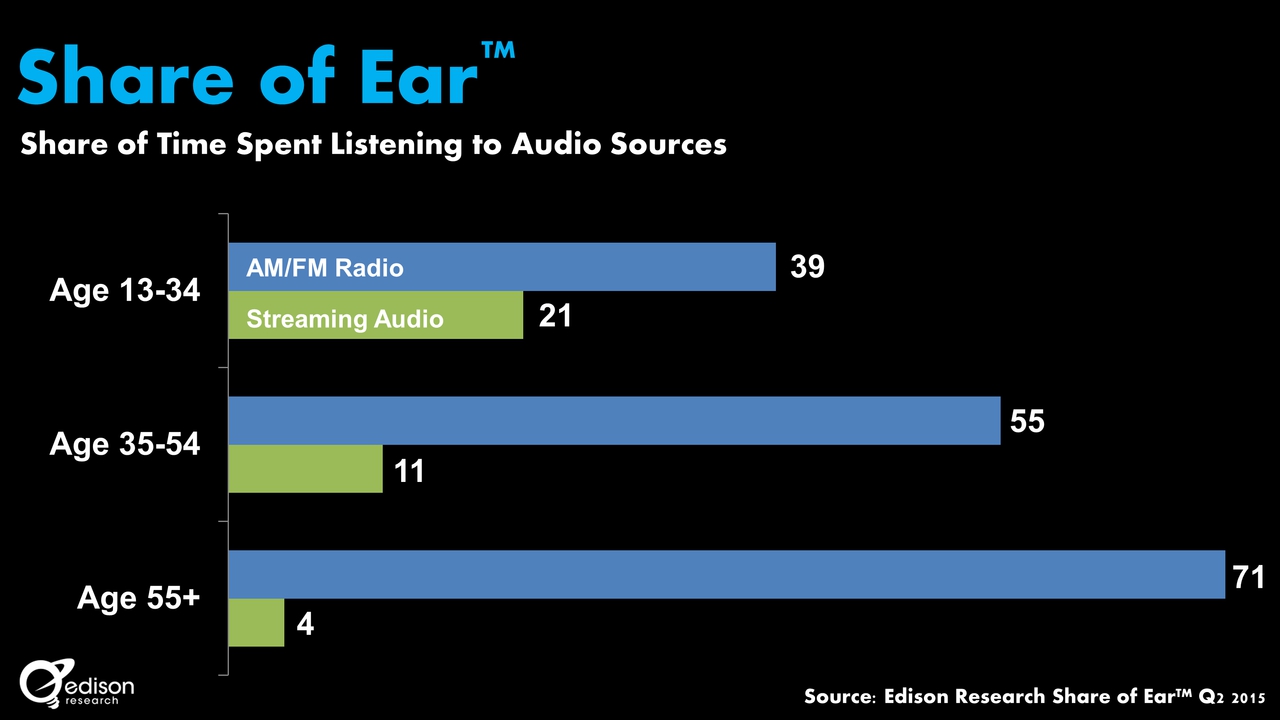 Note – the Share of Ear study also measures owned music, podcasts, and other categories of audio so tnumbers don't add to 100%.
It is interesting to note that in the 13-34 Millennials bracket, AM/FM Radio shows twice the amount of listening than streaming audio. A little surprising considering the rise of applications like Spotify and Pandora. However the picture becomes much more clear when we consider the other age groups and how the ratio widens quite drastically.
Overall the study shows changing listening habits and a change for the notion of 'music discovery.'
Over the past 13 years Edison Research collected data on where Americans chose to discover new music. In 2002 radio was dominant for music discovery, but now, in 2015, the Internet has surpassed radio for the first time in this study.
The graph above shows, tracking data over the course of the last 13 years, indicates that radio has been supplanted by internet as the source Americans turn to first to learn about new music.
The numbers among 13-34 year old Millennials are much more dramatic, showing young people strongly prefer the internet for music discovery. Recent research by CRA in Australia showed that this trend is not the same in Australia, where radio is still an important source of new music discovery at this point in time.
At the same time the research showed artists and labels want nothing more than to get their songs onto the radio. Even as its place for 'discovery' drops, the importance of getting songs on the radio seems as significant as ever.
radioinfo spoke to Melissa Fletcher-Young the Music Manger for Melbourne based community stations, SYN 90.7 and SYN Nation about her thoughts on these figures and how a youth based radio station in Australia sees this shift from radio to online.
She said: "With the insurgence of music sharing websites such as SoundCloud and Bandcamp, the options for discovering new music online are virtually limitless. As a radio station that has an active interest in music that is new and different, it's really exciting to have such a wide and varied range of music to choose from.
"What stations such as SYN provide for listeners is a selection of music that has been picked from that large selection to be showcased to listeners. Instead of having to trawl through the vast music landscape that is online, you can still turn to radio stations to get a selection of music that caters to specific genres, tastes and types of listeners, which is what makes radio still relevant."
Fletcher-Young said her listeners are looking for more of a selection than that given by traditional AM/FM radio, which is why they are turning to online resources, as well as SYN.
SYN is a youth based community radio station run by volunteers under 26 years old. This community represents the millennial age group as defined in the Edison Research study.
Read more about the Edison Research here.