Following on from the success of The Betoota Adovcate Podcast, Daily Betoota and a range of sporting podcasts on their talent roster, DM Podcasts has welcomed four new podcasts to create more female focused media.
Ranging across a breadth of categories such as sex, relationships, comedy and women's sport, DM Podcasts have added Selfish Sesh, That's Orgasmic, Chicks and Balls and Big Natural Talents to their already diverse range of talent.
Here is some what to expect from their new podcasts:
In Big Natural Talents stand-up comedians and best friends Lauren Bonner & Concettta Caristo dish out gossip big or small. Each week they discuss their personal lives, the personal lives of listeners and celebs alike, and take everything personally.
A mix of personal chat between the girls, topical banter, games, and listener submissions of gossip. All gossip is equal in the eyes of Big Natural Talents, and the submissions prove this as each week Concetta and Lauren retell listener's tales of workplace threesomes, teacher/ student affairs, and countless stories of people shitting themselves in quirky situations.
Occasional guests drop in to dish gossip they've heard or lived too. Recent guests include Ben Lee, Becky Lucas and Cameron James.
---
Chicks & Balls was created by Marlee Silva, Keely Silva and Georgia Moore, a couple of chicks who grew up with their family's heavily involved in the world of NRL. They were the kind of kids rarely seen without some kind of ball in their hands and recall most dinner table conversations situated around a score, a win or a loss happening on some kind of field.
The girls weren't always comfortable adding commentary to male dominated comment sections, so they've steered away from their group chat and moved to their microphones to create a safe space for women to talk about all types of sport.
Presenting new ideas and perspectives on a diverse range of sports, and bringing plenty of laughs and fresh insights through interviews with some of Australia's favourite sporting talent, Marlee, Keely and Georgia have created a podcast that is for anyone and everyone who gives a damn about sport and how it plays an impact on and off the field, in our sporting nation.
---
Selfish Sesh is a podcast exploring all of the topics that encompass our sense of self, including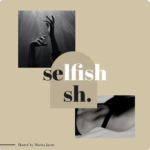 self-love, confidence, mental health, sex and relationships.
The self-development show is hosted by Melbourne-based Fashion and Lifestyle Publicist Marisa Jayne, who started the podcast after finding a gap in the market for unique conversations with diverse thought leaders that also had a sparkle of femininity, creativity, and a lot of fun thrown into the mix.
A new episode is published each Monday and features interviews with a range of guests who specialise in unique fields, from life coaches to entrepreneurs to influencers.
---
Emily Duncan is only 21 and navigating sex herself, resulting in some pretty sticky situations. Emily is studying to become a Sexologist and shares her knowledge in real time alongside her weekly guests.
Season 2 of That's Orgasmic is hotter than ever. Not only are we breaking down more stigmas and misconceptions attached to sex, but we are now talking about what's Orgasmic to you. Discussions around the LGBTIQA+ community, Ethical non-monogamy, orgasms, male sexuality, contraception, periods, mental health, dating and more will feature in this season.